"Oyster Dress"
Design House Alexander McQueen British
Designer Alexander McQueen British

Not on view
Alexander McQueen, a British designer and a 1992 graduate of Central Saint Martin's College of Art and Design, has been hailed for his challenging perceptions of the role of fashion in political, social, and cultural criticism. His collections are often cohesive thematic interpretations, alluding to dramatic media events (the "Highland Rape," a 1996 runway consortium of tattered dresses and bloody catwalkers) inasmuch as aesthetic or artistic movements. Credited alongside peers such as John Galliano with the return of artistry to couture in the 1990s, McQueen is one of the most conceptual fashion créateurs to clothe the runway in the early twenty-first century and continues to be celebrated for his love of tactile exploration and dramatic visual representations.

A number of gowns in Alexander McQueen's "Irere" collection of spring/summer 2003 appear to be poetic renderings of a disaster at sea. While a similar dress appeared colored like the plumage of a tropical bird, this gown of sand-colored organza recalls the mille-feuille ridging on the surface of a shell. The hem of the skirt, like the wavy lip of a giant mollusk, further emphasizes the seashell quality of the gown. But unlike Aphrodite, who was born in the foam of the sea and borne to shore on a scallop, McQueen's beauty is a bruised pearl encased in a deconstructing oyster, the tumbled survivor of the violent action of waves.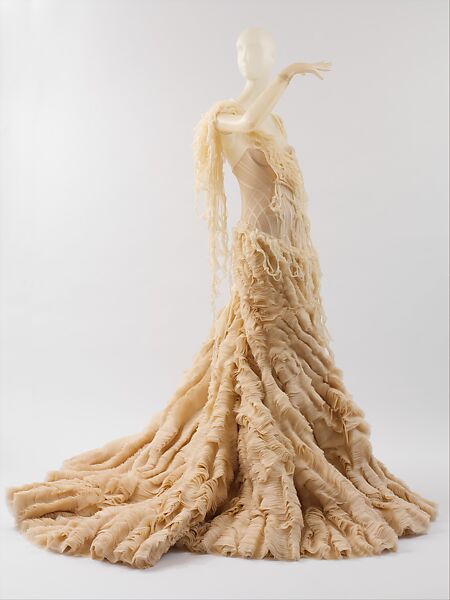 This artwork is meant to be viewed from right to left. Scroll left to view more.