Drawings and Prints from the Wrightsman Collection
Perrin Stein, Curator, and Femke Speelberg, Associate Curator, Department of Drawings and Prints
One day in 1963, Jayne Wrightsman stopped in for a visit to the gallery of Rosenberg & Stiebel, dealers who specialized in European old master paintings and decorative arts. There she was shown an extraordinary object: a volume of hand-lettered and intricately illustrated petitions commissioned from the artist Gabriel de Saint-Aubin and presented to King Louis XVI and Marie Antoinette by an army officer seeking a promotion. Coming from the collection of Baron Philippe de Rothschild in Paris and ornately bound in red leather and stamped in gold, it was a precious window into court life late in the ancien régime and most certainly not an object for a typical collector. Jayne bought it on the spot. She then tucked it under her arm and walked the seven blocks from East 57th Street back to her apartment. It was the first work of art she selected completely on her own, and it would occupy a prominent place on a table in her drawing room for decades to come.
It is not surprising that works on paper came to form a significant part of the Wrightsman Collection. In addition to their aesthetic value as refined works of art, they offered insight into the design process, physical context, and cultural milieu for the paintings, furniture, and decorative arts that they owned. Broadly speaking, the Wrightsman drawings in the Metropolitan Museum were acquired in two waves. Drawings for architecture and ornament, mostly eighteenth-century and mostly French, were collected, by and large, in the late 1960s by Charles and Jayne together, and the lion's share of them were presented to the Museum in 1970, although some stayed in their residences until recent years. The drawings by painters, mainly of figural subjects, were generally bought later, a part of the collection that Jayne continued to build on her own, and with great success, after Charles's death.
The Museum's works on paper related to architecture and design express the Wrightsmans' fondness for "the long eighteenth century," from its grand theatrics to the tiniest detail. They represent some of the most important artists of the period, but aside from names, the choices were steered by quality, subject matter, and aesthetic relationship to the interiors, paintings, and decorative objects in their collection. Through drawings and prints, they gave the Museum things that would have been impossible otherwise, namely, examples of the monumental architecture that formed the original setting for the works of art they cherished.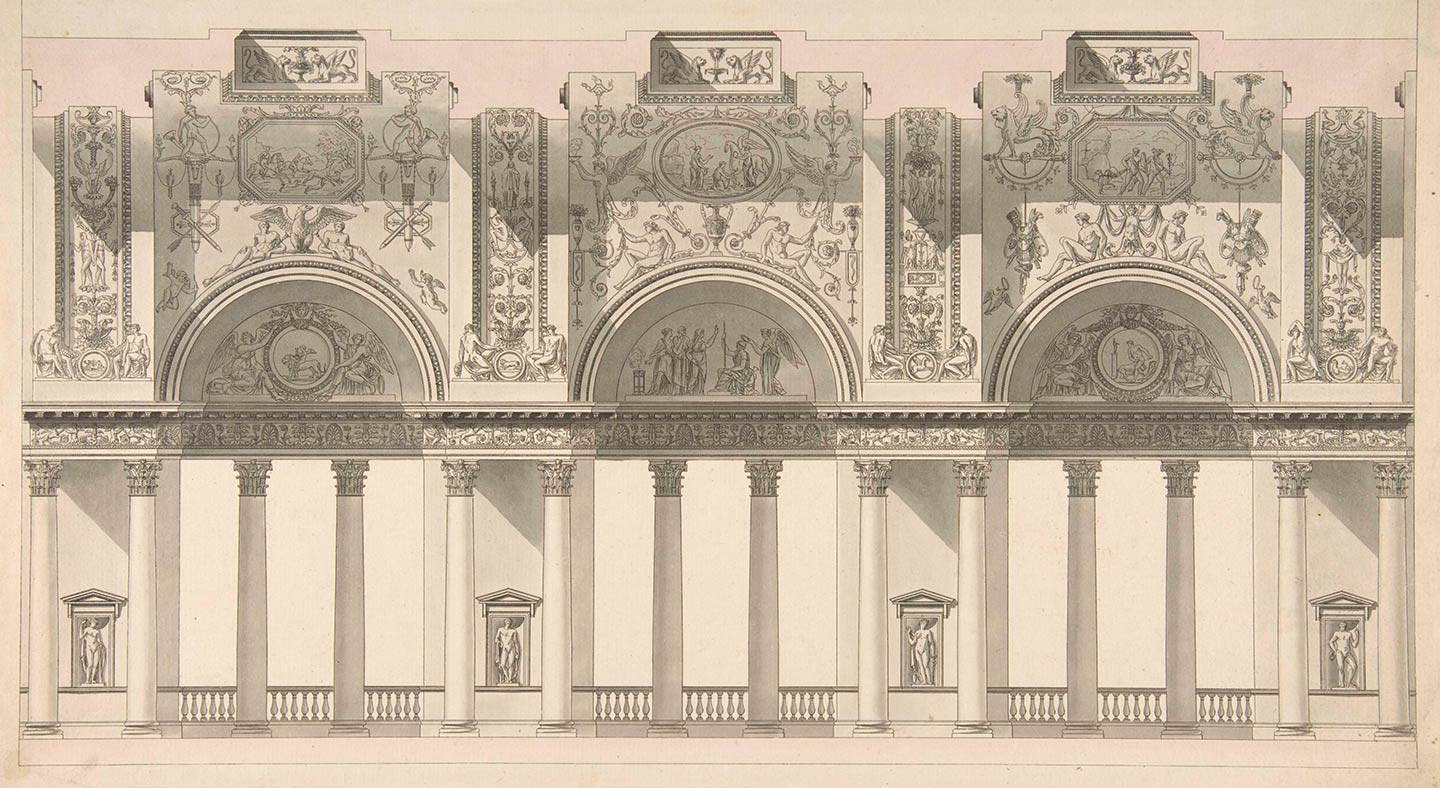 Charles Pierre Joseph Normand (French, 1765–1840). Section of a "Galerie dans le palais d'un souverain," ca. 1791. Pen and black ink, brush and gray and pink wash, 9 3/4 x 17 13/16 in. (24.8 x 45.2 cm). The Metropolitan Museum of Art, New York, Gift of Mr. and Mrs. Charles B. Wrightsman, 1970 (1970.736.27)
The nucleus of the architectural drawings focuses on late eighteenth-century French works, such as the group of designs for the so-called Hôtel de Montholon by Jean Jacques Lequeu; the design for Gallery in a Sovereign's Palace by Charles Pierre Joseph Normand; the Elevation of the Entrance to an Arsenal, attributed to Jean Charles Delafosse; and the Plan for a Menagerie, designed by Charles Percier for the Grand Prix of 1783.
A relatively large number of the drawings show designs for theater buildings, illustrating the central role performance and entertainment played during the glory days of the French monarchy. Requirements of sound and lighting, as well as a constant stream of audiences, made theater design into a science and a tour de force for ambitious architects. Specialized literature emerged to establish standards for the proportional allocations of the various spaces in a theater. This comes to the fore in a comparison between the highly detailed longitudinal section by Nicolas Marie Potain, and in Emile Jacques Gilbert's design for the new theater at Saint-Quentin in Aisne. In the choice of style and detail, however, architects showed their ingenuity. The colors, textures, and voluminous skirt of Louis René Boquet's Rococo ballet costume for Mademoiselle Chevallier, along with his detailed annotations, evoke the formidable characters who would have inhabited such magnificent spaces.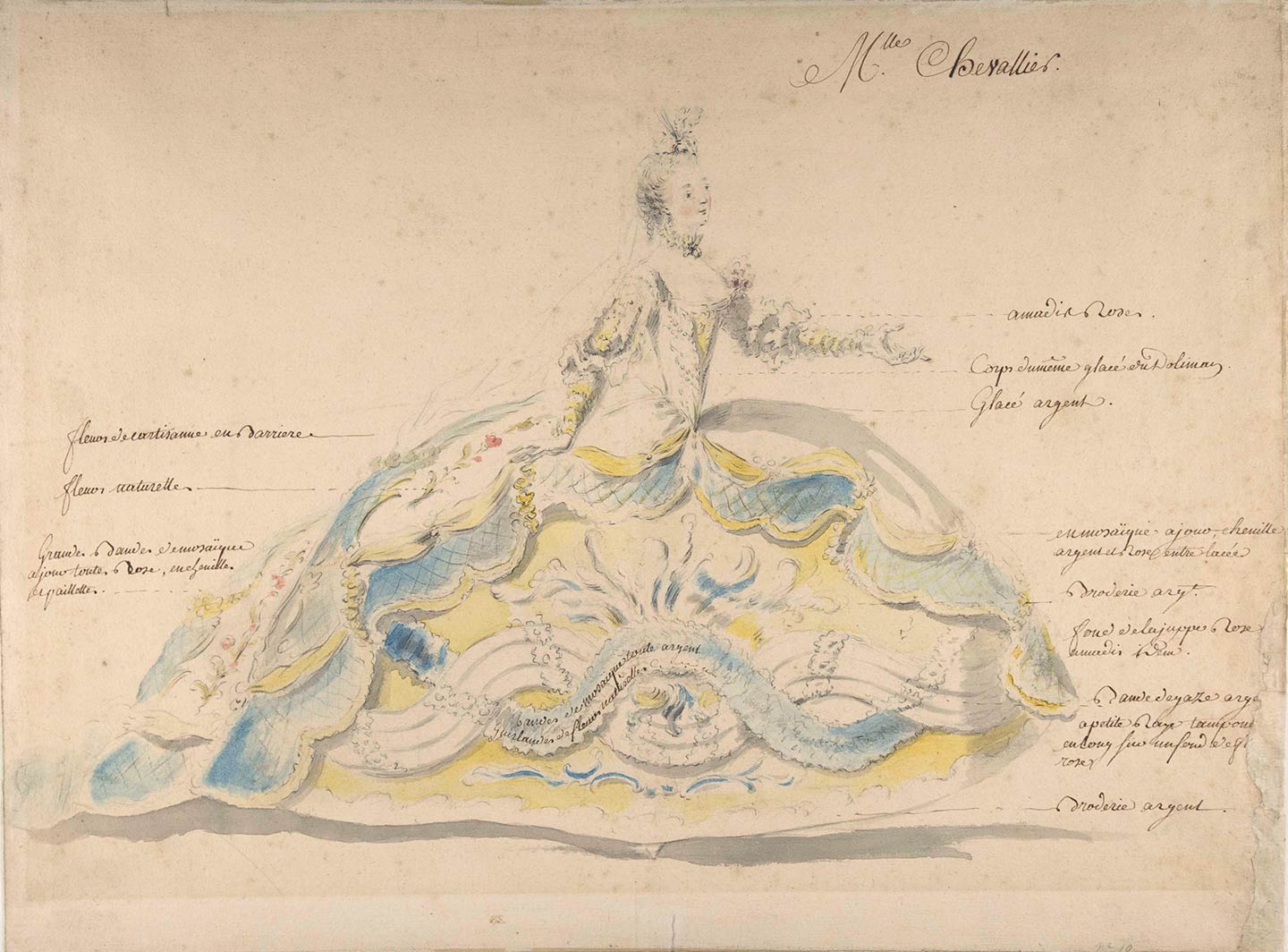 Louis René Boquet (French, 1717–1814). Mademoiselle Chevallier en grand costume de danse pour le ballet du Roi. Black chalk and watercolor, 14 x 18 3/8 in. (35.5 x 46.7 cm). The Metropolitan Museum of Art, New York, Purchase, Mr. and Mrs. Charles Wrightsman Gift, 1966 (66.91)
The Wrightsmans were also attracted to architectural designs made in Russia under Peter the Great and Catherine the Great. The grandeur of their cultural enterprises, modeled after those in France, Germany, and Italy, fascinated the couple, who visited Russia several times. Notable examples are the luxurious engravings on blue paper representing palaces from in and around Saint Petersburg after drawings by Mikhail Makhaev; designs by Vincenzo Brenna for the front elevation and side elevation of the catafalque erected during the funeral of Empress Catherine in 1796; and designs by the celebrated Italian architect Giacomo Quarenghi, who left a distinct mark on the architecture of the Russian Empire under Catherine and her successors. Jayne Wrightsman may have been particularly fond of the Russian empress, in whose keen appetite for art and architecture she would have recognized a reflection of her own passion.
Aside from the monumental, the Wrightsmans were also lured by finely detailed designs for furniture, objets de vertu, and ornament, such as the late Baroque Design for a Painted Ceiling by Claude Audran III, and that for a sofa seat cover depicting the "mistress of Don Quixote" by Charles Antoine Coypel. An absolute pièce de résistance is Jean Guillaume Moitte's Medal Cabinet for Napoleon, possibly commissioned by the City of Paris in honor of his elevation to the rank of "Emperor of the French" in 1804. Ludwig Pfleger's studies of wood species illustrate the Wrightsmans' interest in the details of design down to the sources that cabinetmakers and their clients used to identify and select wood types for marquetry and furniture.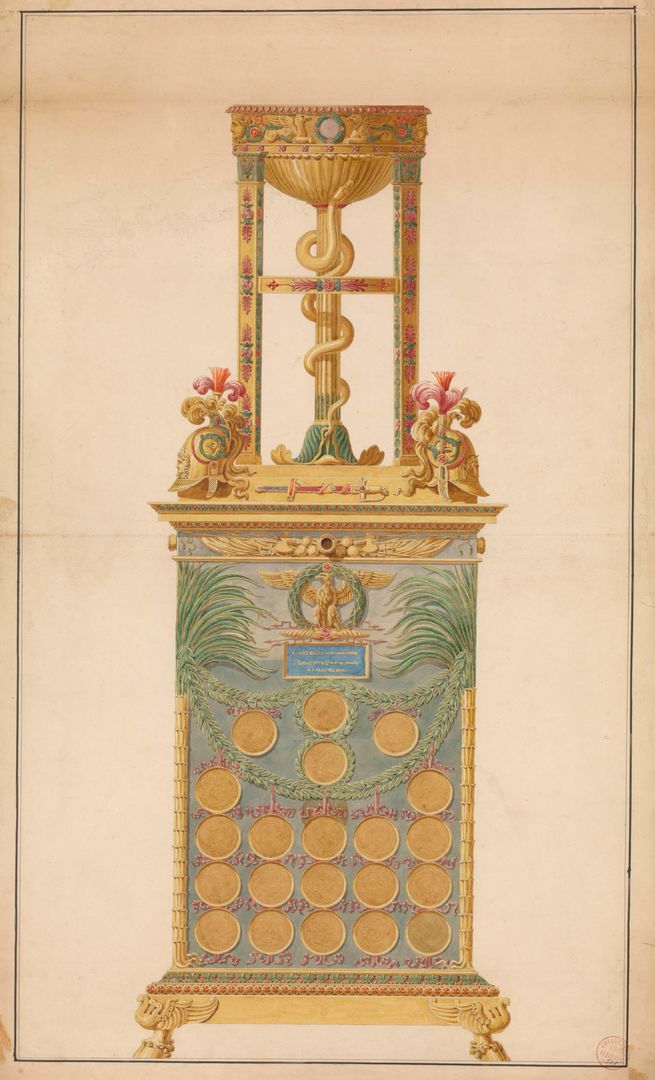 Jean Guillaume Moitte (French, 1746–1810). A Medal Cabinet for Napoleon, 1804–10. Pen and ink and watercolor, 36 7/8 x 21 7/8 in. (93.7 x 55.6 cm). The Metropolitan Museum of Art, New York, Gift of Mrs. Charles Wrightsman, 1998 (1998.7)
The pursuit of non-architectural drawings began in earnest in the 1980s. Charles and Jayne, and then Jayne alone, cast a wide net, purchasing works directly from auctions as well as from a broad range of dealers in Europe and the United States. During this period, while continuing to evince interest in drawings with architectural or quasi-architectural subjects (Jayne bought a Hubert Robert work in 1987 and a Jean Nicolas Servandoni work in 1998), she, for the most part, displayed a distinct preference for portrait and figure drawings. The majority of these "second wave" drawings were by portraitists, but one finds also the atypical—and charming—figure drawing by an artist like Jacques Louis David, whose primary fame lay elsewhere. Whether it was a coincidence or due to Jayne's status as, in the words of Everett Fahy, a proto-feminist, two high points of the collection are outstanding works by the most prominent female artists in eighteenth-century France: Adélaïde Labille-Guiard and Élisabeth Louise Vigée Le Brun.
Of the earliest figural sheets acquired, some, like the silvery study of a woman's head and hands by Antoine Watteau, must have been selected for their sheer beauty. Others, such as John Frederick Lewis's portrait Iskander Bey and His Servant, reflect her love of exoticism, while Dominique Vivant Denon's Self-Portrait as a Young Man suggests that she was drawn to works that were connected to illustrious figures of the eighteenth century—in the case of Vivant Denon, an artist, a diplomat, and, most famously, the first director of the Louvre. Eventually a taste for certain artists emerged: Gabriel de Saint Aubin, Louis de Carmontelle, and Jean Auguste Dominique Ingres, each in his own way creating work powerfully evocative of the era in which they lived.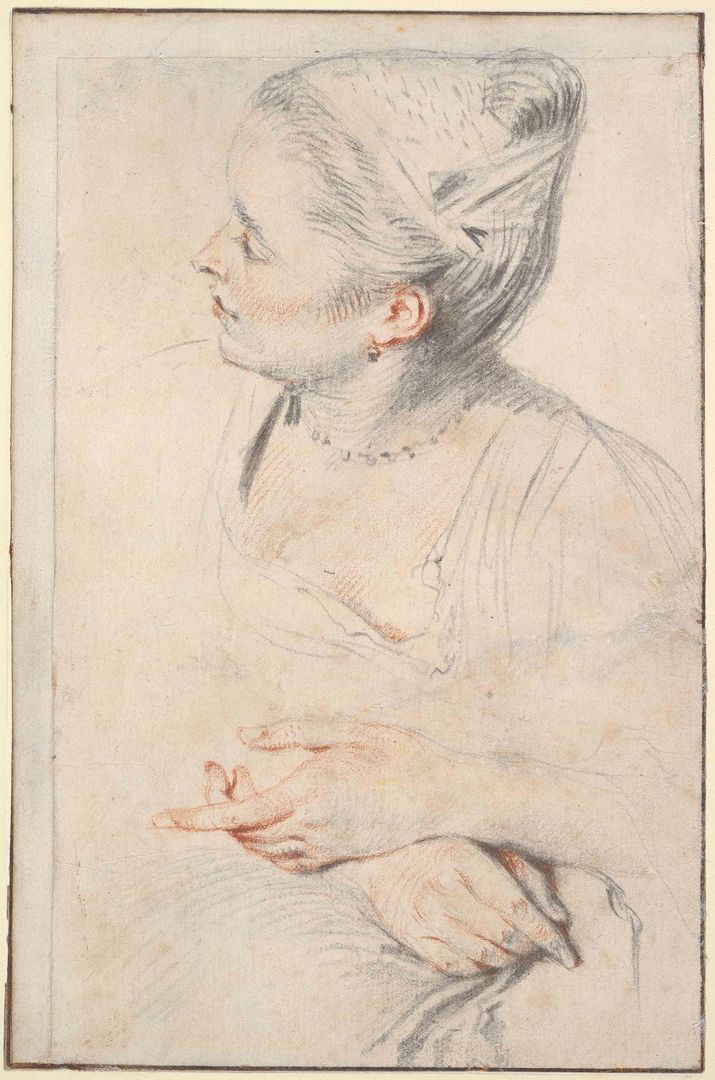 Antoine Watteau (French, 1684–1721). Study of a Woman's Head and Hands, ca. 1717. Red and white chalk and graphite on off-white laid paper, sheet: 7 1/2 x 5 in. (19 x 12.7 cm). The Metropolitan Museum of Art, New York, Gift of Mrs. Charles Wrightsman, 2012 (2012.150.1)
Beginning in the late 1980s, Jayne's purchases of drawings began to focus more on French artists of the nineteenth century. She especially appreciated the incisive portraits Ingres drew in graphite on white paper, eventually acquiring a dozen, as well as three by his pupil Théodore Chassériau. In addition to seeking ones of the highest aesthetic quality, finding works in fresh, untouched condition was of paramount importance.
While all the drawings and prints in the Museum's collection that bear a Wrightsman credit line fit, by and large, into the parameters of the "Wrightsman taste," there are here and there a few atypical works, ones that a curator very much wanted for the collection and that Jayne graciously agreed to pay for. Only once did she purchase for the Museum a print, and that was at the request of Perrin Stein, who wished to acquire a magically atmospheric view of the Salon of 1753, an etching fortunately by one of Jayne's favorite artists, Gabriel de Saint-Aubin, the same artist who had crafted the exquisitely illustrated volume of petitions she had purchased back in 1963.
The story behind the most important work acquired with Wrightsman funds is recounted by George R. Goldner, Drue Heinz Chairman of the Department of Drawings and Prints from 1993 to 2015:
Perhaps the most remarkable of the many drawings that have come to the Museum as a result of Jayne Wrightsman's generosity is the large cartoon for the central section of Domenichino's great fresco of the Martyrdom of Saint Cecilia, painted for the Church of San Luigi dei Francesi in 1612–14. This is one of the great monuments of Baroque painting and we were thrilled to have the chance to acquire the cartoon.

Unfortunately, we lacked the funds and so I thought to turn to Jayne Wrightsman, despite the fact that the cartoon was completely different in every way from all the other drawings in her collection. She came to the Print Study Room and, without a word from me, instantly recognized the artist and the composition. She added that she had often enjoyed visiting San Luigi dei Francesi with "John" (Pope-Hennessy), as much for the Domenichino frescoes as for the still-more-famous paintings by Caravaggio.

Without any further discussion she agreed to purchase the cartoon for us, and it is arguably the greatest Italian Baroque work on paper in this country and sure testimony to Mrs. Wrightman's intelligence, her acute aesthetic sensibility, and her dedication to the Museum.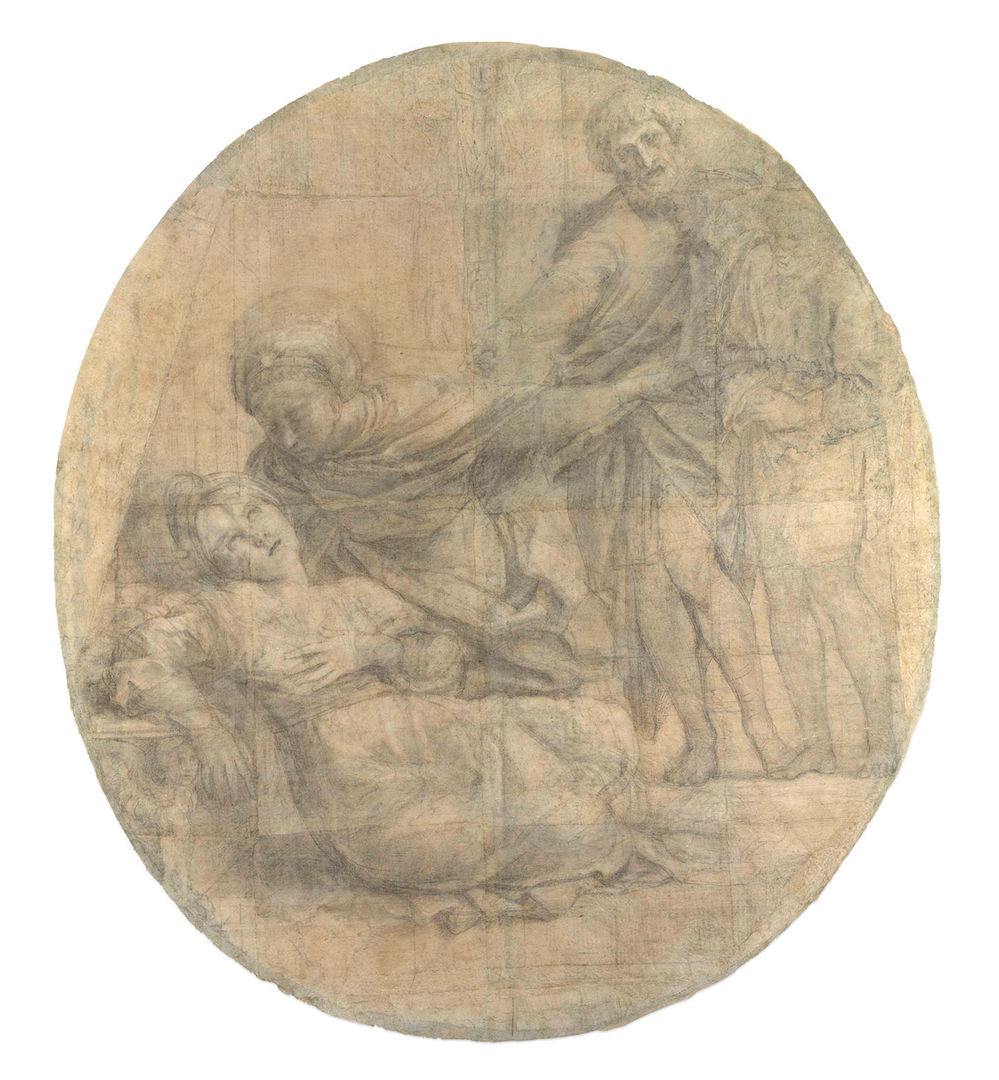 Domenichino (Domenico Zampieri) (Italian, 1581–1641). The Martyrdom of Saint Cecilia (Cartoon for a Fresco), 1612–14. Charcoal with white chalk heightening on fourteen sheets of blue laid paper, two of the sheets cut from elsewhere on the original cartoon and reset at the left and right margins to make up the oval; irregular oval: 67 13/16 x 59 9/16 in. (172.2 x 151.3 cm). The Metropolitan Museum of Art, New York, Wrightsman Fund, 1998 (1998.211)
---
Selected Works
See selected works from the Wrightsman Collection in the Department of Drawings and Prints.
---