Ugolino and His Sons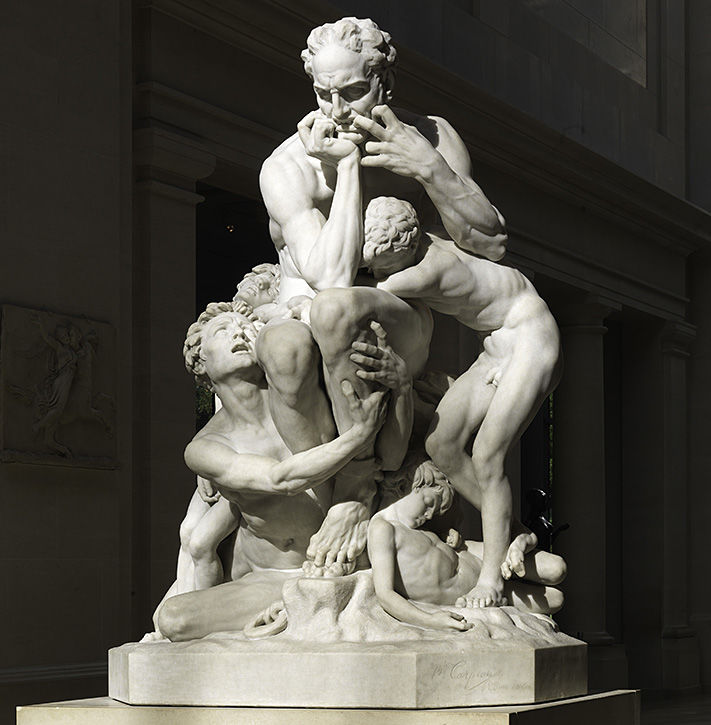 Jean-Baptiste Carpeaux (French, 1827–1875). Ugolino and His Sons, 1865–67. Saint-Béat marble. The Metropolitan Museum of Art, New York, Purchase, Josephine Bay Paul and C. Michael Paul Foundation Inc. Gift, Charles Ulrick and Josephine Bay Foundation Inc. Gift, and Fletcher Fund, 1967 (67.250).
The subject of this intensely Romantic work is derived from canto XXXIII of Dante's Inferno, which describes how the Pisan traitor Count Ugolino della Gherardesca, his sons, and his grandsons were imprisoned in 1288 and died of starvation. Carpeaux's visionary statue, executed in 1865–67, reflects the artist's passionate reverence for Michelangelo, specifically for The Last Judgment (1536–41) in the Sistine Chapel of the Vatican, Rome, as well as his own painstaking concern with anatomical realism.
---
"The grip of all of these people, the density of this composition, communicates the crisis."
—Sam Pinkleton, theater director
---
"He's biting his fingers. I instantly recognize his tremendous suffering."
—Emmanuel von Schack, educator and ASL user
---
"The artist had many occasions to consult human bodies to get them into this writhing mass."
—Jim Draper, curator
---
All voices: Emmanuel von Schack, Educator and ASL user; Alice Schwarz, educator; Jim Draper, curator
Transcripts: A Family Gripped by Crisis (Video), Silent Dynamism (Video)