Virgin and Child in Majesty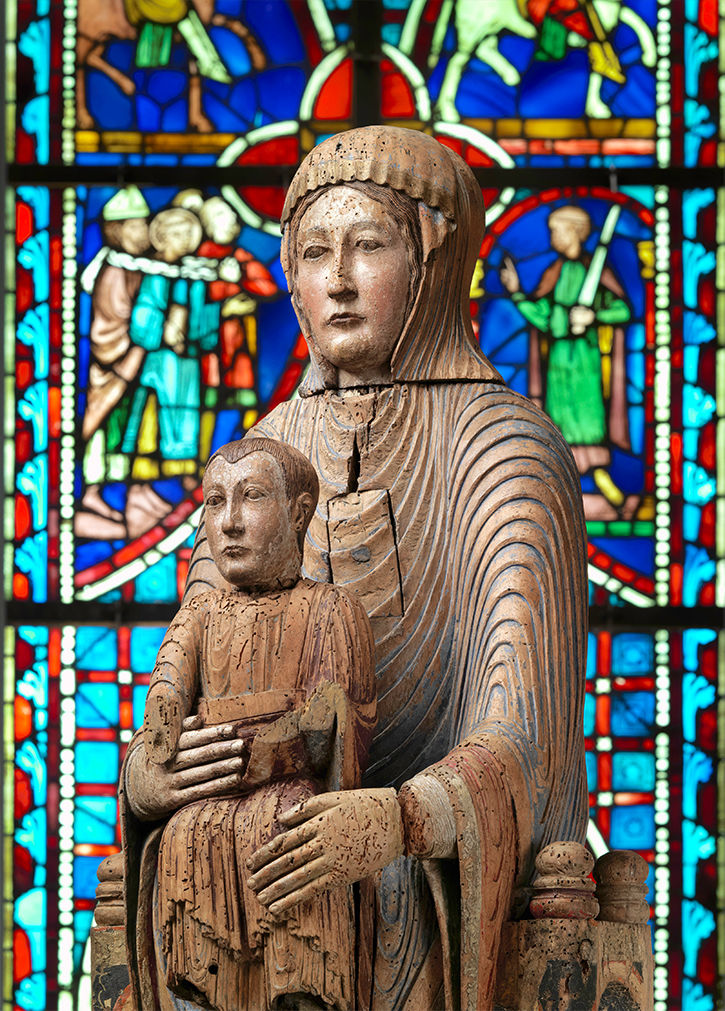 Virgin and Child in Majesty, 1175–1200. French. Walnut with paint, tin relief on a lead white ground and linen. The Metropolitan Museum of Art, New York, Gift of J. Pierpont Morgan, 1916 (16.32.194a, b).
In medieval sculpture, individual body parts were often accentuated to convey meaning. Here, Mary's oversized hands direct our attention to Jesus, enthroned upon his mother's lap. This type of sculpture, much favored in the twelfth century, is known as a Throne of Wisdom (Sedes Sapientiae). Appearing like a miniature adult, Christ, as the Son of God, is Wisdom incarnate. Christ would have grasped a Bible, a further reference to the concept of divine wisdom that he himself embodies. Mary is both sculpture and vessel, and her body has two cavities—one behind her shoulder, the other at her chest— which suggest the work was a container for holy relics. Such devotional statues may have been carried in church processions.
---
"The most important thing here is the relationship between the two bodies."
—Griffith Mann, curator
---
"The brain is intimately attuned to the meaning conveyed by particular hand grasps."
—Edward Vessel, neuroscientist
---
"She is very centered; that is meant to convey her stability as a throne."
—Melanie Holcomb, curator
---
"The way that the Virgin is sitting and holding the child and the fact that her hands are so large, it's almost like she could be a cellist."
—Joan Jeanrenaud, cellist and composer
---
All voices: Melanie Holcomb, curator; Griffith Mann, curator; Edward Vessel, neuroscientist; Joan Jeanrenaud, cellist and composer
Transcript: Framed by the Body (Video)