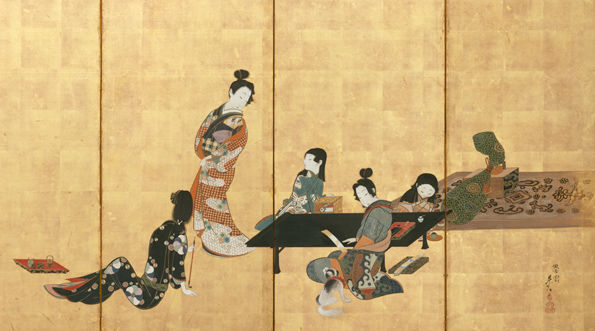 "Never in the history of mankind have prostitutes played such a prominent and important part in the culture of a nation as the courtesans of Edo."
—Ian Buruma (b. 1951), cultural historian and writer
Ukiyo-e, "pictures of the floating world," present partly real, partly imaginary, visions of the flashy, exuberant, and hedonistic world of brothels and theaters in Japanese cities of the seventeenth to nineteenth century. Despite its glossing over of the more sordid realities faced by most prostitutes—sexual abuse, abortion, disease, and early death—ukiyo-e compositions often invite intense intellectual engagement with their fictive and poetic narratives centering on the denizens of the pleasure quarters. This literary sophistication partly reflects the undeniable cultural accomplishments of many courtesans, especially in the arts of music, poetry, and calligraphy.
The Four Accomplishments, a favorite theme of elite painting in premodern times, depicted the rarified arts of the zither (koto), the board game go, calligraphy, and painting. The representation of the theme continued in the popular woodblock prints and paintings of the Edo period (1615–1868), though the koto was usually replaced by a shamisen (the three-stringed instruments used by geisha, as well as for Kabuki and Jōruri puppet plays); the game of go was substituted with sugoroku (backgammon); and calligraphy might be symbolized by a courtesan writing or reading a love letter rather than studying esteemed writings of ancient Chinese masters.
Included in this exhibition is an array of masterworks of ukiyo-e prints and illustrated books that demonstrate how poetry, calligraphy, brush writing, and the adulation of the Four Treasures of the Writing Table (brush, ink, inkstone, and paper) remained central themes in depictions of the floating world. Extremely rare impressions of surimono (privately published prints) from the Havemeyer "Spring Rain Albums," as well as woodblock-printed illustrated books on poetic themes, show how literati in Edo who frequented the pleasure quarters also were on close terms with prominent ukiyo-e artists of the day.