Permanent Installation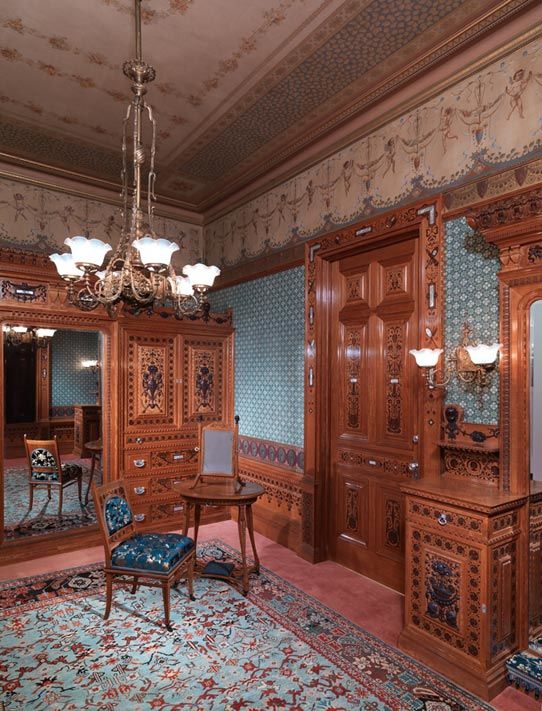 The Worsham-Rockefeller Dressing Room, a new permanent installation, is a jewel box of a room and a quintessential expression of the Aesthetic movement, which was in vogue during the late 1870s and early 1880s. The movement stressed the artistic and embraced an amalgamation of different styles, as seen here in the flat, stylized, natural ornamentation in combination with carved flourishes in the Renaissance style. The room comes from the 4 West 54th Street home of Arabella Worsham (ca. 1850–1924), mistress (and later, wife) of railroad magnate Collis P. Huntington. She commissioned George A. Schastey (American, 1839–1894) to decorate the house in 1881.
The private room, intended solely for Worsham's use, is a totally cohesive artistic interior with intricate woodwork, a built-in wardrobe, two full-length dressing mirrors, and a vanity en suite with a delicate dressing table, dressing glass, and chairs. Careful study of the ornate marquetry ornamentation—executed in satinwood and purpleheart with mother-of-pearl inlays—reveals a multitude of seashell and pearl motifs that reference Worsham's great love of pearl jewelry, while depictions of hand mirrors, scissors, hair combs, brooches, necklaces, and earrings suggest the dressing room's intended purpose. The room exemplifies the work of Schastey's interior decorating firm and his close relationship with his patrons.
In 1884, Worsham sold the house, complete with furnishings, to John D. Rockefeller (1839–1937), who made few changes to it. Donated to the Museum of the City of New York after Rockefeller's death in 1937, the room has found new life at the Metropolitan Museum, where it was recently conserved and firmly identified as the work of Schastey. It now takes its place within a suite of American interiors arranged in historical sequence.
See this gallery on the Museum Map.
Above: George A. Schastey & Co. (1873–97). Worsham-Rockefeller Dressing Room, New York City, 1881–82. The Metropolitan Museum of Art, New York, Gift of The Museum of the City of New York, 2008 (2009.226.1–19a–f)
---
Related Podcast
Listen to an evocative podcast written by Nate DiMeo, creator of the podcast series The Memory Palace, that shares some of the most luscious details of Arabella Worsham's glamorous life, as well as some of the secrets she may have guarded.
Written and Produced by Nate DiMeo of The Memory Palace
Musical score by Jimmy LaValle of the Album Leaf
Executive Producer, Limor Tomer, General Manager of Concerts & Lectures, The Metropolitan Museum of Art
Commissioned by The Metropolitan Museum of Art
This podcast is made possible by the Clara Lloyd-Smith Weber Fund.