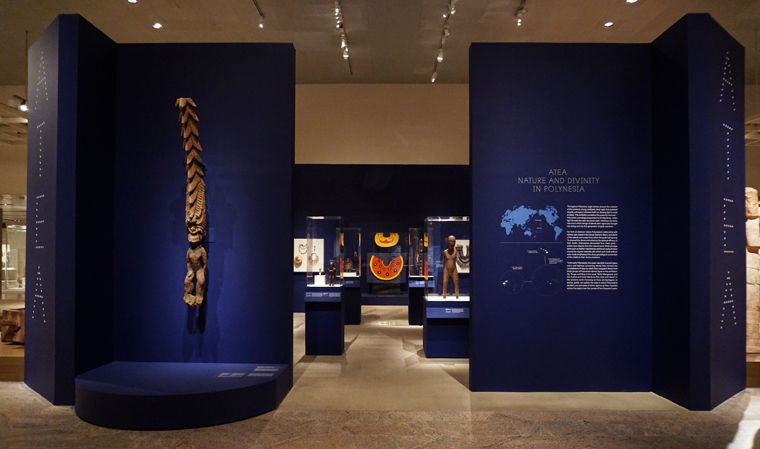 Throughout Polynesia, origin stories recount the creation of the universe: a long, endlessly deep night that pulsated steadily until space hollowed itself out, allowing light to seep in (atea). This exhibition considers the powerful moment—Polynesia's cosmological equivalent to the Big Bang—when light flooded the dark ancestral night, initiating a dynamic new era in which strings of islands were vigorously brought into being and the first generation of gods was born.
Far from an abstract notion, Polynesians' relationship with divinity was rooted in the bones, feathers, fibers, and plants of the islands and ocean from which the gods had sprung. To channel the divine and enhance the spiritual efficacy of their chiefs—themselves descended from these gods—artists drew directly from the natural world. While prestige items such as feather headdresses reinforced spiritual status (mana), the organic materials with which such ritual artifacts were made emphasized the close genealogical connection of the chiefs to their divine ancestors.
To the early Polynesians, the ocean was both a sacred space and a vast highway connecting islands that mirrored the constellations of stars by which they navigated. Works from three groups of Polynesian islands figure in this exhibition: Fiji, Tonga, and Niue in the west; Tahiti, Mangareva, and the Austral and Cook Islands to their east; and Hawai'i in the extreme north. Focusing on these archipelagoes as anchor points, we explore the ways in which Polynesians distilled core principles of divine agency as they migrated across the region over the course of two thousand years.