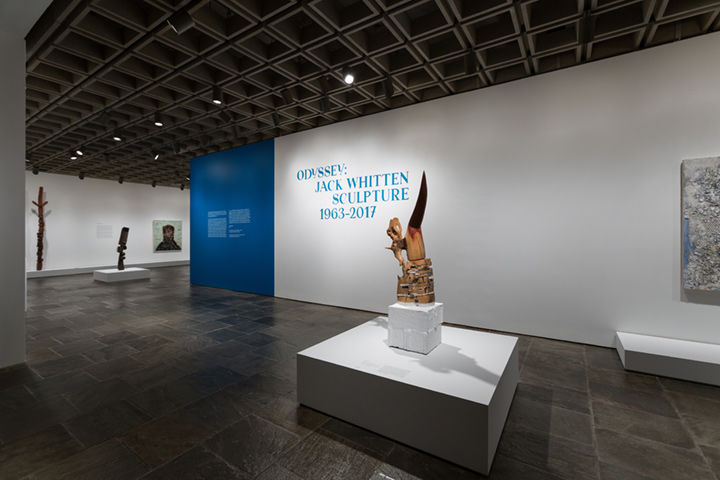 This exhibition presents the extraordinary sculptures of American artist Jack Whitten (1939–2018). Although he has long been recognized for his accomplishments as an abstract painter, his sculptures have been largely unstudied until now.
Born in Bessemer, Alabama, Whitten moved to New York in 1960 and promptly joined a dynamic and diverse community of artists, poets, and jazz musicians living both downtown and uptown. Around 1962 he created his first sculptures. Whitten redoubled his commitment to the medium in 1969 when he began spending summers on the Greek island of Crete. His sculptures consist of carved wood and locally sourced, usually repurposed materials, such as bone, marble, paper, glass, metal, and fishing line. In addition to serving both aesthetic and ritualistic ends, they are inspired by traditions rooted in Africa, the Southern United States, and ancient and present-day Mediterranean. As such, they express a cosmopolitan perspective, one that transcends historical eras and national boundaries—reflecting the geography of Whitten's life as well as that of members of the diaspora as a whole.
Forty of Whitten's sculptures are joined in this exhibition by eighteen of his paintings, including the entire Black Monolith series (1988–2017). Together they demonstrate technical, conceptual, and thematic parallels between his practice in two and three dimensions. Odyssey also features sixteen African, Cycladic, Minoan, Mycenaean, and American objects from The Met, whose collections were a lifelong resource for the artist. Integrated throughout the exhibition, these works signal Whitten's myriad art-historical debts, acting as potent reminders of the rich histories out of which contemporary art arises.