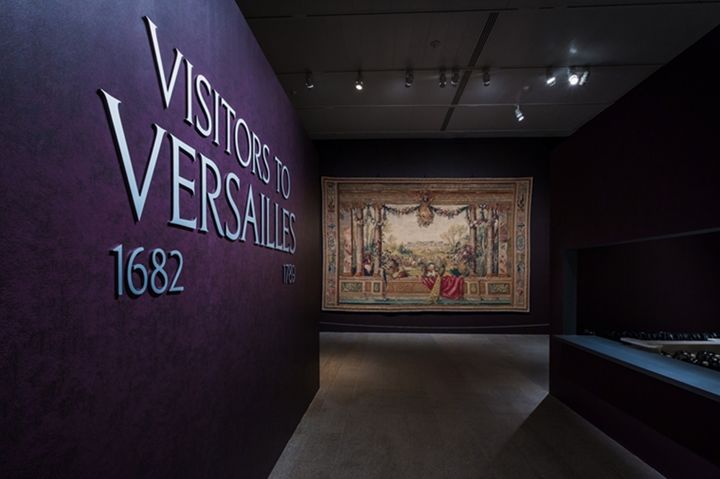 Versailles, the royal residence of the Bourbon kings from 1682 until the French Revolution, was surely the most magnificent court in Europe. The palace and its gardens were also unusually public, allowing entry to anyone who was decently dressed. This strategy of openness was politically calculated, drawing on the long tradition of granting French subjects access to their ruler. From the moment Louis XIV transformed his father's simple hunting lodge into the ultimate architectural expression of his absolute rule, travelers of all kinds flocked to see the king in his extraordinary setting.
What was it like to visit Versailles? Who went there and what did they think of what they saw? This exhibition explores the experiences of various types of travelers as they toured the Hall of Mirrors, strolled through the expansive gardens, witnessed the arrival of diplomatic missions, or watched the royal family dine. Its narrative is drawn from letters, diaries, and reports from the period, and these histories are made tangible through a dazzling array of art objects, sculpture, costume, and paintings.
There were some practical matters all travelers considered: how to reach Versailles, how to dress at court, and what sights to see. Nonetheless, specific visitors had vastly differing kinds of encounters with the royal family and the spaces they inhabited, depending on their rank and the reason for the trip. What gifts did they bring or receive? What souvenirs might they take home?
You may listen to the binaural audio experience that accompanies the exhibition by opening each gallery below, and clicking the associated orange "play" button. For optimal sound quality, please wear over-the-ear headphones while listening. Learn more.
For optimal binaural sound quality, please wear over-the-ear headphones while listening.