Ancient Animals at Work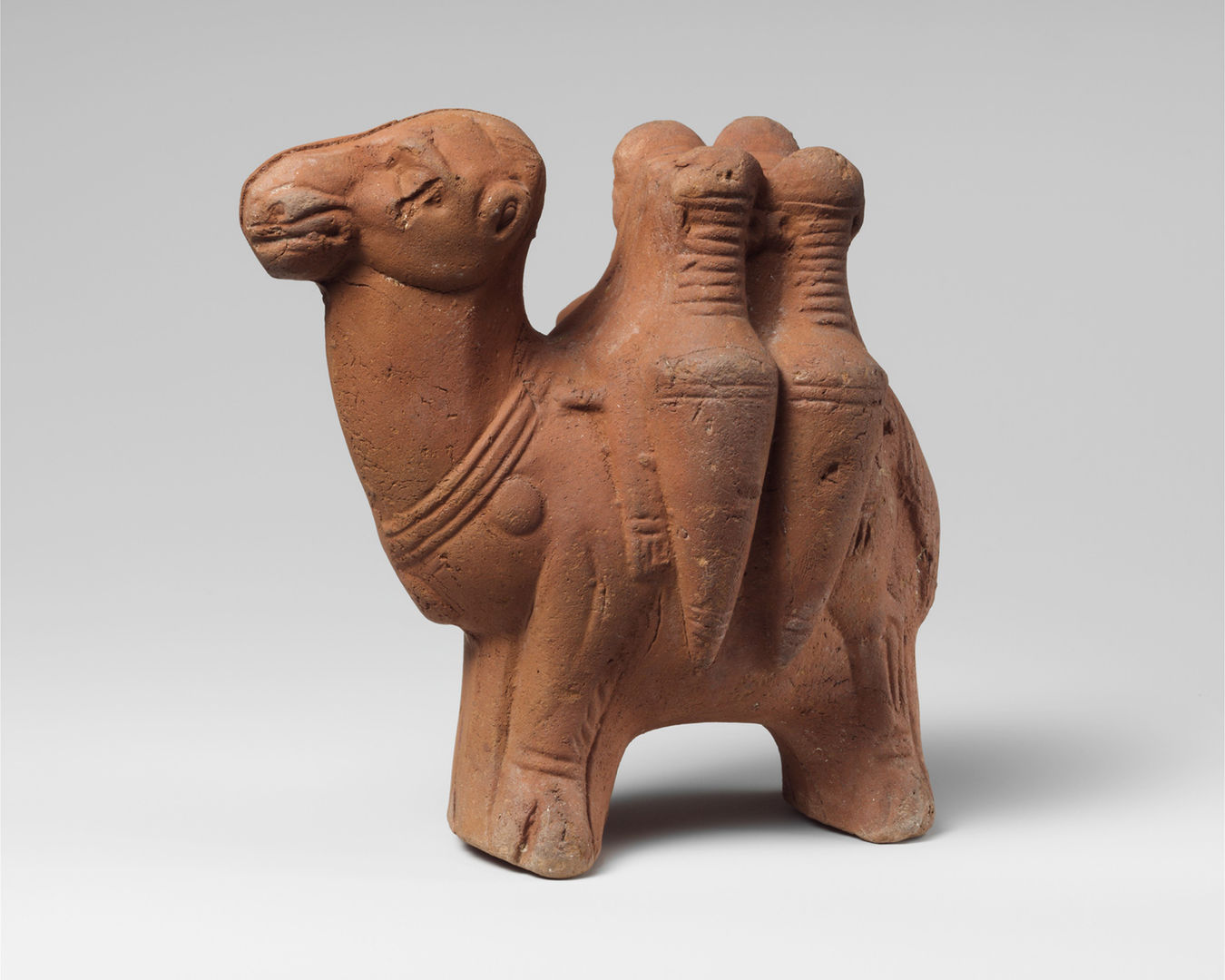 Collection Area: Greek and Roman Art
Subject Areas: English Language Arts, Science and Technology, Visual Arts, World History
Grades: Elementary School
Topic/Theme: Animals in Art
---
Goals
Students will be able to:
learn about trade in ancient society through a close reading of a work of art and related text;
identify ways the artist conveys the camel's role in this community; and
create a clay sculpture of an animal at work.
---
National Learning Standards
English Language Arts
NL-ENG.K-12.4 Communication Skills
NL-ENG.K-12.5 Communication Strategies
NL-ENG.K-12.6 Applying Knowledge
Science
NS.K-4.3 Life Science
Visual Arts
NA-VA.K-8.1 Understanding and Applying Media, Techniques, and Processes
NA-VA.K-8.4 Understanding the Visual Arts in Relation to History and Cultures
NA-VA.K-8.6 Making Connections between Visual Arts and Other Disciplines
World History
NSS-WH.5-12.3 Era 3: Classical Traditions, Major Religions, and Giant Empires, 1000 bce–300 bce
---
Common Core State Standards
English Language Arts
CCSS.ELA-Literacy.CCRA.R.7 Integrate and evaluate content presented in diverse media and formats, including visually and quantitatively, as well as in words.
CCSS.ELA-Literacy.CCRA.SL.4 Present information, findings, and supporting evidence such that listeners can follow the line of reasoning and the organization, development, and style are appropriate to task, purpose, and audience.
CCSS.ELA-LITERACY.CCRA.W.2 Write informative/explanatory texts to examine and convey complex ideas and information clearly and accurately through the effective selection, organization, and analysis of content.
---
Questions for Viewing
Describe the animal featured in this artwork. What might you infer about its role in the community?
What are some roles animals play in your community? What makes each animal well suited for this role?
Read this short informational text about camels [provide a print out of this text]. What did you find most interesting or surprising?
Long-distance trade between Asia and Europe was quite challenging in ancient times due to the harsh climate and terrain. Describe one attribute that made the camel a great vehicle for trade in the ancient world.
What animal attributes does this work of art seem to emphasize? What do you see that makes you say that?
---
Activity
Activity Setting: Classroom
Materials: Images of a range of animals at work (see examples in the Objects in the Museum's Collection Related to this Lesson section), research materials (books, articles, and/or Internet access), clay
Subject Areas: English Language Arts, Science and Technology, Visual Arts, World History
Duration: 60 minutes
Create a figurine highlighting ways an animal from your community contributes to daily life. Research the animal you selected and identify attributes that make it well suited for its role(s). As you plan, consider how you will visually convey this information. Present your finished sculpture to your classmates along with a gallery label highlighting how the finished piece reflects the role of this animal in the community.
---
Resources
Department of Ancient Near Eastern Art. "Trade between Arabia and the Empires of Rome and Asia." In Heilbrunn Timeline of Art History. New York: The Metropolitan Museum of Art, 2000–. (October 2000)
Department of Ancient Near Eastern Art. "Trade Routes between Europe and Asia during Antiquity." In Heilbrunn Timeline of Art History. New York: The Metropolitan Museum of Art, 2000–.(October 2000)
Eadweard Muybridge. Animal locomotion: an electro-photographic investigation of consecutive phases of animal movements. 1872–1885. (To view the short video clip, select the "Video File" thumbnail image on the right-hand menu.) USC Digital Library, 2010.
Traveling the Silk Road. New York: The American Museum of Natural History, 2010.
---
Objects in the Museum's Collection Related to this Lesson
Bronze statuette of Cybele on a cart drawn by lions, dated second half of 2nd century A.D. Roman. Bronze, 12 x 54 3/4 in. (30.5 x 139.1 cm). The Metropolitan Museum of Art, New York, Gift of Henry G. Marquand, 1897 (97.22.24)
Figure of a Horse. Tang dynasty (618–907), late 7th–first half of the 8th century. China. Earthenware with three-color (sancai) glaze and pigment, H. 29 3/4 in. (75.6 cm). The Metropolitan Museum of Art, New York, Gift of Stanley Herzman, in memory of Adele Herzman, 1991 (1991.253.12)
Kunz Lochner (German, 1510–1567). Horse Armor Made for Johann Ernst, Duke of Saxony-Coburg (1521–1553), 1548. German, Nuremberg. Etched steel, leather, copper alloy, textile, 6 in. (15.2 cm). The Metropolitan Museum of Art, New York, Rogers Fund, 1932 (32.69)
---
Author: Adapted from a lesson by Marjorie Wainfan (New York City substitute teacher, 2014)