Bravery Stands Tall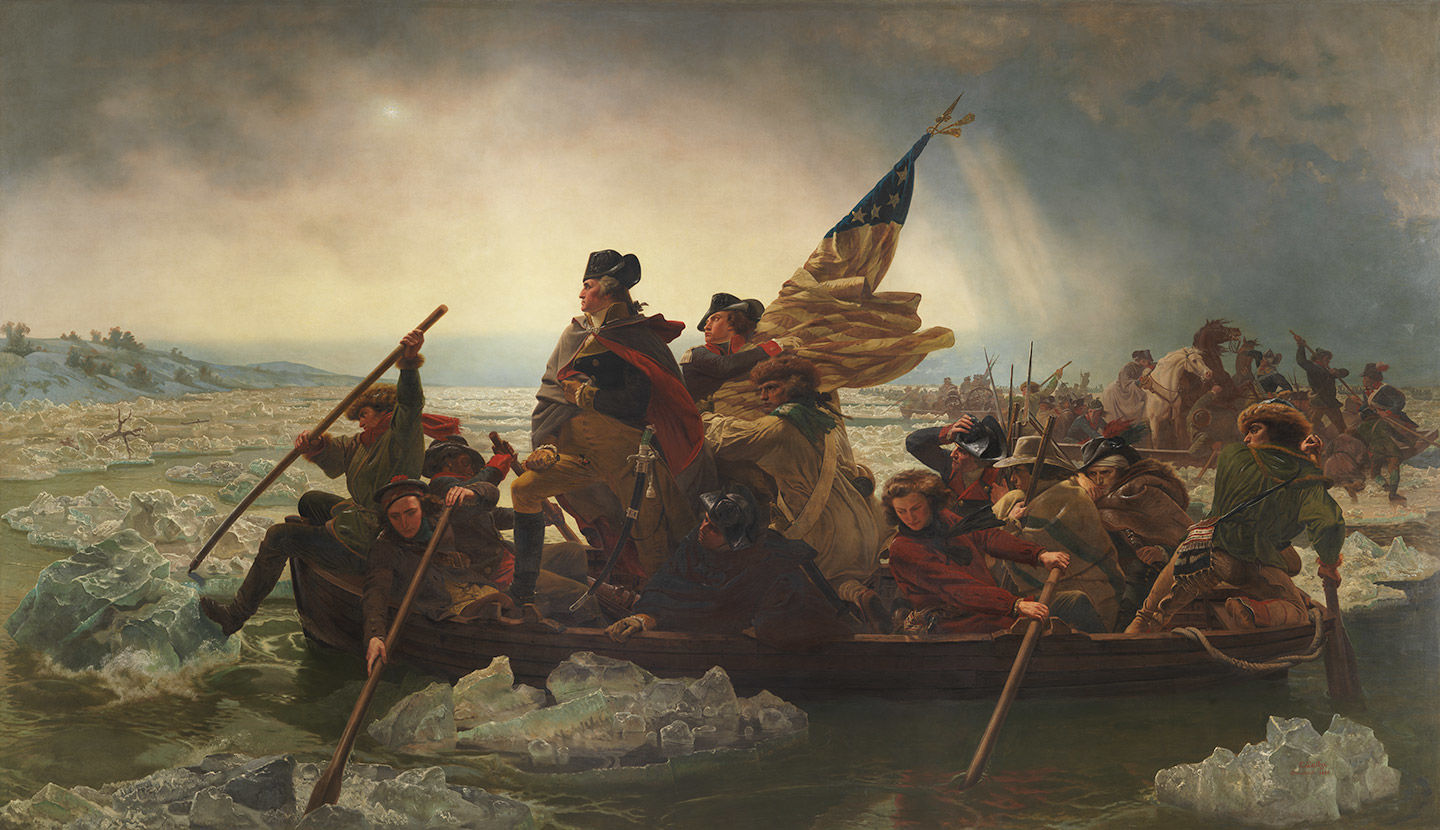 Emanuel Leutze (American, 1816–1868). Washington Crossing the Delaware, 1851. Oil on canvas, 149 x 255 in. (378.5 x 647.7 cm). The Metropolitan Museum of Art, New York, Gift of John Stewart Kennedy, 1897 (97.34)
Collection Area:
American Art
Subject Areas:
English Language Arts, U.S. History, Visual Arts
Grades:
Middle School
Topics/Themes:
Art as a Primary Resource, Stories in Art
---
Goals
Students will be able to:
use visual evidence to generate inferences;
identify ways artists' choices (i.e., composition, scale, pose and facial expressions, and lighting) convey point of view; and
compose a fictional field report from the perspective of a Hessian scout.
---
National Learning Standards
English Language Arts
NL-ENG.K-12.4 Communication Skills
NL-ENG.K-12.5 Communication Strategies
NL-ENG.K-12.6 Applying Knowledge
U.S. History
NSS-USH.5-12.3 Era 3: Revolution and the New Nation (1754–1820s)
Visual Arts
NA-VA.5-8.4 Understanding the Visual Arts in Relation to History and Cultures
NA-VA.5-8.6 Making Connections between Visual Arts and Other Disciplines
---
Common Core State Standards
English Language Arts
CCSS.ELA-Literacy.RH.6-8.1 Cite specific textual evidence to support analysis of primary and secondary sources.*
CCSS.ELA-Literacy.RH.6-8.2 Determine the central ideas or information of a primary or secondary source; provide an accurate summary of the source distinct from prior knowledge or opinions.*
CCSS.ELA-Literacy.RH.6-8.7 Integrate visual information (e.g., in charts, graphs, photographs, videos, or maps) with other information in print and digital texts.
CCSS.ELA-Literacy.CCRA.W.3 Write narratives to develop real or imagined experiences or events using effective technique, well-chosen details, and well-structured event sequences.
*Art as text
---
Questions for Viewing
Take a moment to look closely. What appears to be happening in this painting? What do you see that makes you say that?
How would you describe the mood? Why?
Select one figure in the scene and take a closer look. What do you notice about his facial expression and posture? What might he be thinking or feeling?
Scan the various figures in the scene. What are some things they have in common? What differences stand out?
On December 25, 1776, General George Washington (who stands in the center of the painting looking ahead) led his troops, the Continental Army, across the Delaware River to launch a surprise attack on the Hessians in Trenton, New Jersey. In spite of the challenging weather, they were successful. What do you think the artist hoped to convey about this event?
---
Activity
Activity Setting: Classroom
Materials: Writing paper, pencil
Subject Areas: English Language Arts, U.S. History, Visual Arts
Duration: 30 minutes
Imagine you are a Hessian scout charged with accurately reporting potential threats from the enemy. Write a message to your commanding officer describing the approaching army featured in the painting. Include any relevant information that may benefit the Hessians—such as number of soldiers, officers among their ranks, weaponry, and anticipated time of arrival. [Note: Washington was lucky no scouts actually detected him!]
---
Resources
Barratt, Carrie Rebora. "George Washington: Man, Myth, Monument." In Heilbrunn Timeline of Art History. New York: The Metropolitan Museum of Art, 2000–. (May 2009)
Lass, Cody. "Battle of Trenton (December 26, 1776)" and "Crossing of the Delaware." George Washington's Mount Vernon. 2014.
Fitzgerald, John. Excerpts from the diary of Colonel John Fitzgerald on Washington's Crossing of the Delaware, December 25–26, 1776. In ExplorePAHistory.com. Pennsylvania: WITF. 2011.
Howat, John K. "Washington Crossing the Delaware." The Metropolitan Museum of Art Bulletin, v. 26, no. 7, March 1968, 289.
---
Objects in the Museum's Collection Related to this Lesson
Frederick Kemmelmeyer (German, ca. 1755–1821). The American Star (George Washington), ca. 1803. Oil and gold leaf on paper, 22 x 17 3/4 in. (55.9 x 45.1 cm). The Metropolitan Museum of Art, New York, Gift of Edgar William and Bernice Chrysler Garbisch, 1962 (62.256.7)
Jacob Lawrence (American, 1917–2000). Struggle Series—No. 10: Washington Crossing the Delaware, 1954. Egg tempera on hardboard; 12 x 16 in. (30.5 x 40.6 cm). The Metropolitan Museum of Art, New York, Purchase, Lila Acheson Wallace Gift, 2003 (2003.414). © 2011 Artists Rights Society (ARS), New York
Anonymous (American, 18th–19th century). Washington Crossing the Delaware, 18th–19th century. Embossed print, 5 13/16 x 8 1/16 in. (14.8 x 20.5 cm). The Metropolitan Museum of Art, New York, Museum accession (x.791)

---
Author: Adapted from lessons by Julie Roinos and Sharon Shambourger (Lower Manhattan Arts Academy and Life Sciences Secondary School, 2014)