Composing a Landscape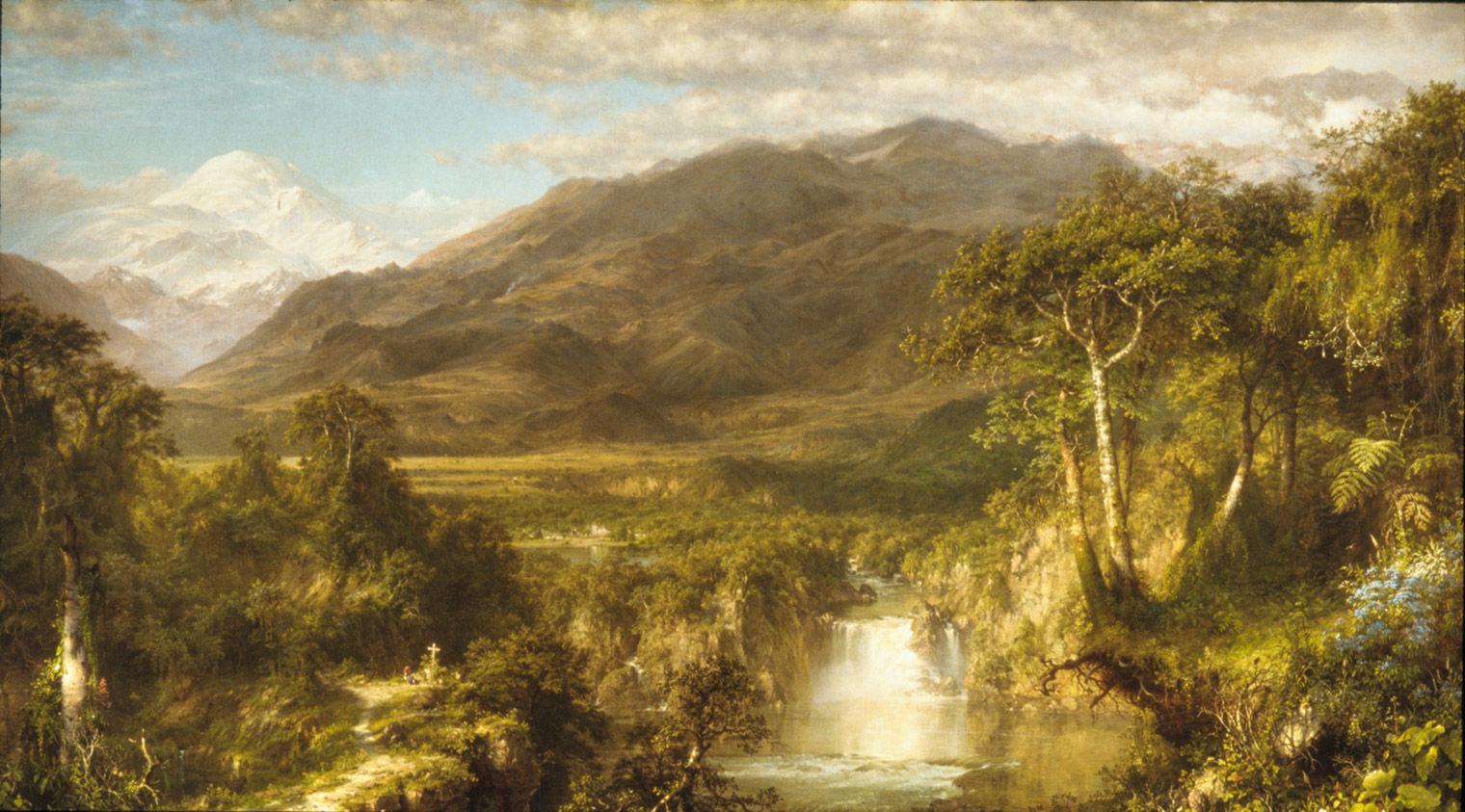 Frederic Edwin Church (American, 1826–1900). Heart of the Andes, 1859. Oil on canvas, 66 1/8 x 119 1/4 in. (168 x 302.9 cm). The Metropolitan Museum of Art, New York, Bequest of Margaret E. Dows, 1909 (09.95)
Collection Area: American Art
Subject Areas: Geography, Science, Visual Arts
Grades: Middle School, High School
Topics/Themes: Art and the Environment, Art and Writing, Artist Choices
---
Goals
Students will be able to:
analyze the relationship between the human and natural world presented in a work of art;
identify ways artists use viewpoint, scale, and detail to communicate ideas; and
create a work of art highlighting the relationship between humans and the natural world.
---
National Learning Standards
Geography
NSS-G.K-12.2 Places and Regions
NSS-G.K-12.5 Environment and Society
Science
NS.K-12.6 Personal and Social Perspectives
Visual Arts
NA-VA.K-12.1 Understanding and Applying Media, Techniques, and Processes
NA-VA.K-12.2 Using Knowledge of Structures and Functions
NA-VA.K-12.3 Choosing and Evaluating a Range of Subject Matter, Symbols, and Ideas
NA-VA.K-12.4 Understanding the Visual Arts in Relation to History and Cultures
NA-VA.K-12.5 Reflecting Upon and Assessing the Characteristics and Merits of Their Work and the Work of Others
NA-VA.K-12.6 Making Connections between Visual Arts and Other Disciplines
---
Common Core State Standards
English Language Arts
CCSS.ELA-Literacy.CCRA.W.3 Write narratives to develop real or imagined experiences or events using effective technique, well-chosen details and well-structured event sequences.
CCSS.ELA-Literacy.CCRA.W.6 Use technology, including the Internet, to produce and publish writing and to interact and collaborate with others.
---
Questions for Viewing
Take a moment to look at the painting from a distance. What do you notice?
Imagine you were going to hike from the path in the foreground to the farthest point in the distance. What would you pack for your trip (clothing, supplies, etc.)? Why?
Select two different points along your journey and describe some of the activities you might engage in at each location. How did the environment influence your experience?
We've been talking about this work in terms of near and far. What strategies has the artist used to communicate a sense of space?
What do you notice about the view we have of this scene? How might your impression of the landscape change if you were standing on the path in the foreground?
Move in for a closer look. What do you notice from this vantage point?
What evidence of the human world do you see in this landscape? How would you describe the relationship between humans and the natural world in the scene? How does your community relate to the natural environment? What similarities and differences do you notice?
Frederic Edwin Church created this painting in his studio based on sketches made during trips to Colombia and Ecuador in 1853 and 1857. What opportunities or challenges might working from sketches in a studio present?
In 1859, over twelve thousand people paid a quarter apiece to see the painting during its premiere in New York. How do you think the installation of this work in a dark room with concealed skylights, a huge windowlike frame, and plants impacted viewers' experiences?
---
Activity
Activity Setting: Classroom or Museum
Materials: Paper and pencils, or mobile device (i.e., smartphone or tablet) with a social-networking or blog application installed
Subject Areas: Visual Arts, English Language Arts
Duration: 60 minutes
Create a blog entry (or social network update) featuring your "trip" to this place. Use drawing as a means to construct a "snapshot" highlighting one of your experiences. Create a short text entry to accompany the image. As you work, consider what part of the scene you will feature, the type of activities that might take place there, and the type of clothing (or related objects) you would need.
Alternate Activity
Activity Setting: Classroom and outdoor site
Materials: Paper, pencils, paint, brushes, and cup for water (optional)
Subject Areas: Geography, Visual Arts
Duration: 120 minutes
Take a trip to an outdoor site with your class. Observe the people, environment, and their relationship to one another. Sketch key details to help you remember what you saw. Back in class, compare and contrast your findings with a partner. Create a drawing, painting, or diorama of the scene synthesizing the information each person gathered. Share the image with your peers. Discuss the relationship between the human and natural world presented in the image. Compare your representation of this place with other groups noting the impact of viewpoint, scale, and details.
---
Resources
Andrews, Malcolm. Landscape and Western Art. New York: Oxford University Press, 1999.
Avery, Kevin J. "Frederic Edwin Church (1826–1900)." In Heilbrunn Timeline of Art History. New York: The Metropolitan Museum of Art, 2000–. (August 2009)
Avery, Kevin J. "The Hudson River School." In Heilbrunn Timeline of Art History. New York: The Metropolitan Museum of Art, 2000–. (October 2004)
"Frederic Edwin Church: The Heart of the Andes (09.95)." In Heilbrunn Timeline of Art History. New York: The Metropolitan Museum of Art, 2000–. (August 2009)
---
Objects in the Museum's Collection Related to this Lesson
Albert Bierstadt (American, 1830–1902). The Rocky Mountains, Lander's Peak, 1863. Oil on canvas, 73 1/2 x 120 3/4 in. (186.7 x 306.7 cm). The Metropolitan Museum of Art, New York, Rogers Fund, 1907 (07.123)
Charles Sheeler (American, 1883–1965). Water, 1945. Oil on canvas, 24 x 29 1/8 in. (61 x 74 cm). The Metropolitan Museum of Art, New York, Arthur Hoppock Hearn Fund, 1949 (49.128)
Pieter Bruegel the Elder (Netherlandish, active by 1551–died 1569). The Harvesters, 1565. Oil on wood; overall, including added strips at top, bottom, and right, 46 7/8 x 63 3/4 in. (119 x 162 cm), original painted surface 45 7/8 x 62 7/8 in. (116.5 x 159.5 cm). The Metropolitan Museum of Art, New York, Rogers Fund, 1919 (19.164)
---
Authors: Sofia Gans and Claire Moore, The Metropolitan Museum of Art,2010