The Art of Industry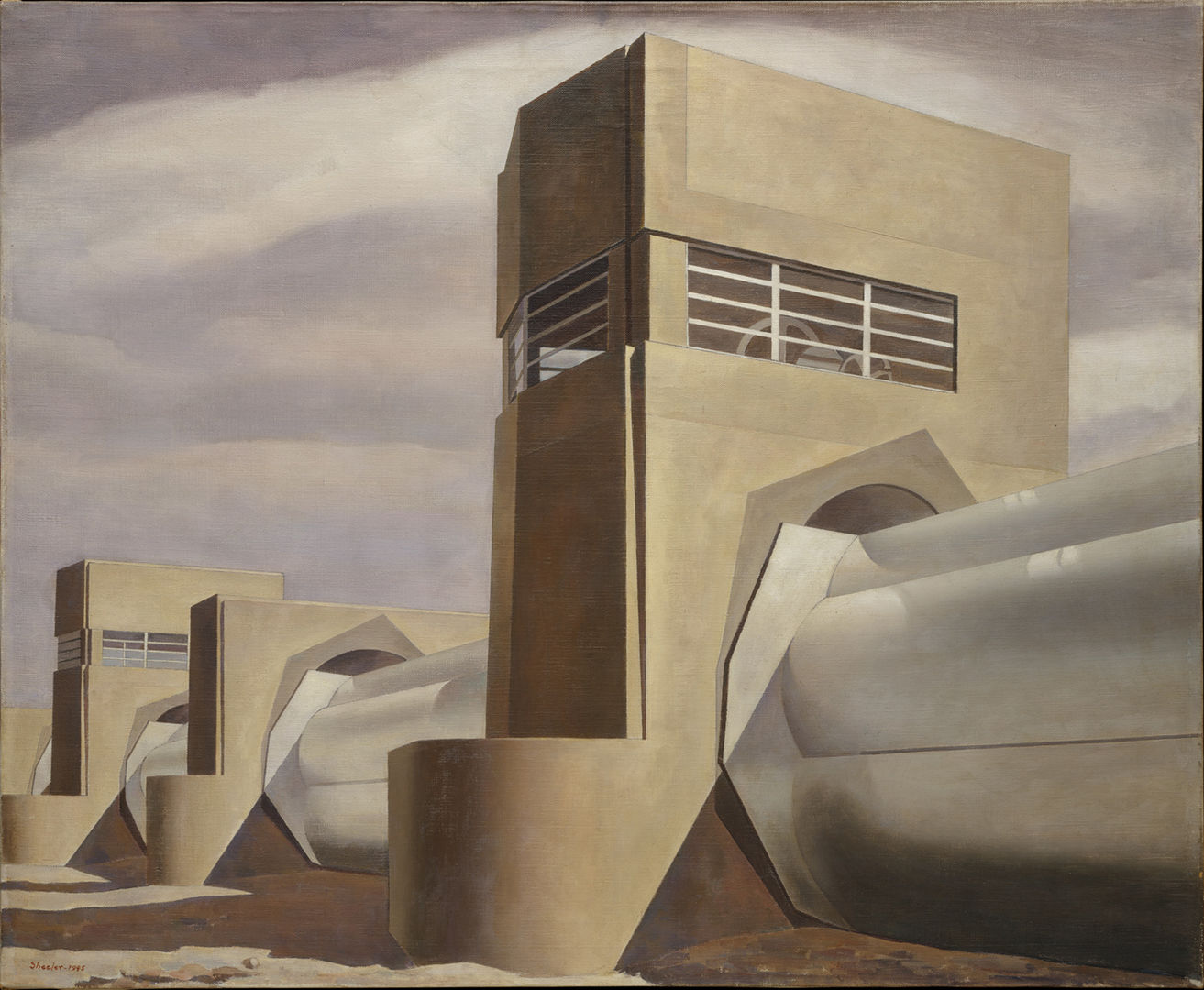 Charles Sheeler (American, 1883–1965). Water, 1945. Oil on canvas, 24 x 29 1/8 inches (61 x 74 cm). The Metropolitan Museum of Art, New York, Arthur Hoppock Hearn Fund, 1949 (49.128)
Collection Area: Modern and Contemporary Art
Subject Areas: English Language Arts, Geography, U.S. History, Visual Arts
Grades: High School
Topic/Theme: Art as a Primary Resource
---
Goals
Students will be able to:
recognize the capacity of art to both reflect and shape community values;
identify ways in which attributes such as color, viewpoint, style, and composition convey ideas; and
develop interpretations of artwork based on visual evidence and evaluate alternate viewpoints expressed by peers.
---
National Learning Standards
English Language Arts
NL-ENG.K-12.4 Communication Skills
NL-ENG.K-12.5 Communication Strategies
NL-ENG.K-12.7 Evaluating Data
NL-ENG.K-12.12 Applying Language Skills
Geography
NSS-G.K-12.5 Environment and Society
U.S. History
NSS-USH.K-12.7 Era 7: The Emergence of Modern America (1890–1930)
Visual Arts
NA-VA.K-12.3 Choosing and Evaluating a Range of Subject Matter, Symbols, and Ideas
NA-VA.K-12.4 Understanding the Visual Arts in Relation to History and Cultures
NA-VA.K-12.6 Making Connections between Visual Arts and Other Disciplines
---
Common Core State Standards
CCSS.ELA-Literacy.CCRA.R.1 Read closely to determine what the text says explicitly and to make logical inferences from it; cite specific textual evidence when writing or speaking to support conclusions drawn from the text.*
CCSS.ELA-Literacy.CCRA.R.7 Integrate and evaluate content presented in diverse media and formats, including visually and quantitatively, as well as in words.
CCSS.ELA-Literacy.CCRA.SL.1 Prepare for and participate effectively in a range of conversations and collaborations with diverse partners, building on others' ideas and expressing their own clearly and persuasively.
CCSS.ELA-Literacy.CCRA.SL.3 Evaluate a speaker's point of view, reasoning, and use of evidence and rhetoric.
*Art as text
---
Questions for Viewing
Take a moment to look closely. What are your first impressions of the scene?
How does this image compare to other American landscapes you've seen?
What does this work emphasize? How?
What do you notice about the colors the artist selected? What might this add to our understanding?
This painting depicts a hydroelectric power generator built by the Tennessee Valley Authority in the 1930s. How do you think the artist felt about the growth of industry at this time? What do you see that supports your idea?
How might your response to this painting change if the artist selected a vantage point further away or from above?
In addition to painting, Sheeler worked as a commercial photographer. What aspects of this painting might draw upon that experience?
Why do you think the artist continued to paint in spite of his success as a photographer?
---
Activity
Activity Setting: Classroom or Museum
Materials: None
Subject Areas: English Language Arts, Geography, U.S. History, Visual Arts
Duration: 30 minutes
Make a case for this painting as a celebration or critique of industry using evidence to support your argument. Listen closely to the ideas and evidence presented by other speakers and consider how, if at all, your interpretation of this work has changed at the end of the discussion.
---
Resources
Brock, Charles. Charles Sheeler: Across Media. Washington, D.C.: National Gallery of Art, 2006
"Charles Sheeler: Water (49.128)." In Heilbrunn Timeline of Art History. New York: The Metropolitan Museum of Art, 2000–. (November 2009)
Montclair Art Museum. Precisionism in America, 1915–1941: Reordering Reality. New York: Abrams, 1994.
Murphy, Jessica. "Charles Sheeler (1883–1965)." In Heilbrunn Timeline of Art History. New York: The Metropolitan Museum of Art, 2000–. (November 2009)
---
Objects in the Museum's Collection Related to this Lesson
Charles Sheeler (American, 1883–1965). Criss-Crossed Conveyors, River Rouge Plant, Ford Motor Company, 1927. Gelatin silver print, 9 1/4 x 7 3/8 in. (23.5 x 18.8 cm). The Metropolitan Museum of Art, New York, Ford Motor Company Collection, Gift of Ford Motor Company and John C. Waddell, 1987 (1987.1100.1) © The Lane Collection
Charles Demuth (American, 1883–1935). Machinery, 1920. Tempera and pencil on cardboard, 24 x 19 7/8 in. (60.9 x 50 cm). The Metropolitan Museum of Art, New York, Alfred Stieglitz Collection, 1949 (49.59.2)
---
Author: Claire Moore, The Metropolitan Museum of Art, 2010