The Burghers of Calais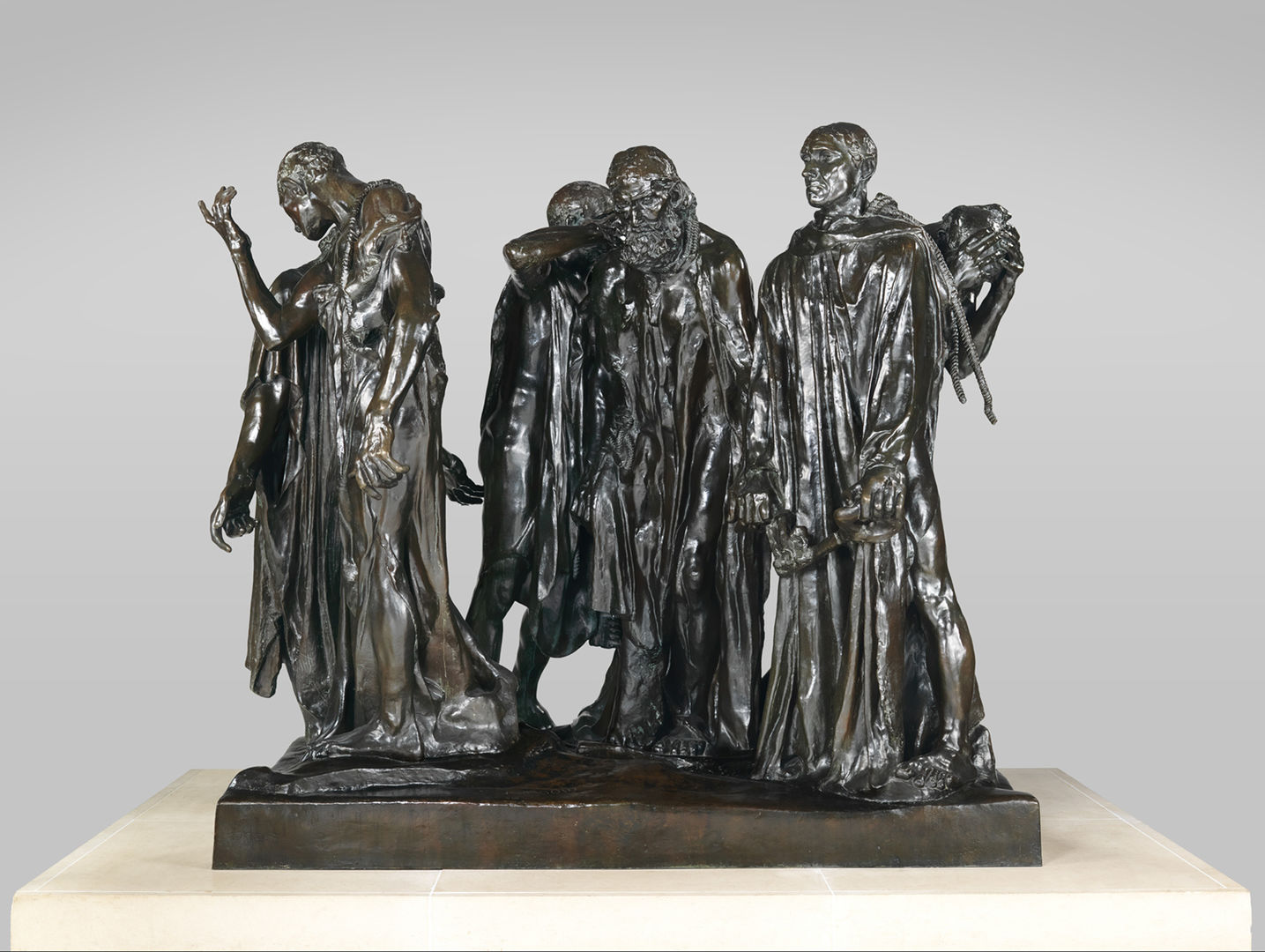 Auguste Rodin (French, 1840–1917). The Burghers of Calais, modeled 1884–95; this cast 1985. Bronze, 82 1/2 x 94 x 95 in. (209.6 x 238.8 x 241.3 cm). The Metropolitan Museum of Art, New York, Gift of Iris and B. Gerald Cantor, 1989 (1989.407)
Collection Areas: European Art; European Art, Nineteenth-Century; French Art
Subject Areas: English Language Arts, Visual Arts, World History
Grades: Elementary School, Middle School, High School
Topics/Themes: Identity, Stories in Art, Artist Choices
---
Goals
Students will be able to:
examine pose and facial expressions as tools for analyzing works of art; and
utilize the figures in the sculpture as a springboard for a creating a first-person narrative.
---
National Learning Standards
English Language Arts
NL-ENG.K-12.1 Reading for Perspective
NL-ENG.K-12.4 Communication Skills
NL-ENG.K-12.5 Communication Strategies
NL-ENG.K-12.12 Applying Language Skills
Visual Arts
NA-VA.K-12.4 Understanding the Visual Arts in Relation to History and Culture
NA-VA.K-12.6 Making Connections between Visual Arts and Other Disciplines
World History
NSS-WH.5-12.7 Era 7: An Age of Revolutions, 1750–1914
---
Common Core State Standards
CCSS.ELA-Literacy.CCRA.R.1 Read closely to determine what the text says explicitly and to make logical inferences from it; cite specific textual evidence when writing or speaking to support conclusions drawn from the text.*
CCSS.ELA-Literacy.CCRA.R.7 Integrate and evaluate content presented in diverse media and formats, including visually and quantitatively, as well as in words.
CCSS.ELA-Literacy.CCRA.R.9 Analyze how two or more texts address similar themes or topics in order to build knowledge or to compare the approaches the authors take.
CCSS.ELA-Literacy.CCRA.W.3 Write narratives to develop real or imagined experiences or events using effective technique, well-chosen details, and well-structured event sequences.
*Art as text
---
Questions for Viewing
Look closely at the figures. What do you notice about their clothing? What associations does it bring to mind?
How are the figures posed? What do you notice about their facial expressions?
How does the sculpture make you feel?
How would you describe the relationships between the figures?
Where do you imagine they are standing?
How might the impact of this work change if it were small enough to rest on a table?
In 1885 the town council of the French city of Calais commissioned Auguste Rodin to produce a sculpture that would pay tribute to the leading citizens, or burghers, of Calais, heroes of the Hundred Years' War and symbols of French patriotism. If you were given the same commission as Rodin, how would you choose to tell the story? (See story in the teacher resource.)
What do you think Rodin hoped to convey through this sculpture?
---
Activity
Activity Setting: Classroom or Museum
Materials: Pencils and paper
Subject Areas: English Language Arts, Visual Arts
Duration: 60 minutes
Read the story of the burghers of Calais listed in the resource section. Looking back at the sculpture, choose one figure to focus on. Recreate the figure's pose and facial expression. Consider how this pose makes you feel. Write a first-person narrative of the figure you chose to represent. Collect the stories and read a few aloud. See if you can guess which figure's voice is expressed in each account.
---
Resources
Benedek, Nelly Silagy. Auguste Rodin—The Burghers of Calais: A Resource for Educators. New York: The Metropolitan Museum of Art, 2000. Download the resource (PDF).
Rosenblum, Robert, and H. W. Janson. Nineteenth-Century Art. Upper Saddle River, NJ: Pearson, 2005.
Vincent, Clare. "Auguste Rodin (1840–1917)." In Heilbrunn Timeline of Art History. New York: The Metropolitan Museum of Art, 2000–. (October 2004) (Includes an extensive reading list along with links to Metropolitan Museum Bulletins and Journals.)
---
Object in the Museum's Collection Related to this Lesson
Auguste Rodin (French, 1840–1917). Adam, modeled 1880; this cast 1910. Bronze, 76 1/4 x 29 1/2 x 30 1/2 in. (194.3 x 74.9 x 77.5 cm). The Metropolitan Museum of Art, New York, Gift of Thomas F. Ryan, 1910 (11.173.1)
---