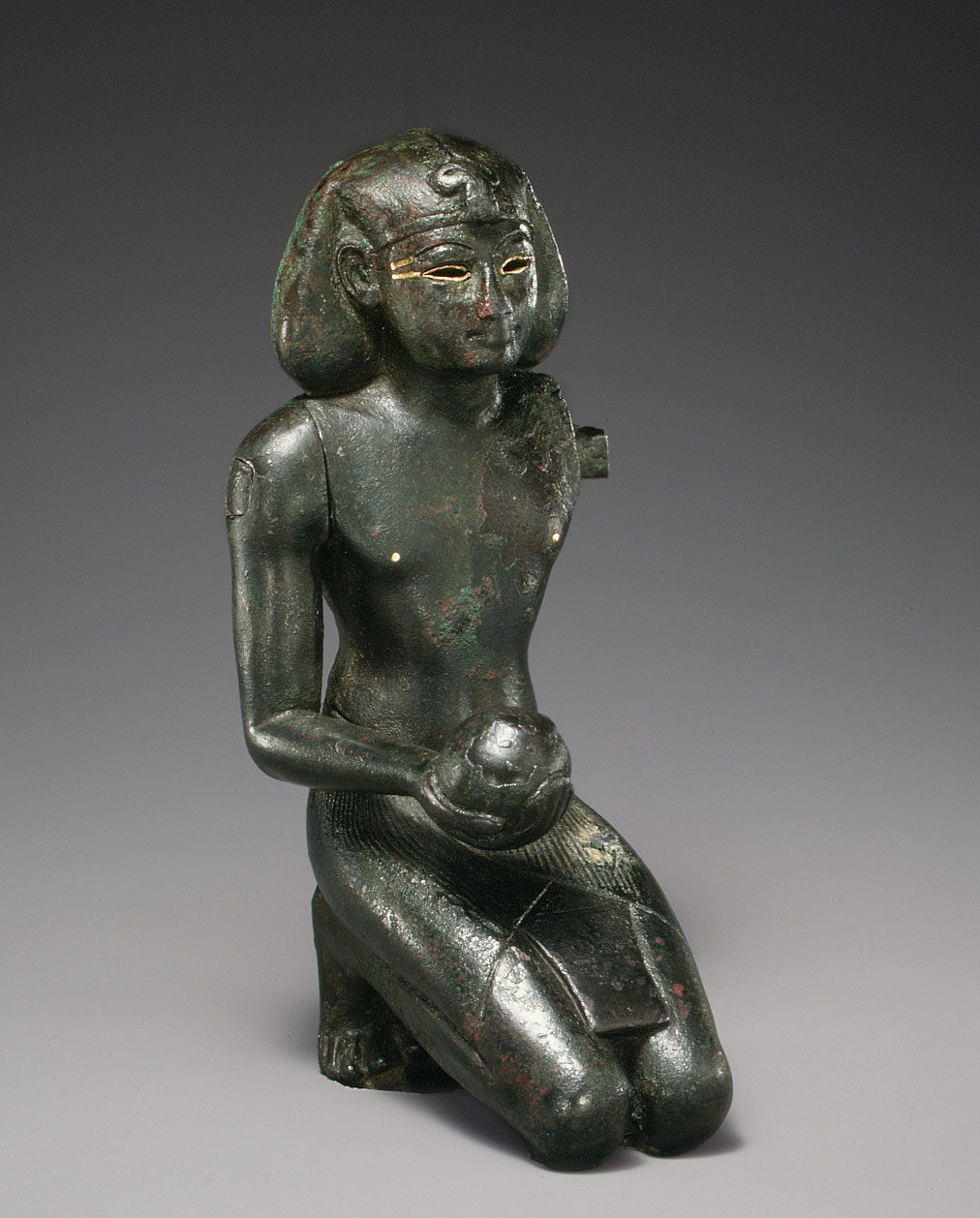 ---
Kneeling statuette of Thutmose III, New Kingdom, Dynasty 18, reign of Thutmose III, ca. 1479–1425

b.c.


Egyptian
Bronze; H. 5 3/8 in. (13.6 cm)
Purchase, Edith Perry Chapman Fund and Malcolm Hewitt Wiener Foundation Inc. Gift, 1995 (1995.21)

Beautifully poised, this small bronze king offers wine or milk to a god. The fluid, athletic modeling of his body and details of his costume indicate a date in mid–Dynasty 18. In fact, the statuette represents the great king Thutmose III, as is revealed by traces of his prenomen, Menkheperre, on the belt buckle.
This figure is the earliest known New Kingdom royal bronze statuette and, with a few late Middle Kingdom copper and copper-alloy precursors, it initiates the tradition of bronze statuary in Egypt. It is a "black" bronze, darkened to heighten the luster of its precious-metal inlays. The left eye rim and the nipples retain their original gold inlay. The body of the statuette was solid cast, with separately cast arms (one is missing) fitted onto dowels.
Kneeling bronze kings are found irregularly among the New Kingdom excavations and then in greater numbers in those of the Third Intermediate and Late Periods. Their appearance is almost certainly associated with the growing emphasis on the public aspects of Egyptian religion. Such figurines are frequently represented on the great processional barks of the gods, expressing the respectful yet dignified role of the king—himself a god—in ensuring the continuing worship of the gods
Thutmose III is remembered as a great warrior pharaoh. His numerous campaigns in the Levant are recorded in annals that he had inscribed on the walls of the Temple of Amun at Karnak. The son of Thutmose II and his heir, he reigned for almost twenty years with Queen Hatshepsut, who was the dominant ruler. After her death, he ruled for another thirty-four years. The great wealth from his campaigns enabled him to build more than fifty temples in Egypt, Nubia, and Palestine, but he lavished special attention on Karnak, which he completely rebuilt and expanded, including adding a sacred lake.
He was buried in the Valley of the Kings in one of the most beautiful and unique tombs there. His burial chamber is in the shape of a giant cartouche and the walls are decorated to resemble a giant papyrus scroll.
Related