"Paris"
Designer Paul Poiret French

Not on view
Poiret once ruefully admitted that he could not sew and was thus unable to fully control all aspects of his art. However, it was this very absence of training in tailoring and dressmaking that facilitated the couturier's audacious technical advances.
The "Paris" coat exemplifies Poiret's conception of dress as a three-dimensional form that maintains the integrity of its two-dimensional fabric. It is constructed of one fifteen-foot length of silk velvet that has been twisted into shape without resorting to cutting. The apertures for the arms are unstitched interruptions along the single seamline that forms the garment. Devoid of decoration, except for the placket at the hipline that anchors the loop-and-button closure, it is a masterwork of modernist simplicity and structural ingenuity.
Poiret designed the coat for his wife, Denise, who was photographed wearing it like a great wrap with a short evening dress called the "Faune." While the dress does not appear to have survived—it was an astonishing combination of gold lamé and black monkey fur interspersed with gilt military fringe—Denise Poiret's coordination suggests that the "Paris" was among the more exotic evening coats in her wardrobe.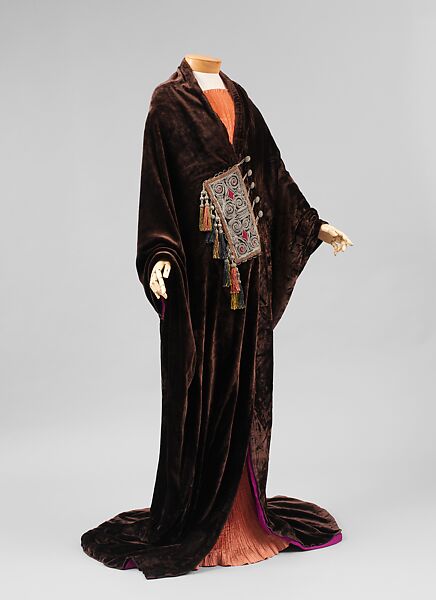 This artwork is meant to be viewed from right to left. Scroll left to view more.