Dress
Designer Paul Poiret French

Not on view
Perhaps the most radical achievement in Poiret's career, underestimated by the designer himself, was his development of the chemise silhouette. Although other couturiers might arguably share credit with him for advocating the abolition of the corset, including Lucile and Madeleine Vionnet, it is Poiret who, aided by the free-spirited confidence of his wife, Denise, created gowns that anticipated those of a decade later. It is likely that Poiret devised the style in response to his wife's second pregnancy in 1910. With these T-shaped gowns in silk damask, the liberation of the body was complete. Nowhere is the freedom of movement of the style more evident than in the photographs of Denise Poiret en repose, like an odalisque, taken at the Plaza Hotel in New York during Poiret's first trip to America in September-October 1913 (when Denise Poiret, who packed a wardrobe of one hundred pieces, acted as his mannequin). The sinuous line of her body and the suppleness of her posture preclude the presence of any structural underpinnings.
Poiret's chemise dresses were even simpler in cut than the undergarments from which they were derived. Although the nineteenth-century chemise had a similar cut, in Poiret's version the shaping of shoulder seams, the insertion of shoulder yokes, or the accommodation of the bust through darts and gussets, were eliminated. Poiret's chemise was completely reductive, with front cut like the back, except for the shaping of the neckline (so simple was its construction that the dress came to be known as the robe de minute, as it took but half an hour to make). Any fit or transformation of the sacklike form was accomplished by the knotting of decorative sashes. At their introduction, Denise Poiret, when she sashed her gowns, preferred a high waist placement. Later, in the 1920s, when she continued to wear the same gowns, she placed the waist fashionably low at the upper hipline.
Poiret advocated this style primarily for the intimacy of the home, but like the jupe culotte, which was also introduced as a dressier form of dishabille, it was a type of garment that was to migrate to the street, if only on women with the confidence or audacity of the couturier's wife. This eggplant­-colored chemise was paired with a tunic-length gilet, perhaps as public discretion by Denise Poiret. The tonal coordination of the blue violet chemise and the red violet velvet gilet represents the chromatic subtleties for which Poiret was celebrated throughout his career.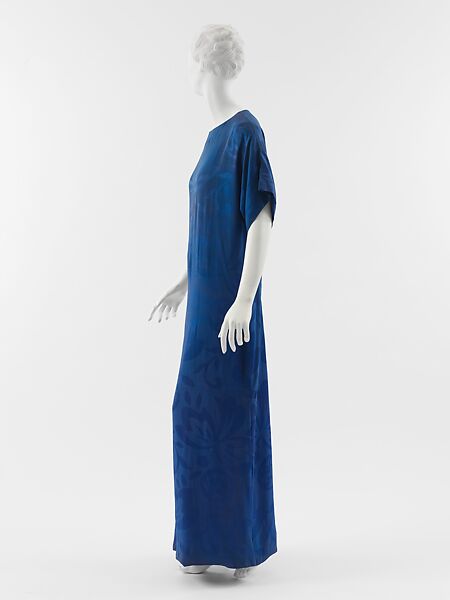 This artwork is meant to be viewed from right to left. Scroll left to view more.