George Washington Inaugural Centennial Medal
Augustus Saint-Gaudens American
Modeled by Philip Martiny American

Not on view
In winter 1888-89 Saint Gaudens received his first official medallic commission, from the Committee on Art and Exhibition of the Washington Centennial Celebration. The medal was to be the official souvenir for the centennial of George Washington's swearing-in as first president of the United States on April 30, 1789 at New York's Federal Hall.
Although he designed the medal, Saint-Gaudens turned its modeling over to his assistant Philip Martiny. The half-length profile portrait of Washington in Continental uniform on the front face of the medal harks back to the authoritative sculptural likenesses of the pater patriae by Jean Antoine Houdon, the full-length marble statue of 1792 in the State Capitol in Richmond, Virginia, which was in turn based on a life portrait from 1785. At the right are the fasces of majesty, the bundle of staves representing the United States and the axe and blade its military and executive power. Thirteen stars symbolizing the original states are evenly spaced near the edge. On the reverse, an American eagle with spread wings and arrows and an olive branch in its claws bears a shield with the inscription E PLVRIBVS VNVM (Out of many, one). At the lower left are a lengthy commemorative inscription and the shield of the shield of arms of New York City. Around the border are thirty-eight stars representing the number of states in the union in April 1889. The medal's compositional format and technique are strongly indebted to the Renaissance medallic art Saint-Gaudens admired. (He collected plasters casts after Pisanello to display in his studio.)
The medal was cast by Gorham Manufacturing Company in an edition of 2000 bronze and 10 silver examples. Henry Gurdon Marquand, chairman of the Committee on Art and Exhibition and president of The Metropolitan Museum of Art donated two examples (90.18.1, .2) of this medal to the Museum in 1890. They were the first works by Saint-Gaudens to enter the collection.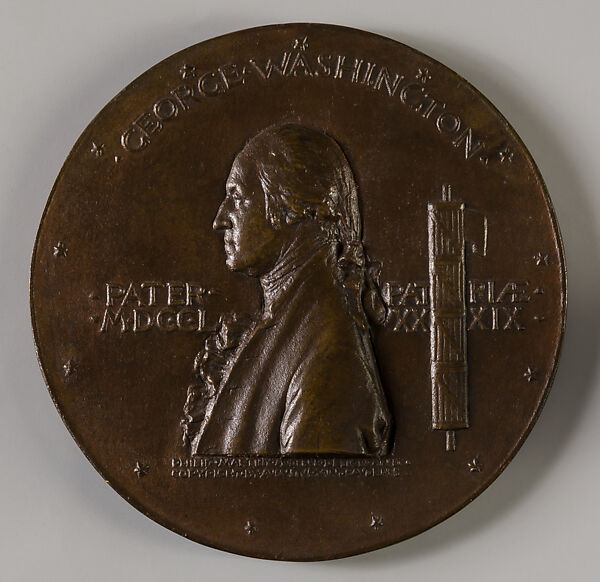 This artwork is meant to be viewed from right to left. Scroll left to view more.