World's Columbian Exposition Commemorative Presentation Medal
Augustus Saint-Gaudens American
Charles E. Barber American

Not on view
Saint-Gaudens, who served as an advisor for the Chicago World's Columbian Exposition sculptural program, accepted the commission for the official award medal. He had completed his design for the medal by the time of the fair's closing in November 1893. His design for the obverse met ready acceptance. It shows Columbus making landfall in the Americas. At the lower right are three male figures, one bearing an unfurling banner, and above them are the symbolic Pillars of Hercules with the three Spanish caravels and the inscription plvs vltra. His concept for the reverse, however—a nude male youth representing the Spirit of America—was deemed improper by United States Senate Quadro-Centennial Committee. Two variant designs with the figure's genitals covered and a third with a wreath-encircled eagle and inscription were also rejected. In the end, Saint-Gaudens's obverse was muled with a design for the reverse by Charles E. Barber, longtime chief engraver at the United States Mint.

The reverse of the final minted version features a central tablet with an inscription and a space for a drop-in die with the name of the recipient. The tablet is flanked by flaming torches symbolizing light or intelligence, and below it the Santa Maria appears at full sail. Above, two winged (and ironically bare-breasted) females hold symbolic attributes—a trumpet and laurel wreaths and a stylus and a blank tablet—that celebrate the award recipient. The hubs and dies for the medal were produced at the United States Mint in Philadelphia and farmed out for striking to the Scoville Manufacturing Company of Waterbury, Connecticut. The medal was finally awarded to recipients in 1896. The Metropolitan's example retains its original velvet-lined aluminum case.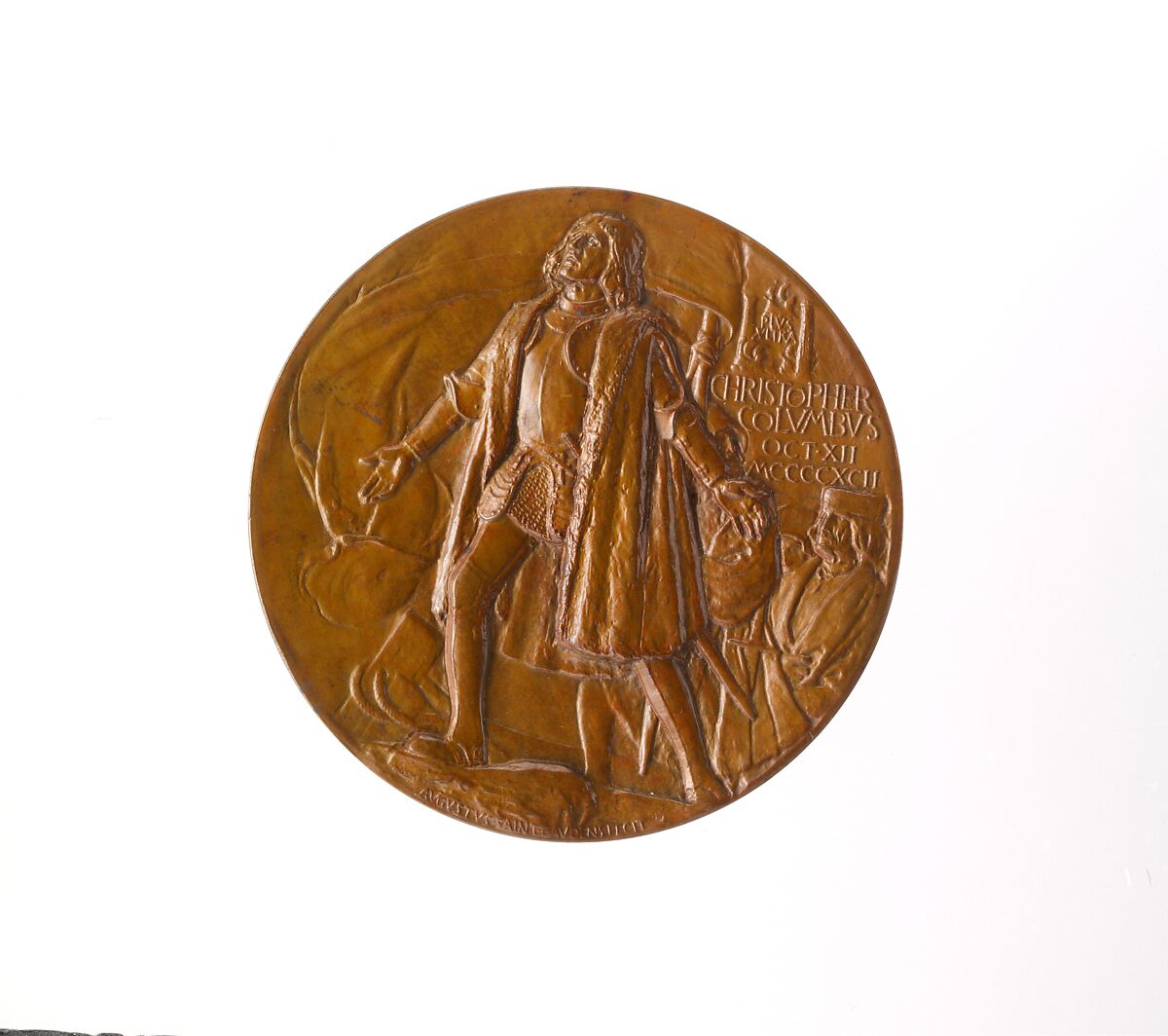 This artwork is meant to be viewed from right to left. Scroll left to view more.