Quilt, Sunshine and Shadow pattern
Amish maker American

Not on view
Quilts made by Amish women differ from other American quilts in their choice of color palette and in many of their piecing and quilting patterns. By quilting with many of the same fabrics used in their clothing, Amish women intentionally create quilts that are clearly distinctive—these quilts are another visual statement that sets their community and traditions apart from those of the world at large. By including only solid-color fabrics in the relatively somber color palette that is prescribed by their religious laws and, in some communities, like those of Lancaster County, only certain traditional patterns, Amish women proclaim their belief in the ways of their faith.

This Sunshine and Shadow pattern is made by sewing together small squares of fabric that have been arranged by color to form concentric rings of brightly colored diamonds. These are framed by a wide border, anchored with large square corner blocks. Sunshine and Shadow quilts do not afford the maker much area for fancy quilting. Usually the small squares are either quilted near each seam, or, as in our example, the squares are simply crosshatched with diagonal lines of stitching. However, the wide outer border can be decorated with many traditional designs—in this case, feather quilting.

The Sunshine and Shadow pattern grew popular among the Lancaster County Amish in the 1920s. Although Sunshine and Shadow quilts are most commonly found in Lancaster County, documented examples exist from other Amish communities.

The pattern has often been interpreted outside Amish communities as a representation of the Amish people's belief in life's balances--day and night, summer and winter, good and evil--and in the ways of the outside world as opposed to the Amish way of life. Whether this particular quilt pattern has specific meaning to the Amish themselves has never been proved conclusively; it may be that it is favored simply because of its vibrant appearance.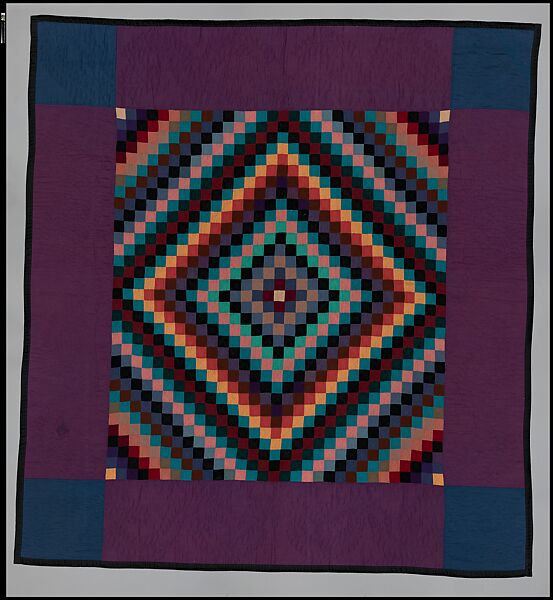 This artwork is meant to be viewed from right to left. Scroll left to view more.