Quilt, Pinwheel or Fly pattern
Amish maker American

Not on view
Unlike those by the Pennsylvania Amish, quilts made by the Amish of the Midwest are sometimes initialed and dated. This example is inscribed "J. L." in quilting on one of the four corner triangles of the central patterned area. Each of the other three corners is stitched with part of the date on which the quilt was completed; clockwise from the maker's initials, the first corner is marked "Jan" the next "23" and the last "1930". This is therefore one of the Museum's most recently made quilts. Although it was created well into the twentieth century, it fits comfortably into our collection, since its design is clearly a continuation of a nineteenth-century aesthetic.

Indiana (and other midwestern) Amish quilts are usually quite different in appearance from those of the Lancaster County, Pennsylvania Amish. A reflection of the more liberal attitudes of the midwestern Amish communities, they are pieced in a great variety of overall patterns, a large number of which have been adopted from the outside world. Many of the quilts have blue or black background fabric. It seems that the makers very often preferred block patterns, set as diamonds rather than squares, the pieced blocks alternating with plain blocks that are decorated with elaborate quilting. The plain blocks in this work are quilted with feather wreaths. It is somewhat unusual that the red inner border and the black outer border are not quilted with separate patterns; instead, the fiddlehead fern motif is quilted through both. The pieced blocks are set so that the left and the right halves of this work are almost identical. This orderly placement seems particularly appropriate to Amish sensibility.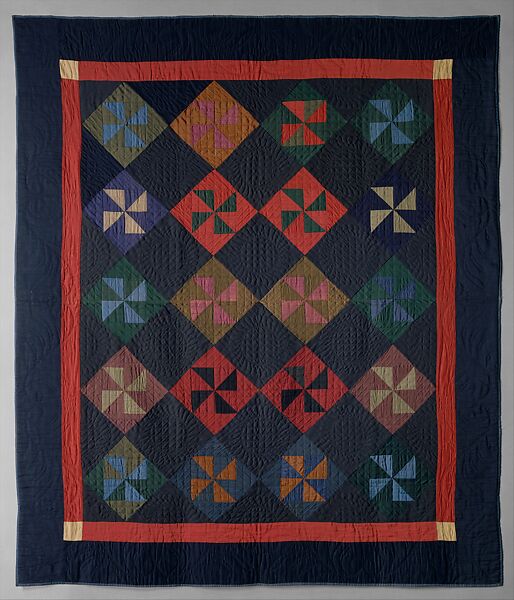 This artwork is meant to be viewed from right to left. Scroll left to view more.