Wild Goose Chase Quilt
Susan Reed Ruddick American

Not on view
Susan Reed, who made this delightful quilt in the pattern called "Wild Goose Chase," was born and raised in Forestburgh, Sullivan County, New York, where she became a schoolteacher at the Hartwood School. She signed the quilt that she made at age 11 in pieced block letters. Reed's marriage certificate, family register, some family photos, six letters written to her future husband, and two quilts made by her daughter (1976.198.2 and 1976.198.3) were donated to the Museum along with this quilt.

Susan Reed was born on July 25, 1839, the oldest child of Isaac and Elvina Drake Reed. Her father, who was a farmer and a lumber dealer, held a number of public offices in Forestburgh, including the job of town clerk in 1864. That same year, the town supervisor was John Ruddick (1822-1902), owner of a lumber mill, who was to become Reed's husband. John was a widower; he had been married in 1847 to Catherine A. Green, who died in 1862. The earliest of the extant courtship letters from Susan to John is dated February 14, 1866. She was then twenty-six, and he was forty-three.

The couple was married in April 1868. Unfortunately, Reed's story does not end on a happy note. She became pregnant soon after she was married and, on February 4, 1869, gave birth to a daughter, Anna Susan Ruddick. Reed died twelve days later at the age of twenty-nine and was buried in the Forestburgh cemetery. Anna later made two quilts of her own, an unsigned Log Cabin crib quilt (1976.198.2) and a signed Nine Patch quilt (1976.198.3), looking to her mother's quilt for inspiration.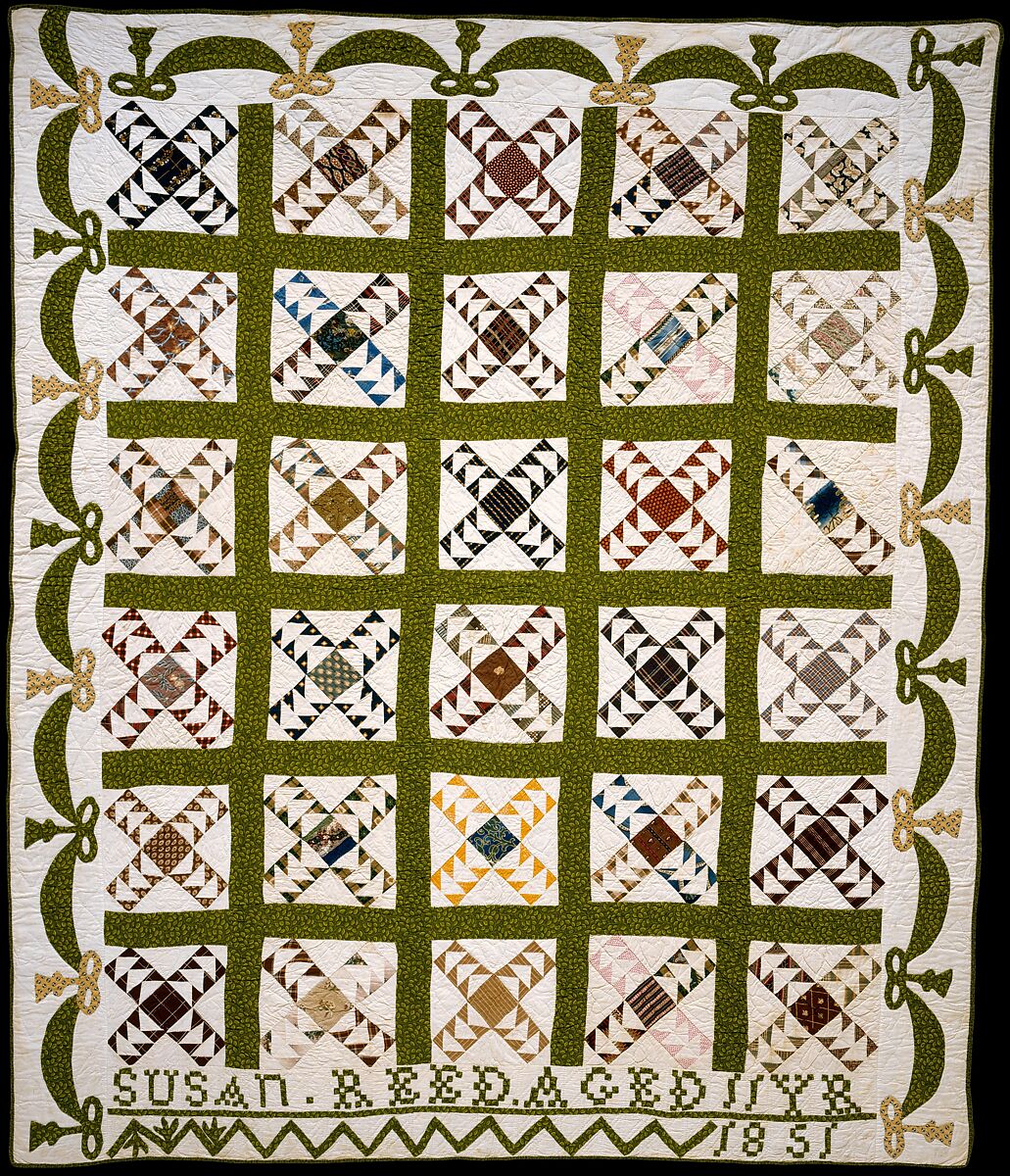 This artwork is meant to be viewed from right to left. Scroll left to view more.