Honeycomb Quilt
Elizabeth Van Horne Clarkson American

Not on view
Elizabeth Van Horne Clarkson made this extraordinary quilt from hundreds of small hexagonal pieces of printed cotton. Outstanding in both intricacy of design and skilled needlework, it is the earliest wholly pieced American quilt in the Museum's collection.

Although pieced quilts were popular in England beginning in the eighteenth century, the technique, with a few rare exceptions, did not catch on in America until the nineteenth century. The proliferation of cottons printed with small-scale designs in the early decades of the nineteenth century may have stimulated more interest in the technique, perhaps because of the variety of cotton patterns that could be seen in a piced quilt like this one. Increased leisure time made fancy quiltmaking more popular, and both domestic and imported printed cottons were considerably less expensive to work with than fine English chintzes, such as those used for other examples in the Museum's collection (see 38.59 and 1970.288).

Elizabeth Van Home Clarkson's quilt was made in the pattern known in the early decades of the nineteenth century as "Honeycomb." Hexagon quilts are built up from small to larger units. After each individual cloth hexagon has been shaped around a hexagonal piece of paper backing, seven of these are whipstitched together to make a schematic flower: six hexagons for the petals, one for the flower's center. It is a technique that requires a patient needleworker. By designing a large and elaborate central medallion and a carefully pieced border, Elizabeth Clarkson elevated this common, methodical technique to create a quilt of great beauty. The quilt's overall design preserves a continuity with earlier appliquéd quilts, which were also focused around a central motif; at the same time, it heralds the transition to a new quiltmaking style in which piecing, rather than appliquéing, would be the favored mode.

Elizabeth Clarkson's quilt apparently descended to her son Thomas Streatfeild Clarkson (1799-1873), who in 1828 married his first cousin Elizabeth Clarkson (1810-1883), Levinus's daughter. It is tempting to suppose that Elizabeth made the quilt as a wedding present for her son Thomas. (As with many well-to-do families at the time, the Clarkson and Van Home families continually intermarried, most likely in order to keep their wealth intact.) From them, the piece descended through the family to the donors, Elizabeth's great-granddaughter, Emilie Vallete Clarkson (1863-1946) and her husband, William A. Moore (1861-1922). The couple had no children; in 1923 the quilt was presented to the Museum along with a large store of other family articles. The only quilt among furniture, silver, and paintings, it was obviously a valued heirloom.

The Metropolitan Museum is fortunate to own, in addition to her quilt, a portrait miniature of Mrs. Clarkson (23.80.83). It was painted by New York miniaturist Thomas Seir Cummings (1804-1894) and depicts Mrs. Clarkson it her old age. Her black attire may indicate that she is in mourning; both this, as well as the style of her dress, leads us to assume that the portrait was painted after the death of her husband in 1844.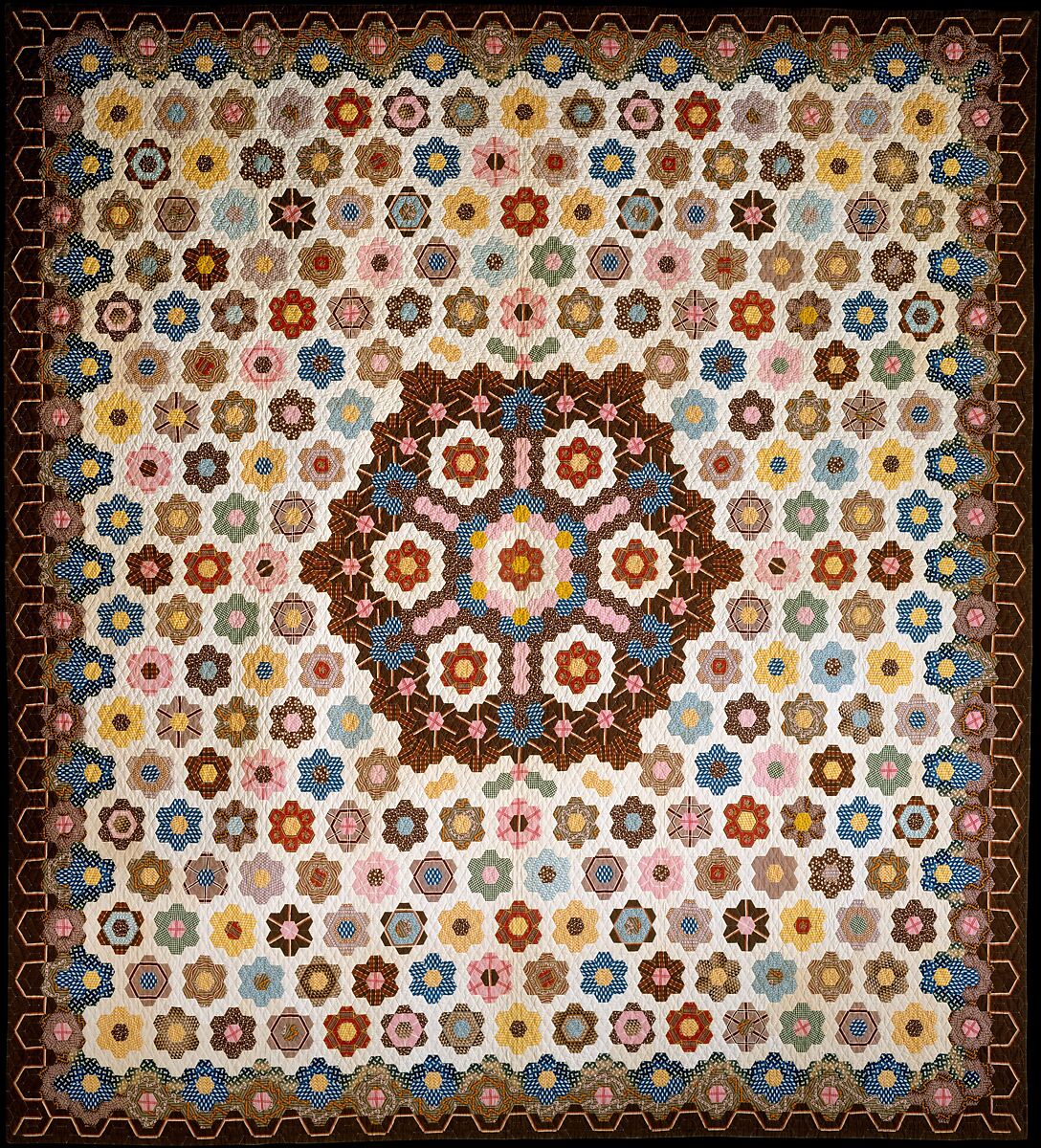 This artwork is meant to be viewed from right to left. Scroll left to view more.