Evening dress
Design House Mainbocher French and American
Designer Mainbocher American

Not on view
Born on the West Side of Chicago in 1891, Mainbocher chose to make his home overseas. He began sketching at Harper's Bazaar and then went to work as the fashion editor of French Vogue in 1922, staying there until 1929. With his trained eye and exquisite taste, he opened his maison de couture in 1930 at 12, avenue George V with the support of fashion editors, designers and the social elite. Mainbocher became "the American" in Paris that any woman who could afford his luxuries, turned to. His clothes were perfectly appropriate for every occasion, producing an air of elegance. In his showroom, he exhibited innovative ideas, such as cotton gingham evening dresses, the strapless dress, extreme feminine details such as gigot sleeves, ruffles and trains, and the use of men's shirting, such as linen toweling and cotton pique. While innovative, his designs were always exquisitely pieced. At the beginning of WWII, Mainbocher closed his Paris house and returned to New York, opening his first showroom on Madison Avenue, next door to Tiffany's at 57th Street. He continued to prosper, and never did he find the need to place his work in luxury stores such as Bergdorf's or Bendel's. With the death of some of the grand couturiers, such as Chanel and Balenciaga, Mainbocher retired in 1971, mourning their loss and to him, the death of couture.

Mainbocher was particularly well known for the diversity of designs he created using Indian sari silks. This evening dress is an exquisite example of one of his creations, which he likely discussed with its wearer, Millicent Rogers. She had a great affinity for non-Western materials and garments which no doubt inspired the designer, especially when he designed specifically for her.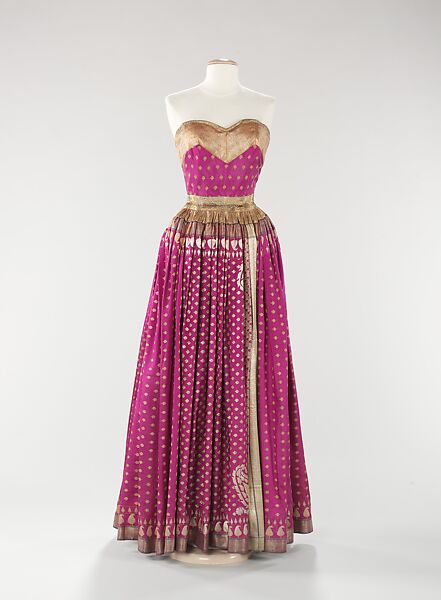 This artwork is meant to be viewed from right to left. Scroll left to view more.