Ensemble
Designer Claire McCardell American
Manufacturer Townley Frocks American

Not on view
Claire McCardell is remembered as a pioneer of American fashion. After studying at Parsons and living in Paris, she returned to America to design functional, affordable clothes for the American woman. Her simple use of natural fabrics, such as cotton, denim and wool combined with flattering silhouettes filled a vacancy in women's fashion. Her first success was the tent-shaped Monastic dress, which had no form, but when belted became body-revealing and flattering. For the length of her career, McCardell designed inventive, sometimes daring looks that were mass-produced down to every last spaghetti tie and brass hook.

This ensemble is a classic McCardell design. Her use of knit accentuates the figure and allows the wearer to move without constraint. The integral hood on the bodice is especially unique to designs of the period but is characteristically McCardell. While the hood serves the purpose of warmth, it also gives the appearance of agility and youth. The reversible jacket shows the importance of using each design material to its fullest extent and with an attached hood makes it appropriate for fall and winter weather. Other typical design characteristics can be seen in the topstitching on both the jacket and the skirt.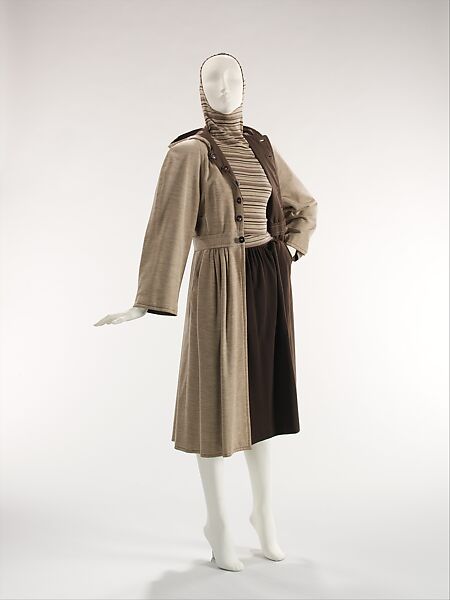 This artwork is meant to be viewed from right to left. Scroll left to view more.