Cocktail ensemble
Designer Claire McCardell American
Manufacturer Townley Frocks American
Designer Renee Montague

Not on view
Claire McCardell is remembered as a pioneer of American fashion. After studying at Parsons and living in Paris, she returned to America to design functional, affordable clothes for the American woman. Her simple use of natural fabrics, such as cotton, denim and wool combined with flattering silhouettes filled a vacancy in women's fashion. Her first success was the tent-shaped Monastic dress, which had no form, but when belted became body-revealing and flattering. For the length of her career, McCardell designed inventive, sometimes daring looks that were mass-produced down to every last spaghetti tie and brass hook.

This is an exquisite ensemble for the cocktail hour, made unique by the use of marine themed fabric, a casual print for a dressier hour of the day. The coat is beautifully cut, as it accentuates the waist, even more so with the over-sized dolman sleeves. The skirt is flattering as well, giving the allusion of a very small waist with the full skirt and wrap belt. Understanding the difficulties a woman can encounter in the dressing room, a zipper has been inserted at back to ease this process. Characteristic of McCardell's designs, the top shows a peek of skin and each piece has heavy utilitarian topstitching.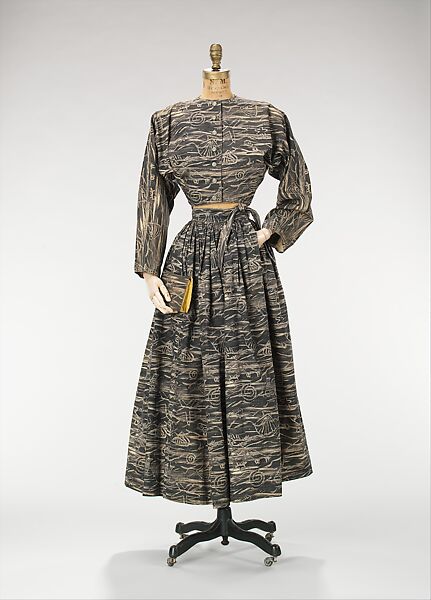 This artwork is meant to be viewed from right to left. Scroll left to view more.