Nessus and Dejanira
Possibly after a model by Francesco Fanelli Italian

Not on view
In this dynamic composition, Dejanira, beloved of Hercules, is ravished by the galloping centaur Nessus. The subject is taken from Ovid's Metamorphoses (9:101–33): the couple encounter Nessus the ferryman at the river Euenos; while carrying Dejanira across, the centaur attempts to rape her and is killed by Hercules. John Pope-Hennessy ascribed the prototype of this composition to Francesco Fanelli. A native of Florence, Fanelli worked in Genoa, then enjoyed a productive career as a sculptor and founder in England. According to Pope-Hennessy, a version in the V&A might be the "Centaur with a woman" listed in George Vertue's 1736 inventory of Fanelli bronzes at Welbeck Abbey.[1] The model follows the example of Giambologna's statuette of the same subject (see cat. 131). Here, however, the figures are much more acrobatic: the centaur simultaneously gallops in flight and struggles with his captive, who thrusts upward, creating both vertical and horizontal tension. Dejanira's elongated body recalls Giambologna's design for the Abduction of a Sabine (see cats. 129, 135). One might wonder if Antonio Tempesta's 1606 print of the subject also influenced Fanelli's conception.[2]

Apart from the V&A cast, several other versions of the model are known, all of which differ from ours in the position of the centaur's tail: here it curls upward, in the others it turns sideways.[3] This odd variation matches the position of the tail in a second group of Nessus and Dejanira statuettes whose exemplar is also attributed to Fanelli.[4] The possible pastiche of two models, both ostensibly by the same sculptor, suggests that The Met's bronze is a much later replica. In fact, the more energetic flick of the tail and its pronounced articulation are rather modern features.

Although Dejanira's pinky finger is missing, and the overall craftsmanship is somewhat coarse, Richard Stone considers this group to be a "tour de force of ingenious casting." It is composed of a zinc-rich brass, unlike the David and Goliath and Galloping Horse (cats. 93, 95), which are cast in similar tin bronzes.[5] The dark brown patina is fairly opaque. The intertwining of the torsos interferes with radiography, thus fabrication cannot be precisely determined, but it would seem that the figures were worked up in the wax with separate cores, then joined together in the wax before casting in metal. The bronze base is likely a later cast.
-FL

Footnotes
(For key to shortened references see bibliography in Allen, Italian Renaissance and Baroque Bronzes in The Metropolitan Museum of Art. NY: The Metropolitan Museum of Art, 2022.)


1. V&A, A.7-1953; see Vertue 1934, p. 110; Pope-Hennessy 1953; Wengraf 2004, p. 33.
2. MMA, 2012.136.425.4.
3. The other versions include Cleveland Museum of Art, 75.31 (Wixom 1975, cat. 151); Kunsthistorisches Museum, KK TKTK (Manfred Leithe Jasper in C. Avery et al. 1978, p. 160, cat. 67a); Herzog Anton Ulrich Museum, Braunschweig, Bro. 301 (Berger and Krahn 1994, pp. 135, 138–39, no. 99); and Sotheby's, New York, January 28, 2010, lot 293.
4. For example, V&A, A.6-1953; see Pope-Hennessy 1953, p. 161.
5. The zinc-rich composition (ca. 20% zinc) with only traces of tin could indicate that the sculpture was cast outside of Italy. R. Stone/TR, December 16, 2011.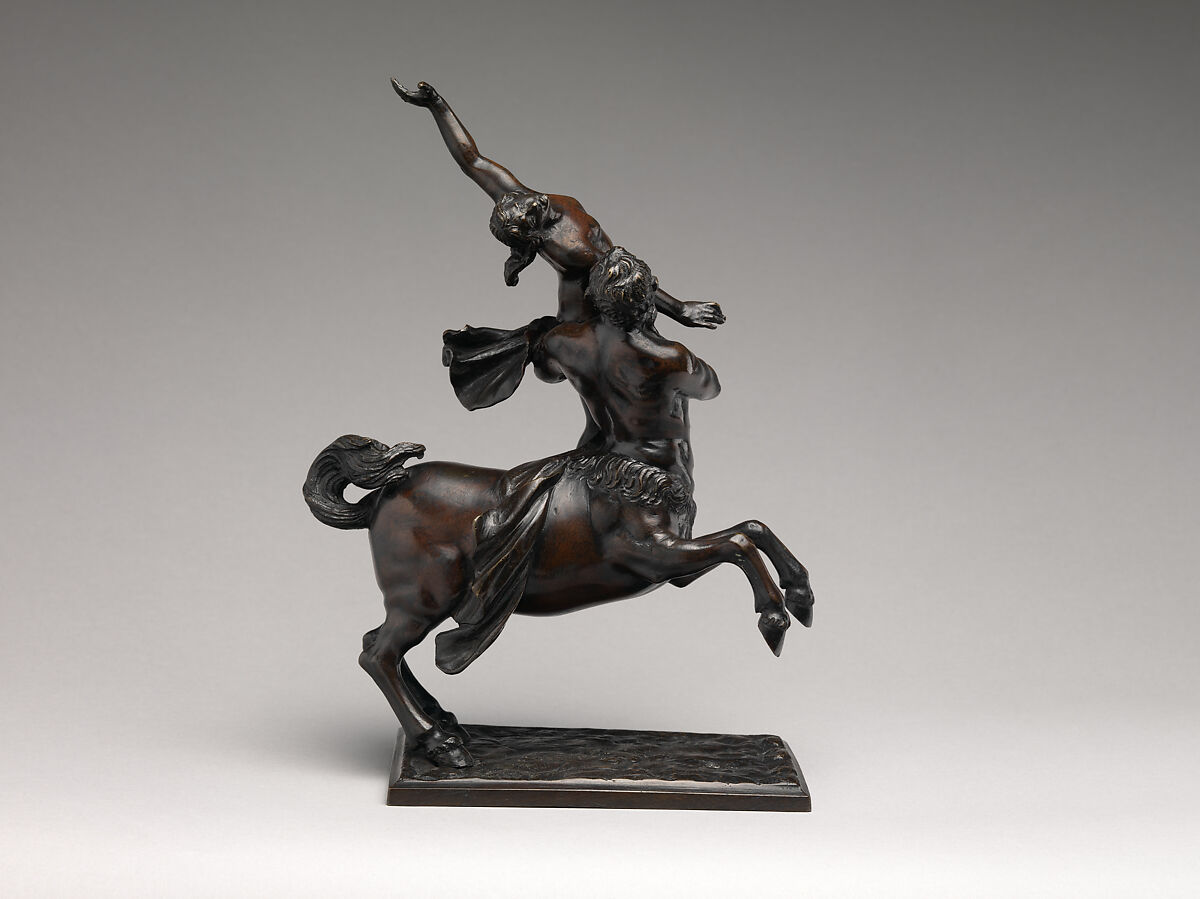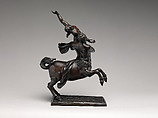 This artwork is meant to be viewed from right to left. Scroll left to view more.