Male term figure
Said to be by Annibale Fontana Italian

Not on view
At least three casts of this figure exist. That in the Kunsthistorisches Museum, known since 1806, was attributed by Leo Planiscig to the highly gifted Milanese Annibale Fontana (see cat. 90).[1] Notes in The Met's object files reflect curator James Rorimer's belief that the Vienna bronze was "probably an aftercast of [the museum's], as it is somewhat smaller in size, and our piece has the original clay from the firing." Our bronze came with Emilie Thorn Post's recollection that, until her father-in-law bought it in 1854, it had been paired with a "female caryatid." The latter, she said, was "acquired for the Demidoff collection in 1854." It has left no trace. The two had embellished "a mantelpiece in a palace torn down immediately afterwards. Leonardo's Cartoons were in this palace and I understood that the fireplace was in the Hall of his paintings."[2]

For Hans Weihrauch, ours is a replica of the Vienna bronze, which he too attributed to Fontana while illustrating the third known example, then on the London market, subsequently with Patricia Wengraf, and now in a private collection. In a dossier she kindly shared in 2010, Wengraf opined that her bronze was by Alessandro Vittoria working with Agostino Rubini. The three are virtually identical in facture and in pose—all looking over their right shoulders.[3] It is doubtful that they can be Italian. Certainly, they do not communicate Fontana's elegance or Vittoria's rich plasticity. Just two traits contradict the idea: the superficial, raised V-shaped veins on the hands and the discontinued hem of the drapery. It is also queer that no corresponding pendant, leaning in the opposite direction, survives (unless we are to trust Mrs. Post). It is possible that these casts belong instead to the world of seventeenth-century furniture mounts.
-JDD

Footnotes
(For key to shortened references see bibliography in Allen, Italian Renaissance and Baroque Bronzes in The Metropolitan Museum of Art. NY: The Metropolitan Museum of Art, 2022.)


1. Planiscig 1919, p. 147, no. 232.
2. Letter from Emilie Thorn Post to Joseph Breck, May 15, 1930, MMA Archives (P842); MMA 1930, p. 163.
3. Ours was cast in a quaternary alloy of copper, zinc, tin, and lead with trace impurities. The wax appears to have been produced pressing into an open piece-mold and inserting the pinkish "Paduan" clay core. The right arm is hollow, and there is evidence of the use of square cut core pins. R. Stone/TR, 2012.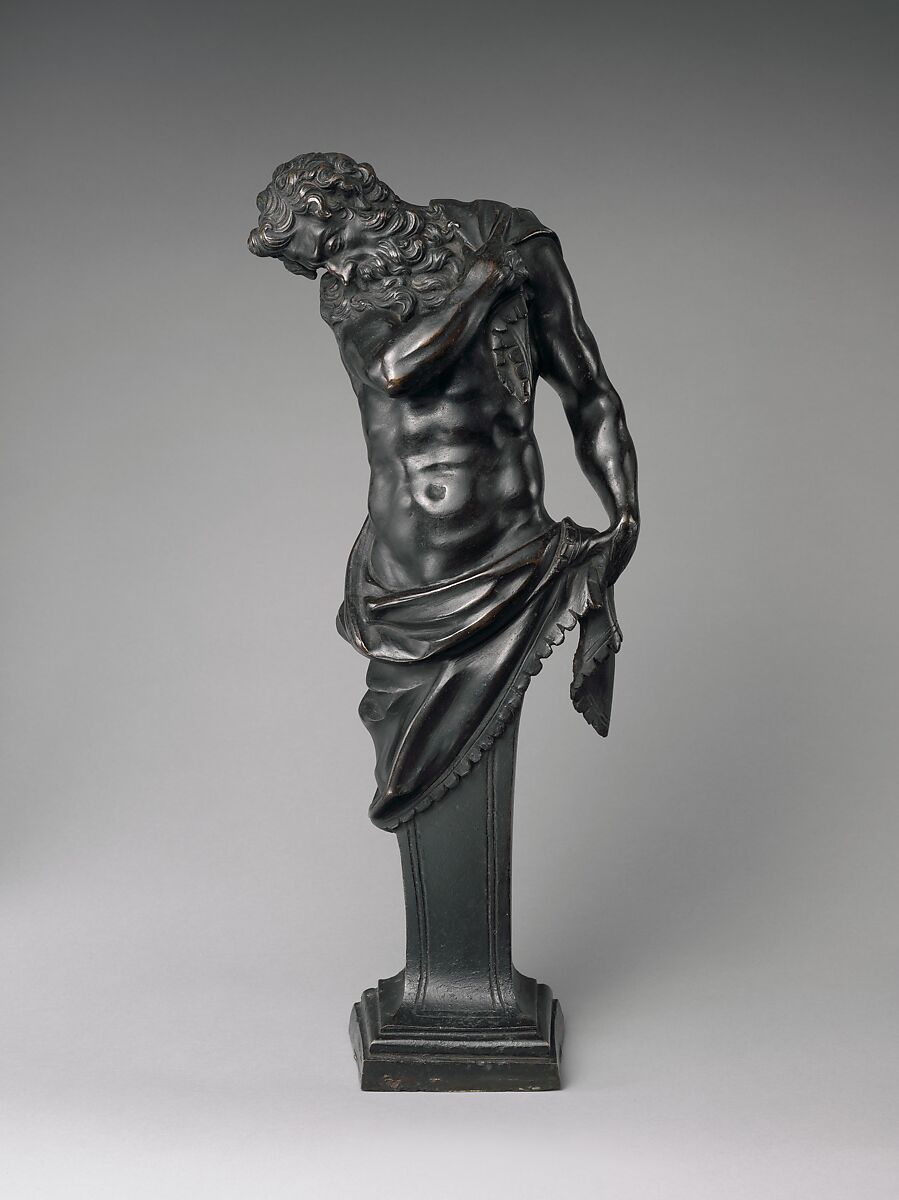 This artwork is meant to be viewed from right to left. Scroll left to view more.