Vase
On view at The Met Fifth Avenue in Gallery 707
Located in Boston's North End, the Paul Revere Pottery developed out of a philanthropic venture funded by Helen Osborne Storrow, a prominent Boston philanthropist, for young immigrant women, of mostly Italian and Eastern European descent. The programming centered on readings from literary classics, classes in music and dancing, and provided a social space, and various groups met at different times; the group of older girls came on Saturday evenings and adopted the name Saturday Evening Girls. A pottery class was introduced in 1906 by Edith Guerrier, who was the first librarian in charge of the clubs. She was joined by Edith Brown, an illustrator of children's books. The two women were the guiding force behind the development of the pottery made by the Saturday Evening Girls. Brown provided the artistic designs that were then executed by the women. Like Newcomb Pottery and others established at the time, its aim was to provide young women with a modest sum of money through the sale of their wares. While most of the pottery's output was functional wares, with a specialty in children's tableware, a small number were far more ambitious in both design and execution.

This vase is one of its most outstanding works. Decorated by Ida Goldstein from a design assuredly by Brown, it features four similar but not identical chrysanthemums, rendered in exceptional detail. The background consists of four bands: a wide band at the bottom and a narrow one around the mouth of light olive green, separated by two bands of slightly different shades of yellow. Each petal and leaf is carefully delineated, illustrating masterful control on the part of the decorator. Conforming to the tastes of the day, the glazes were matte, with a conventionalized design, featuring flat, stylized compositions accentuated by broad outlining in black. A vase of this design was published in 1914 in House Beautiful and another appears in the company's slightly later catalogue, where it was noted that the design could also be had in a different color combination of blue, green, and cream. Because of the elaborate nature of its decoration it was priced at $50, whereas the glazed and undecorated vases for $5 or less.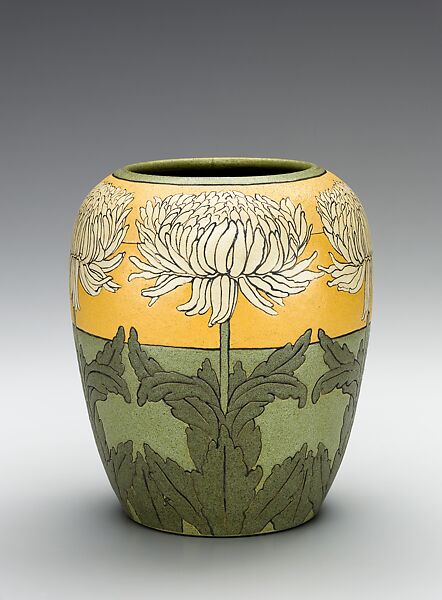 This artwork is meant to be viewed from right to left. Scroll left to view more.