Vase
Manufacturer Paul Revere Pottery American
Saturday Evening Girls

On view at The Met Fifth Avenue in Gallery 707
Located in Boston's North End, the Paul Revere Pottery developed out of a philanthropic venture funded by Helen Osborne Storrow, a prominent Boston philanthropist, for young immigrant women of mostly Italian and Eastern European descent. The programming centered on readings from literary classics, classes in music and dancing, and provided a social space, and various groups met at different times; the group of older girls came on Saturday evenings and adopted the name Saturday Evening Girls. A pottery class was introduced in 1906 by Edith Guerrier, who was the first librarian in charge of the clubs. She was joined by Edith Brown, an illustrator of children's books. The two women were the guiding force behind the development of the pottery made by the Saturday Evening Girls. Brown provided the artistic designs that were then executed by the women. Like Newcomb Pottery and others established at the time, its aim was to provide young women with a modest sum of money through the sale of their wares. While most of the pottery's output was functional wares, with a specialty in children's tableware, a small number were far more ambitious in both design and execution.

This outstanding vase is unusual in both design and interpretation—the landscape is rendered more loosely and painterly, almost impressionistically. In a manner reminiscent of the influential artist Arthur Wesley Dow, the trees are set against horizontal bands of white and different shades of blue, which may represent water and sky but which are essentially design elements in the Japanese manner. Dated "June 1915", the vase relates to a number of exceptional vases bearing 1915 dates, denoting a flurry of noteworthy artistic creativity over a very short period, the significance of which remains elusive.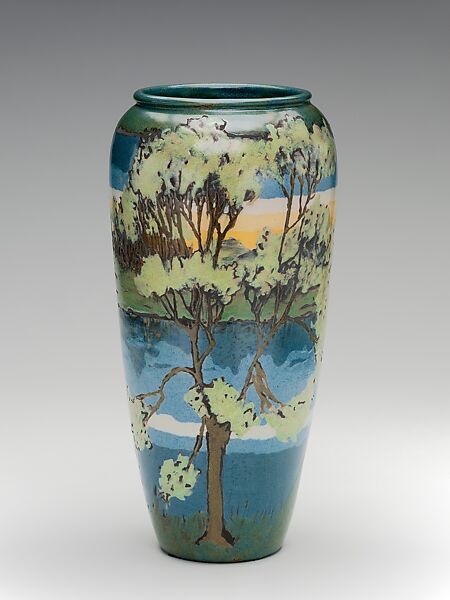 This artwork is meant to be viewed from right to left. Scroll left to view more.