Cabinet
Attributed to André Charles Boulle French

On view at The Met Fifth Avenue in Gallery 531
In 1688 the Parisian cabinetmaker Auburtin Gaudron, who worked for the French court after the death of Pierre Gole (ca. 1620–1684), delivered for Louis XIV's apartment at the Château de Marly a "large and beautiful cabinet with architectural bronze mounts and marquetry of copper and ebony with amaranth."[1] Such armoires (closed cabinets or wardrobes) were ostentatious parade objects intended to stand grandly in a public room. The above description of the marquetry on Gaudron's armoire and of his piece's architectural form document that at this time André-Charles Boulle was not the only maker of these cabinets, for success has always sparked imitation in the competitive Parisian artistic environment. Nonetheless, the products of Boulle's workshop are distinguished from those of his competitors by sculptural details of unusual quality applied to the carcase structure. Boulle's furniture bears some of the best gilt-bronze ornaments ever made (see also 1982.60.82).[2] The eight intricate corner mounts on the doors of the Museum's cabinet depict wind gods with flowing locks––six with a mature face and two with a young, beardless face-blowing a gale through pursed lips.[3] The facade-like front, on a modest base with later toupie feet, is divided by a vertical molding of pilaster form with brass on tortoiseshell (première partie) marquetry. Its small capital penetrates an egg-and-dart molding with a projecting Vitruvian-scroll frieze above. The cabinet's top has concave sides and a rectangular base, lending the whole composition an almost pagoda-like look.[4]

The patterns of the different inlaid panels correspond to those on other Boulle workshop pieces; these panels may have been prefabricated and held for stock, as mounts very often were, especially those frequently applied, such as rosettes, scrolls, and hinges.[5] The mounts on the Museum's cabinet, which are integrated with and partly echo the two-dimensional inlaid decor, intensify the sparkling appearance of the piece. There are similarities between this cabinet and a remarkable drawing by Boulle in the Musée des Arts Décoratifs in Paris that strengthen the attribution to Boulle.[6]

Certain features of this cabinet shed light on the economically oriented nature of Boulle's workshop. The degree of chiseling and finish on the bronze mounts gradually increases as they approach eye level; moreover, the exotic and very expensive ebony––which was purchased by the pound––is replaced by ebonized local fruitwood in the upper quarter of the cabinet (above eye level). A similar thrift was practiced on the inside of the doors, which are not inlaid. Instead, they are veneered with local burl wood that was probably stained to imitate much more valuable tortoiseshell.[7] Still, the interior must have looked strikingly attractive, especially when the three shelves (now lost) were filled with works of art or precious books. The outside of the Museum's armoire is for the most part veneered with contre partie (dark on light) marquetry, which was about 20 percent less expensive than première partie. This suggests that a matching cabinet decorated similarly but predominantly in première partie once existed. In spite of its enormous size, the object is surprisingly easy to dismantle; it comes apart in fifteen to twenty minutes.

The cabinet has unfortunately lost nearly all of its former engraved decoration, which means that its current appearance is distorted. This type of wear may be due to the materials used. Tortoiseshell and wooden veneer are organic, as is the oak used to build the carcase. The inlaid metal has a totally different coefficient of expansion, and as a result the boulle marquetry is constantly "working." Already in the eighteenth century it was said that major parts of the surface would have to be restored "every generation" (roughly every twenty-five to thirty years), and each smoothing of the surface reduced the depth of the engraved decoration and the thickness of the veneers themselves.[8]

[Wolfram Koeppe 2006]

Footnotes:
1. "grand et belle armoire toutte d'architecture de bronze et de marqueterie de cuivre et d'ébeine avec bois violet"; quoted in Pierre Verlet. French Royal Furniture: An Historical Survey Followed by a Study of Forty Pieces Preserved in Great Britain and the United States. New York, 1963, pp. 9–10. See also Wolfram Koeppe. Die Lemmers-Danforth-Sammlung Wetzlar: Europäische Wohnkultur aus Renaissance und Barock. Heidelberg, 1992, pp. 199-201, no. M104, color ills. pp. 245, 246.
2. Peter Fuhring. "Armoire 'au char d'Apollon' attribuée à André-Charles Boulle." In L'armoire "au char d'Apollon" par André-Charles Boulle, pp. 8-47. Exh. cat., Galerie J. Kugel. Paris, 1994; and Peter Hughes, The Wallace Collection: Catalogue of Furniture. 3 vols. London, 1996, vol. 2, pp. 541–840.
3. It has been suggested that these corner mounts were added in the late eighteenth century, despite the fact that they are stylistically close to contemporary French sculpture. See Jean-Nérée Ronfort. "The Armoires de l'Histoire d'Apollon." In A Louis XIV Armoire by André-Charles Boulle, pp. 7-45, Sale cat., Phillips, New York, December 5, 2001. I thank Daniëlle Kisluk-Grosheide for this reference.
4. See Peter Hughes, The Wallace Collection: Catalogue of Furniture. 3 vols. London, 1996, vol. 2, pp. 817–24, no. 172 (this object has an identical central molding and a similar top).
5. Ibid. See Alexandre Pradère. Les ébénistes français de Louis XIV à la Révolution. Paris, 1989. English ed.: French Furniture Makers: The Art of the Ébéniste from Louis XIV to the Revolution. Trans. Perran Wood. London, 1989, pp. 67–108, on the paw feet ending in acanthus sprays; these stock items are discussed in almost all descriptions of the Boulle workshop.
6. Peter Fuhring. "Armoire 'au char d'Apollon' attribuée à André-Charles Boulle." In L'armoire "au char d'Apollon" par André-Charles Boulle, pp. 8-47. Exh. cat., Galerie J. Kugel. Paris, 1994, p. 23.
7. I thank Mechthild Baumeister, Conservator, Department of Objects Conservation, Metropolitan Museum, for discussing this issue with me. For stained burl wood, see Mechthild Baumeister, Jaap Boonstra, Robert A. Blanchette, Christian-Herbert Fischer, and Deborah Schorsch. "Gebeizte Maserfurniere auf historischen Möbeln/Stained Burl Veneer on Historic Furniture." In Katharina Walch and Johnn Koller, with contributions by Mechthild Baumeister et al., Lacke des Barock und Rokoko/Baroque and Rococo Lacquers. Arbeitsheft (Bayrisches Landesamt für Denkmalpflege) 81. Munich, 1997. On the cabinet, see also Émile Molinier. Royal Interiors and Decorations of the Seventeenth and Eighteenth Centuries: Their History and Description. 5 vols. Paris, 1902, vol. 1, pl. 5; catalogue of the Eugène Kraemer collection sale, Galerie Georges Petit, Paris, 2–5 June 1913, no. 359; catalogue of the Antoine-Alfred Agénor, duc de Gramont, collection sale, Galerie Georges Petit, Paris, 22 May 1925, lot 52 (for a similar example, see also lot 51); catalogue of an anonymous sale at Palais Galliéra, Paris, 11 June 1965, lot 96; and James Parker in Olga Raggio, James Parker, Clare Le Corbeiller, Jessie McNab, Clare Vincent, and Alice M. Zrebiac. "French Decorative Arts during the Reign of Louis XIV, 1654–1715." The Metropolitan Museum of Art Bulletin 46, no. 4 (Spring 1989), pp. 18, 19.
8. I am most grateful to the late Count Alexander zu Münster, who was a major conservator of boulle work and of pieces from the Roentgen workshop, for allowing me to observe the activity at his own workshop for extended periods of time.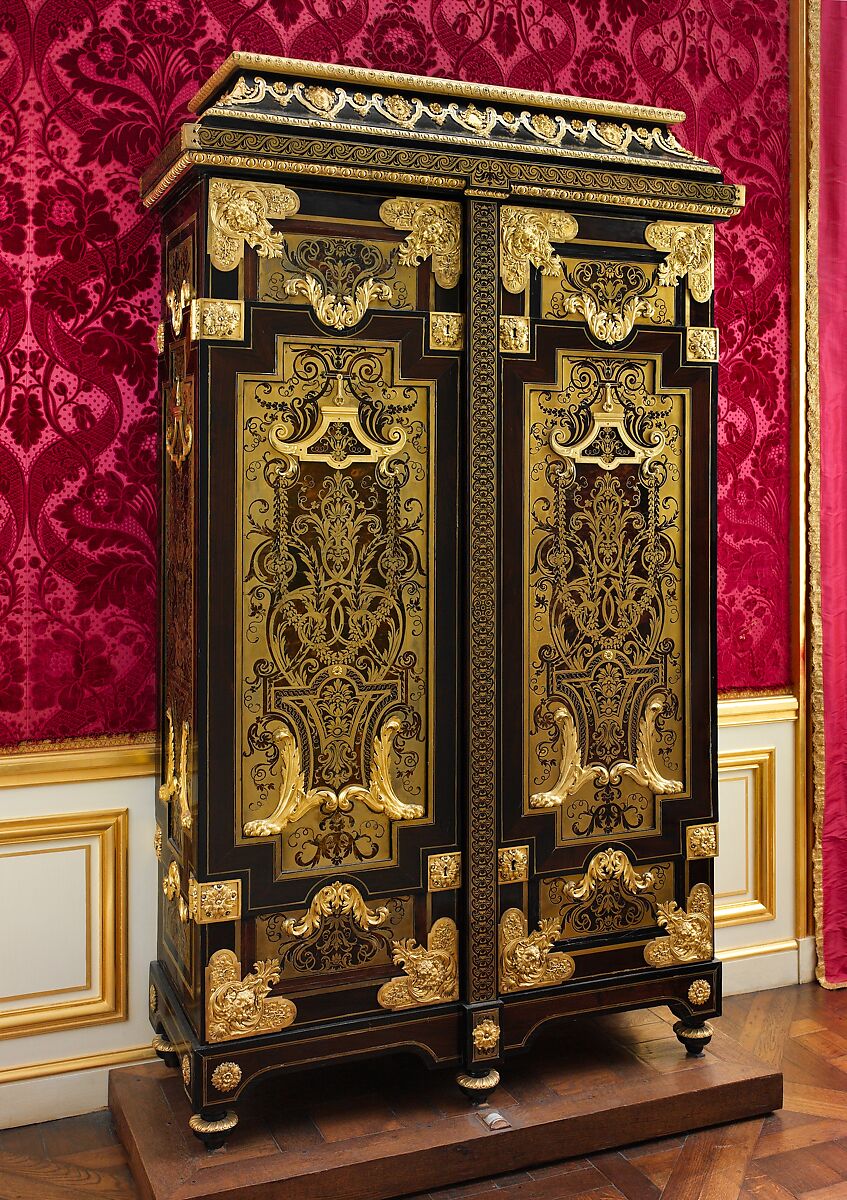 This artwork is meant to be viewed from right to left. Scroll left to view more.