Tray
Not on view
The Rococo style was introduced first in French interiors by architects in the early years of Louis XV's reign (1715–74), then spread throughout Europe to every sphere of the decorative arts—silver, furniture, textiles, ceramics, clock cases and watches, etc. Youthful and energetic, the Rococo was marked by a kind of balanced asymmetry of ornament but had little effect on forms, which remained generally symmetrical. Before the Rococo was exhausted, the Neoclassical style was quietly inaugurated beginning in the 1750s, again in France.

With its syncopated edge and handles formed by four twisting scrolls, this large Italian tray is an unusually late example of the Rococo. Dated 1784 on the underside, it was made in Pesaro, a town already noted for its white-surfaced tin-enameled wares (maiolica) in the fifteenth century. The white surface was fired first and then the decoration, here in polychrome enamels. The scene represents Europe. At the center of the composition is a queen regnant, throned, crowned, and mantled in ermine. Around her are objects typically European—cap, coronet, crown and scepter, a book, musical instruments, a globe representing navigation, a model of a Greek temple, the classical forerunner of European architecture presented by a youth. Behind him a cannon and cannon balls, a drum, bagpipes, and a halberd represent military arts. Beside the throne is a cornucopia representing agricultural plenty. Wearing a parade plume in his harness, the queen's mount awaits her, attended by a groom. Europe, one of the four continents of the world, was often depicted as part of a series, along with representations of Asia, Africa, and the Americas.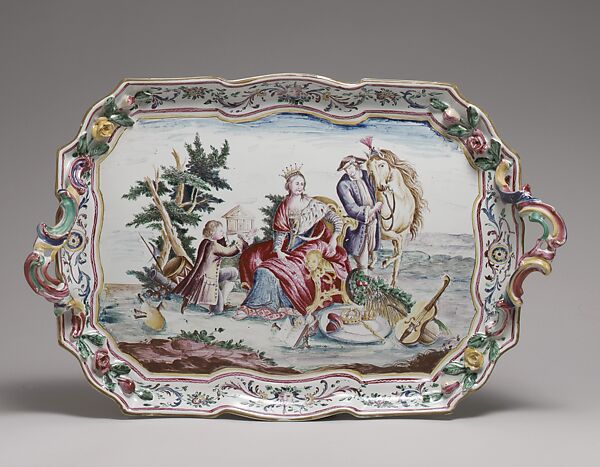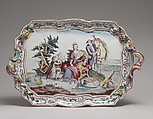 This artwork is meant to be viewed from right to left. Scroll left to view more.