Vase
Factory Wedgwood and Co.

Not on view
In 1769, Josiah Wedgwood (1730–1795) opened a second factory in Staffordshire that he named Etruria, after the region in Italy where the pre-Roman Etruscan culture flourished and where Greek vases, mistakenly believed to be Etruscan, were unearthed. At the Etruria works, the Portland Vase was famously copied, replacing the original nearly black glass with "black basalt," a new expensive fine-grained black stoneware. Basalt was used alone to suggest ancient bronzes or to make vases painted in encaustic red and white, thereby replicating the color scheme of Greek black-ground pottery.

This basalt vase, in the shape of a hydria (minus the black handle), bears acanthus, Greek key and egg-pattern details, and a frieze depicting the toilet of a bride. The bride, near the center, is seated on a raised ground, holds a scepter, and wears an embroidered chiton, mantle, and diadem with rays in front. She looks around at Eros, who flies toward her but is restrained at the knee by a seated woman. A laurel-wreathed youth wearing a himation, possibly Apollo, stands nearby holding a laurel branch. Beyond him is a woman in a long chiton, himation, and fillet around her hair holding a rectangular box decorated in bands. To the right of the bride are three female figures, one seated, another holding a laurel wreath, and a third holding a box. Beyond them, set apart by an Ionic column, a woman in a chiton and mantle gives an unguent box on a stand to another seated figure in a long chiton with a diadem on her head. On the ground are two footstools and a wool basket; above hang two wreaths.

The vase was designed after an original found in Capua (now in the British Museum) owned by the collector Sir William Hamilton (1730–1803). Hamilton sent Wedgwood engravings of his collection of Greek vases in advance of their publication in 1766–67 (Collection of Etruscan, Greek and Roman Antiquities from the Cabinet of the Honourable Wm. Hamilton). The engravings were used by draftsmen at Etruria as a source of ideas for vase subjects. The inspiration for this vase, however, was Pierre d'Hancarville's Antiquitiés étrusques, greques et romaines & gravées par F. A. David (1785–87), which incorrectly identified the scene as the Marriage of Paris and Helen. The ten figures in the Wedgwood frieze appear in the reverse order of those in F. A. David's engraving.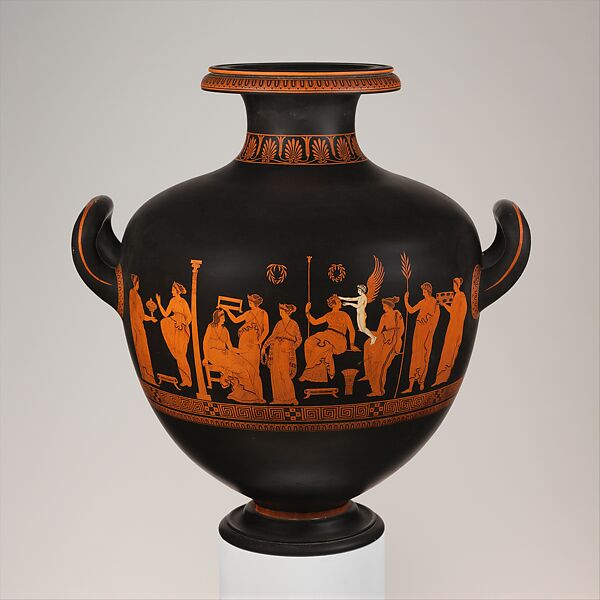 This artwork is meant to be viewed from right to left. Scroll left to view more.