Armchair (fauteuil à la reine) (part of a set)
On view at The Met Fifth Avenue in Gallery 525
Baron Johann Ernst Bernstorff (1712–1772) served as Danish ambassador to the court of Versailles between 1744 and 1751. According to Charles-Philippe d'Albert, duc de Luynes (1695–1758), the diplomat was youthful and witty, possessed both finesse and taste, and spoke the French language better than many native speakers.[1] During his stay in France, Bernstorff formed many friendships and developed a marked taste for the French way of life. It was, therefore, with reluctance that he left Paris and returned to Denmark in 1751 to assume the post of minister of foreign affairs.

For the tapestry room of his newly built residence in Copenhagen, he acquired a series of four wall hangings, Les Amours des Dieux (The Loves of the Gods), from the Beauvais Manufactory. Covers for a set of twelve armchairs and two settees (all of which are in the Museum's collection) were woven at the same time to complement the tapestries. They display lighthearted compositions of animals, birds, and flowers based on designs by Jean-Baptiste Oudry (1686–1755). The frames of the seat furniture were made by the Parisian menuisier Nicolas-Quinibert Foliot, who, like his father, Nicolas Foliot, was furniture maker to the king's household. Eight of the twelve chairs and one of the settees are stamped with his name. Enriched with symmetrically placed Rococo ornament, floral garlands, palm branches, and a large shell motif centered on the crest rail, the undulating outline of the chairs and settees is echoed in the tapestry covers. Arranged along the walls, these pieces formed an integral aspect of the interior decoration of the room, which was furnished by Bernstorff according to the latest French fashion with console tables, mirrors, and gilt bronzes, all acquired in Paris.

The tapestry room remained intact until the early twentieth century, when George I of the Hellenes (1845–1913), second son of King Christian IX of Denmark, was the owner of Bernstorff Palace. The crowned-G mark branded in the wooden frames of the chairs and settees identify the pieces as his property. He sold the tapestries and the seat furniture separately, and by 1902 the American financier and collector J. Pierpont Morgan had acquired the chairs and settees for use in his London town house. There, during a visit in 1908 and much to their surprise, Queen Alexandra of England (1844–1925) and her sister Dowager Empress Maria Feodorovna of Russia (1847 –1928), both Danish princesses, recognized the pieces as having belonged to their brother George. One of them exclaimed, "Why, there are the chairs...our brother had those chairs but they disappeared and we never knew what had become of them; they must have been sold."[2]

[Daniëlle Kisluk-Grosheide, 2010]

Footnotes:

[1] Luynes 1735–58/1860 – 65, vol. 6, p. 452.
[2] Taylor 1957, p. 24.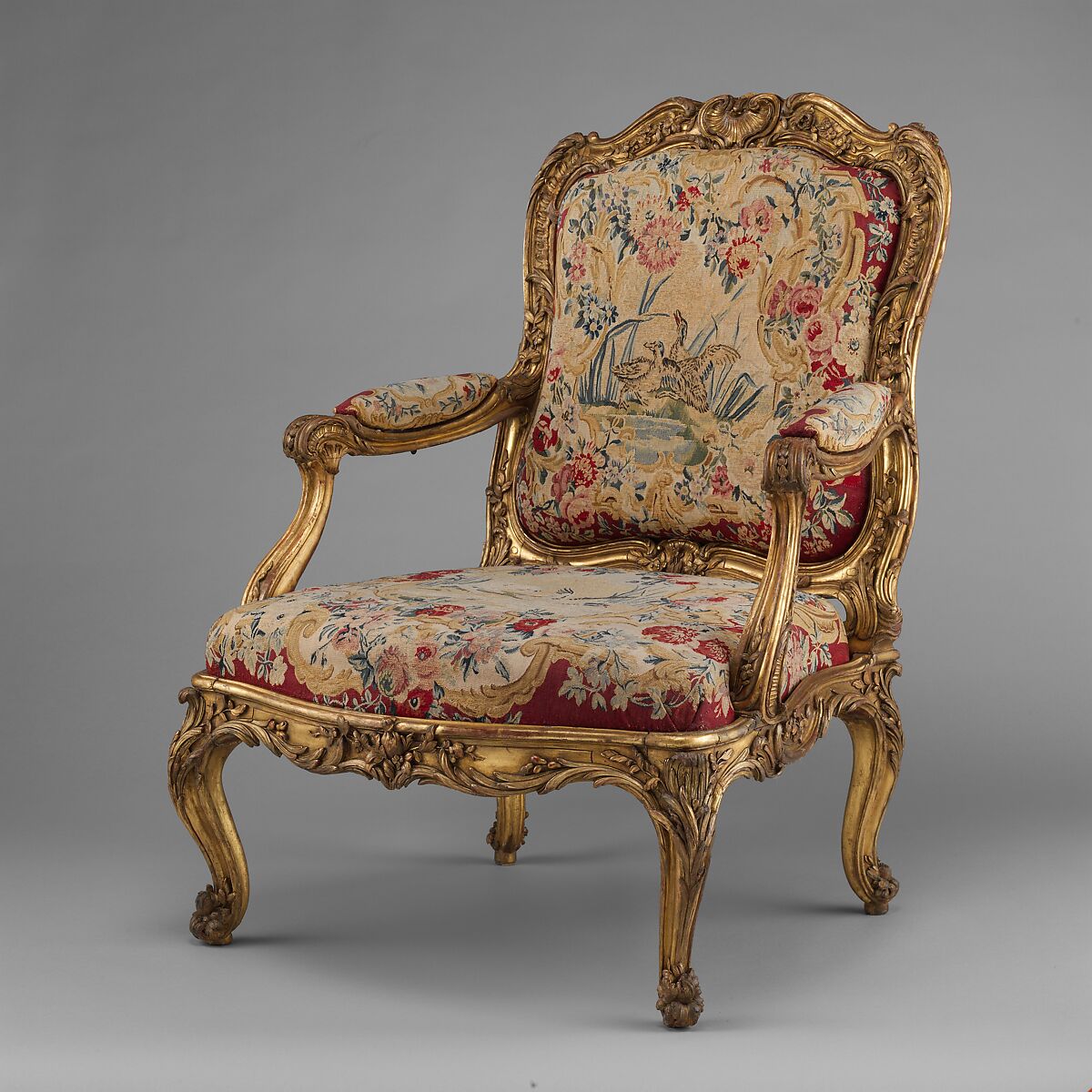 This artwork is meant to be viewed from right to left. Scroll left to view more.