Teapot with cover
Manufactory Meissen Manufactory German
Decoration attributed to the Aufenwerth German

Not on view
One of the most distinctive models produced at the Meissen factory is this teapot in the form of a helmeted, bearded man. He holds a dolphin that forms a spout, while a mermaid, who is supported on the shoulders of a satyr, serves as the handle. The feet of the man emerge just above the base and rest on a shell that forms the foot. A gilt-metal chain looped around the spout and the top of the handle attaches to the finial on the lid, ensuring that the latter does not become separated from the teapot itself. The teapot is one of a small number of Meissen teapots of this design, several of which have been published.[1] As Maureen Cassidy-Geiger has observed, a design by the French artist Jacques Stella (1596–1657) published in his Livre des Vases (1667) must have provided the inspiration for the teapot's form, and it is likely that the Meissen model draws elements from other prints by him as well.[2] While the design that relates most closely to the Meissen teapot is significantly different in several respects, most notably in its proportions, its primary compositional element of the helmeted, bearded man holding a spout is sufficiently close to that found on the Meissen pot to indicate its influence.

Cassidy-Geiger suggests that Meissen produced these teapots for display purposes rather than for their functional value, and therefore, it is entirely plausible that they were intended to be viewed more as precious objects than as objects for daily use.[3] The design is far more sculptural than any other teapot produced at the factory, and stylistically, it is difficult to associate the teapot with any known model of tea bowl produced by Meissen. It is not clear when teapots of this unusual design were first produced. A factory inventory from 1719 describes a teapot that has been identified with this particular model;[4] additionally, factory records from 1722 to 1728 list "Theekrügel, Wassermann," a reference also likely to apply to this type of teapot.[5] The date of introduction is of interest, because it provides an indication to the person responsible for its creation. If these two archival references do pertain to this model, it suggests that the Dresden court goldsmith Johann Jacob Irminger (German, 1635–1724) devised its design, as he was the primary supplier of models to the factory during these years. However, it has also been proposed that Johann Gottlieb Kirchner (German, b. 1706) modeled the teapot, which means that it could not have been created until 1727, the year he joined the Meissen factory.[6] In either case, the design of the teapot marks it as exceptional in Meissen's production in the years 1719–27, and stylistically it is one of the most Baroque created by the factory.

The vast majority of known examples of this teapot form were decorated outside of the factory, which suggests the model was regarded as unfashionable, and thus sold to independent porcelain painters.[7] Most of these teapots are decorated with chinoiserie scenes executed entirely in gold (see 50.211.247a, b),[8] and the workshop run by the Seuter brothers in Augsburg is traditionally credited for this type of decoration.[9] Augsburg was an important artistic center during the eighteenth century, renowned for its goldsmiths and printmakers, in particular, and much of the gilt decoration found on Meissen porcelain from the early 1720s is considered to have been applied in Augsburg.

It is rare, however, to find polychrome chinoiserie decoration on this model of teapot, and it is probable that this type of painting was executed by another family-run work-shop in Augsburg. Established by the German goldsmith and Hausmaler ("independent decorator") Johann Aufenwerth (ca. 1662–1728), the workshop developed a distinctive style of decoration in which chinoiserie scenes are usually accompanied by prominent gilt designs, such as those found on the Museum's teapot. Very similar decoration found on a teapot of this same model is attributed to one of the three Aufenwerth daughters who worked in the family workshop, Anna Elisabeth Wald (née Aufenwerth; German, b. 1696).[10] There are several pieces of porcelain decorated by Anna and her sister Sabina Aufenwerth (German, b. 1706), which bear their initials and theoretically provide a basis for making specific attributions to either sister.[11] In reality, their painting styles are stylistically so similar that attributions to one or the other are very difficult to make. It has been proposed by Yvonne Hackenbroch that the decoration on the Museum's teapot is the work of Sabina,[12] as one of the compositional elements on the teapot is also found on a coffeepot from a service in which all but one of the components are marked with Sabina's initials. It is likely, however, that the Aufenwerth workshop had a collection of drawings or prints from which the painters chose motifs, so the reuse of certain figures or images does not indicate authorship. The chinoiserie scenes painted by Sabina and Anna are very much in the style of Johann Gregorius Höroldt (German, 1696–1775) (see 54.147.75, .76), and both the type of composition and style of painting that he promulgated at Meissen clearly served as models for the Aufenwerth workshop. While both sisters were accomplished porcelain decorators, neither painted at the level of Höroldt or the best Meissen factory painters. However, the spontaneity that characterizes their work coupled with the rich and extensive gilding that they commonly employed allowed the Aufenwerth workshop to be one of the most successful and prolific of the Hausmalers.


Footnotes
(For key to shortened references see bibliography in Munger, European Porcelain in the Metropolitan Museum of Art. NY: The Metropolitan Museum of Art, 2018)
1 For example, see Meissen 1984, ill. no. 197; Sophie Motsch in Cabinet de porcelaines 2001, p. 38, no. 13; Sotheby's, London, sale cat., June 5, 2007, no. 10.
2 Cassidy- Geiger 2002b, p. 152, figs. 41–43.
3 Ibid., p. 166, n. 55.
4 Meissen 1984, ill. no. 197.
5 Boltz 2002, p. 112.
6 Cassidy- Geiger 2002b, p. 152.
7 This observation was made by former Curator Clare Le Corbeiller, note in the curatorial files, Department of European Sculpture and Decorative Arts, The Metropolitan Museum of Art, New York. A teapot of this model with what appears to be factory decoration is illustrated in Meister 1967, vol. 1, pp. 108–9. I thank Julia Weber for bringing this object to my attention.
8 For another example, see Sotheby's, Baden- Baden, sale cat., October 6–7, 1995, nos. 1308, 1333.
9 For more information on the Seuter workshop, see Ducret 1971–72.
10 Pietsch 2010c, pp. 148–51, no. 57.
11 T. H. Clarke 1972.
12 Yvonne Hackenbroch, undated note in the curatorial files, Department of European Sculpture and Decorative Arts, The Metropolitan Museum of Art.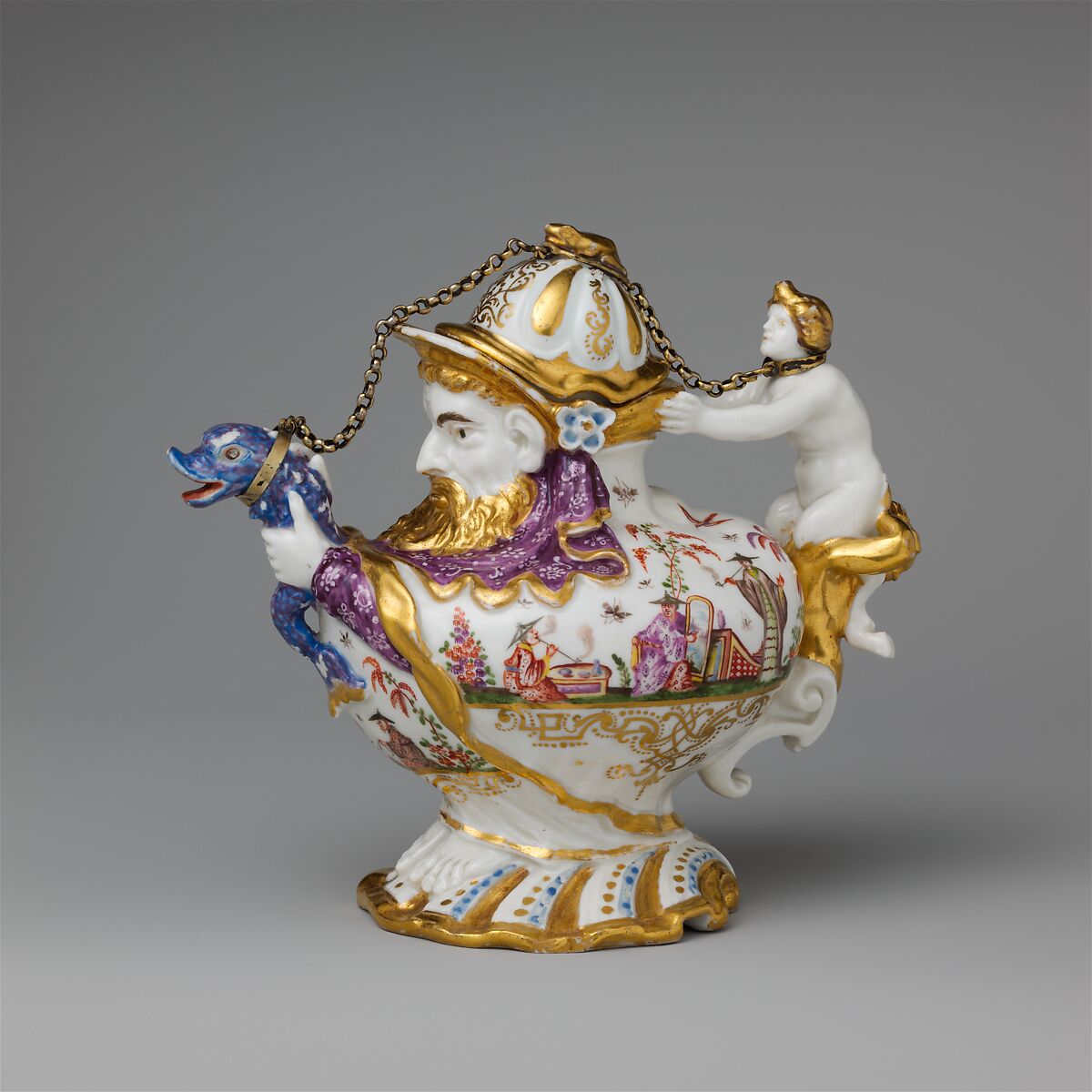 This artwork is meant to be viewed from right to left. Scroll left to view more.