Denis Diderot (1713–1784)
Jean Antoine Houdon French

Not on view
A philosopher and man of letters, and one of the internationally famous exponents of the French Enlightenment, Denis Diderot is best known for the multivolume encyclopedia that he compiled and coedited with Jean Le Rond d'Alembert (1717–1783) between 1751 and 1772. In the entry for painted portraits, Diderot's Encyclopédie states that the principal merit of the genre is to render the sitter exactly, by capturing both his character and his physiognomy.[1] A portrait bust of Diderot, believed to be the terracotta bust now in the Musée du Louvre, which served as a model for the Museum's marble version, was exhibited by the sculptor Jean-Antoine Houdon at the Salon of 1771. The sitter approved of that work, describing it as très ressemblant ( having a very strong resemblance). It was also well received by contemporary critics, one of whom wrote: "I single out the bald head of the editor of the Encyclopédie. The flame of genius brought that bust to life; there is a fire, an expression, that gives it a striking resemblance; I don't want to say it out loud, but our colleagues the painters have done nothing equal."[2]

Winner of the Prix de Rome in 1761, Houdon had spent ten years in Italy and was profoundly influenced by the arts of antiquity. Diderot is shown as a classical philosopher, bare-chested and without wig or other paraphernalia. Justly known for his naturalistic portraiture and his classic simplicity, Houdon was very successful in capturing his sitter's lively eyes and conveying the determination and intelligence that won Diderot many admirers and some enemies—as attested by the words inscribed on the plinth: "il eut de grands Amis et, quelques bas jaloux / le Soleil plait à l'aigle, et blesse les hiboux" ( He had great friends and a few low jealous ones / the sun pleases the eagle and wounds the owls). The slightly parted lips are said to have suggested the brilliance of Diderot's conversation. This is consistent with Horace Walpole's description of the philosopher in his journal entry for September 19, 1765, as "a very lively old man, and great talker."[3]

Possibly shown at the Salon of 1773, the Museum's marble bust, signed and dated by the artist, was acquired by a patron of Houdon's, the Russian Francophile Count Alexander Sergeyevich Stroganoff (1733–1811), during a sojourn in Paris. It remained for many years at the Stroganoff palace in Saint Petersburg. In 1773 Diderot himself traveled to Russia, at the invitation of Empress Catherine the Great (1729–1796), a supporter of his work with whom he had corresponded.

[Daniëlle Kisluk-Grosheide, 2010]

Footnotes:
1. Diderot 1751–72, vol. 13 (1765), p. 153.
2. Journal encyclopédique (Collection Deloynes 49, no. 1320), quoted by Scherf 2008b, p. 44.
3. Walpole 1937–83, vol. 7 (1939), p. 262.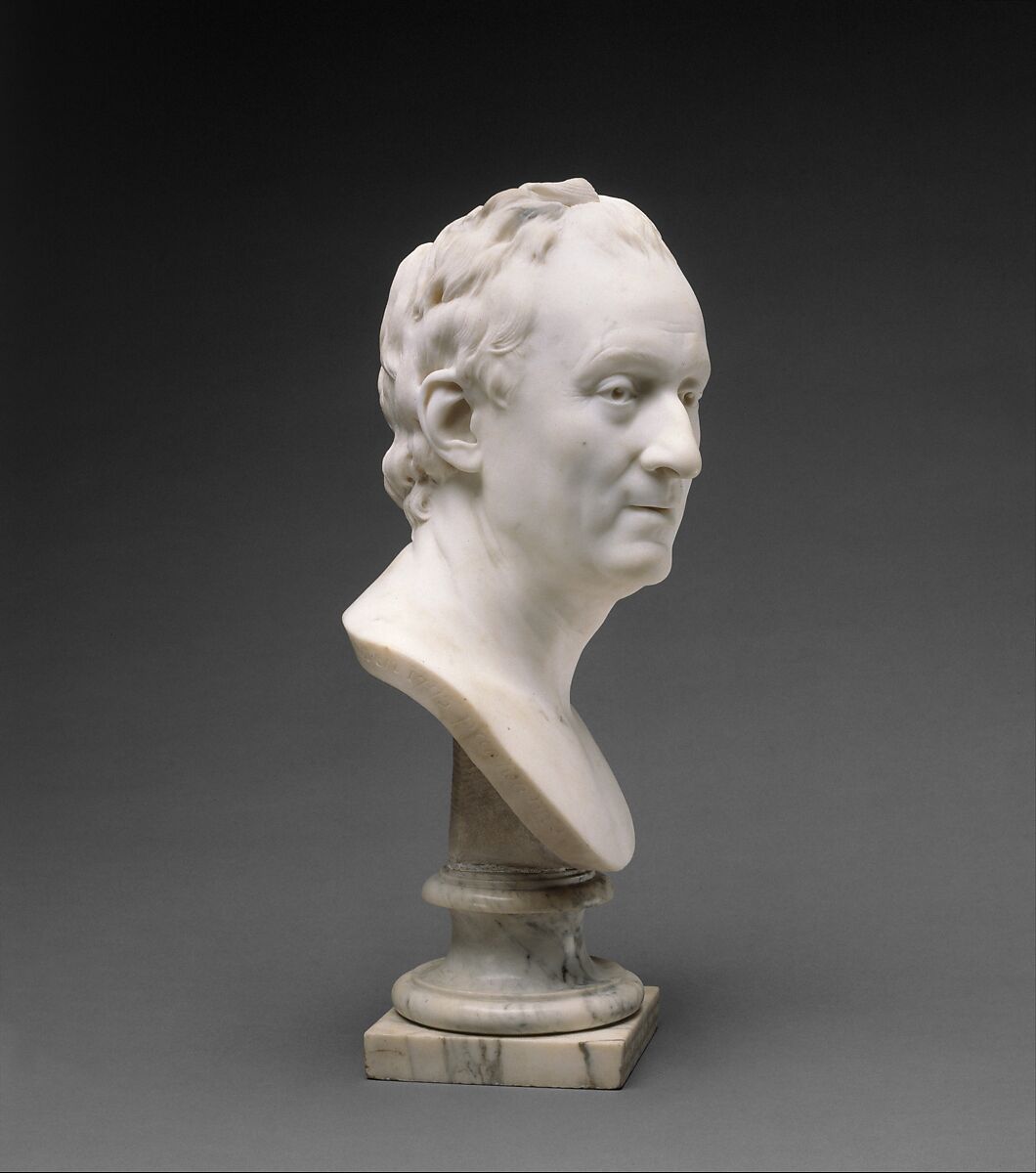 This artwork is meant to be viewed from right to left. Scroll left to view more.