Chimneypiece (cheminée)
After a design by François Joseph Belanger French
Figures modeled by Jean-Joseph Foucou
Bronzes by François Rémond French

On view at The Met Fifth Avenue in Gallery 524
The model of this imposing Neoclassical chimneypiece, incorporating large figures of female satyrs as supports of the architrave and mantel shelf, was repeated a number of times. Although commissioned for the Grand Salon Ovale of the Hôtel Thelusson in Paris, the chimneypiece appears never to have been installed there. It was used at the Hôtel de Massa instead, a residence rented by the banker Paul-Louis de Thelusson (b. ca. 1762) in January 1785. The earliest mantelpiece of this design appears to have been the one for the Paris hôtel particulier of Louise-Jeanne de Durfort, duchesse de Mazarin (1735–1781), for which Pierre Gouthière executed the bronzes in 1781. Made of blue turquin marble, that first mantelpiece is very well documented, and we therefore know that the architect François-Joseph Bélanger was responsible for its design and that the striking caryatid figures, their legs crossed and hands folded above their heads, were modeled by the sculptor Jean-Joseph Foucou. Gouthière was to supply five different mantelpieces for the Hôtel Thelusson but was able to finish the work for only four of them. The bronze figures and decoration of the fifth were done by François Rémond in 1784, and it is believed to be the one now in the Museum's collection.

The bronze satyresses have a dark patination but their paraphernalia are gilded—the wreath of vine leaves and grapes in their hair, the drapery cascading down their backs, and the ivy girdle hiding their nudity. In addition, a gilded strap runs across the chests and a similar ribbon is tied around the hooves of these mythological half-figures, attendants of the wine god Bacchus. Musical instruments are suspended from the straps—a pair of cymbals on the left and a tambourine on the right—and bells are attached to the ribbons; thus these satyresses could make music during their drunken revelry. The lustrous and sensuous skin of their upper bodies starkly contrasts with their hairy goat's legs. Unlike the other known examples of this design, the Museum's mantelpiece is the only one in which the frieze is entirely decorated with repeating gilt-bronze ornament.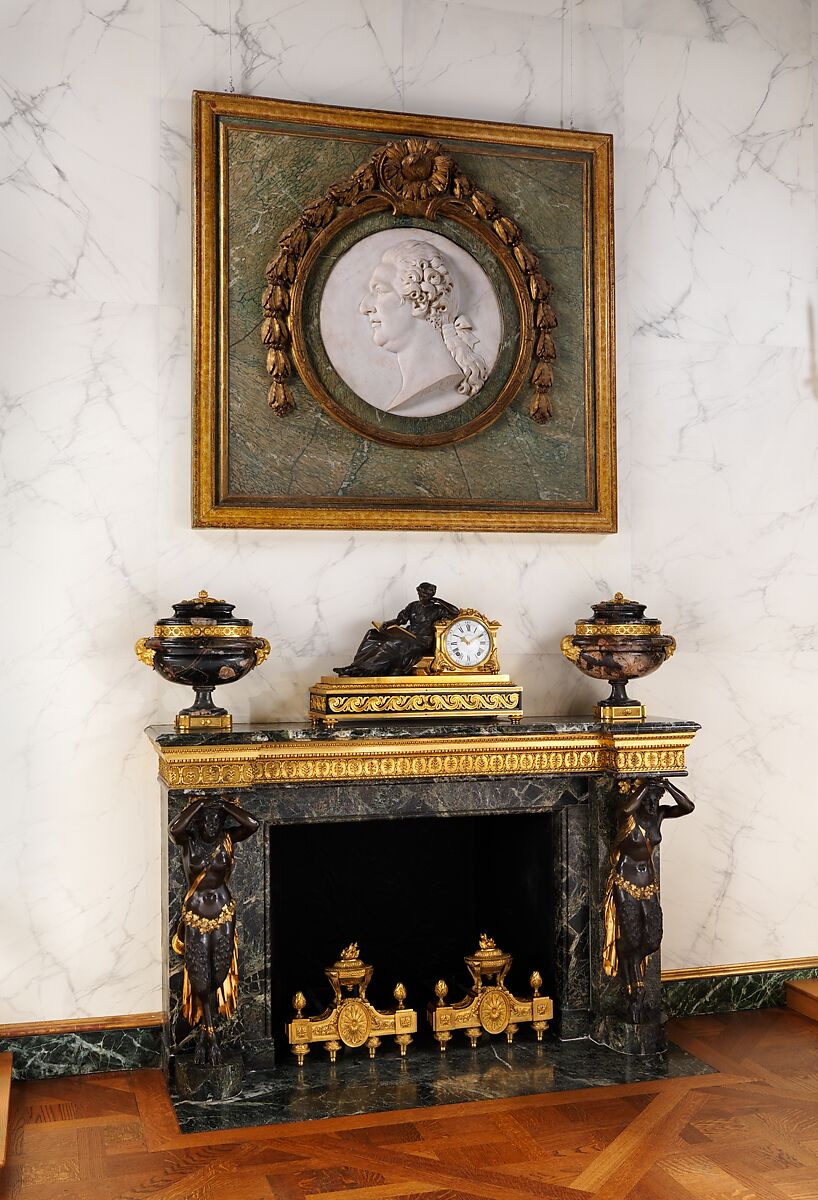 This artwork is meant to be viewed from right to left. Scroll left to view more.