Folding card table (table de jeu brisée en angle)
Attributed to Bernard II van Risenburgh

On view at The Met Fifth Avenue in Gallery 547
In mentioning cards, I ought to observe, that . . . [the French] learn to play not barely for amusement, but also with a view to advantage; and, indeed, you seldom meet with a native of France, whether male or female, who is not a complete gamester, well versed in all the subtleties and finesses of the art.
— Tobias Smollett, Travels through France and Italy

As gaming was the principal indoor diversion of eighteenth-century France, a variety of tables was created, often for specific games like three-handed ombre or tri, piquet, or brelan. A description of one example in Lazare Duvaux's account book suggests that this elegant folding table was used for quadrille. On August 9, 1753, the dealer sold a solid mahogany quadrille table "I" (folding on the diagonal), embellished with gilt bronze, and lined with cloth, to Madame de Pompadour for 85 livres.

When closed, the Museum's table has a triangular shape and forms a synthesis of sinuous lines, echoed by the double curve of the cabriole legs. One of these S-shaped legs can be pulled backward to support the hinged top when unfolded. A shallow walnut drawer for storage of game essentials is recessed on top of this sliding leg. The rounded corners of the open top could be used for discarded cards and counters or for the placement of candlesticks to offer the players light on their game. Although not stamped, this table has been attributed to Bernard II van Risenburgh, based on the high quality of its tulipwood marquetry inlaid with floral and foliated sprays of end-cut kingwood.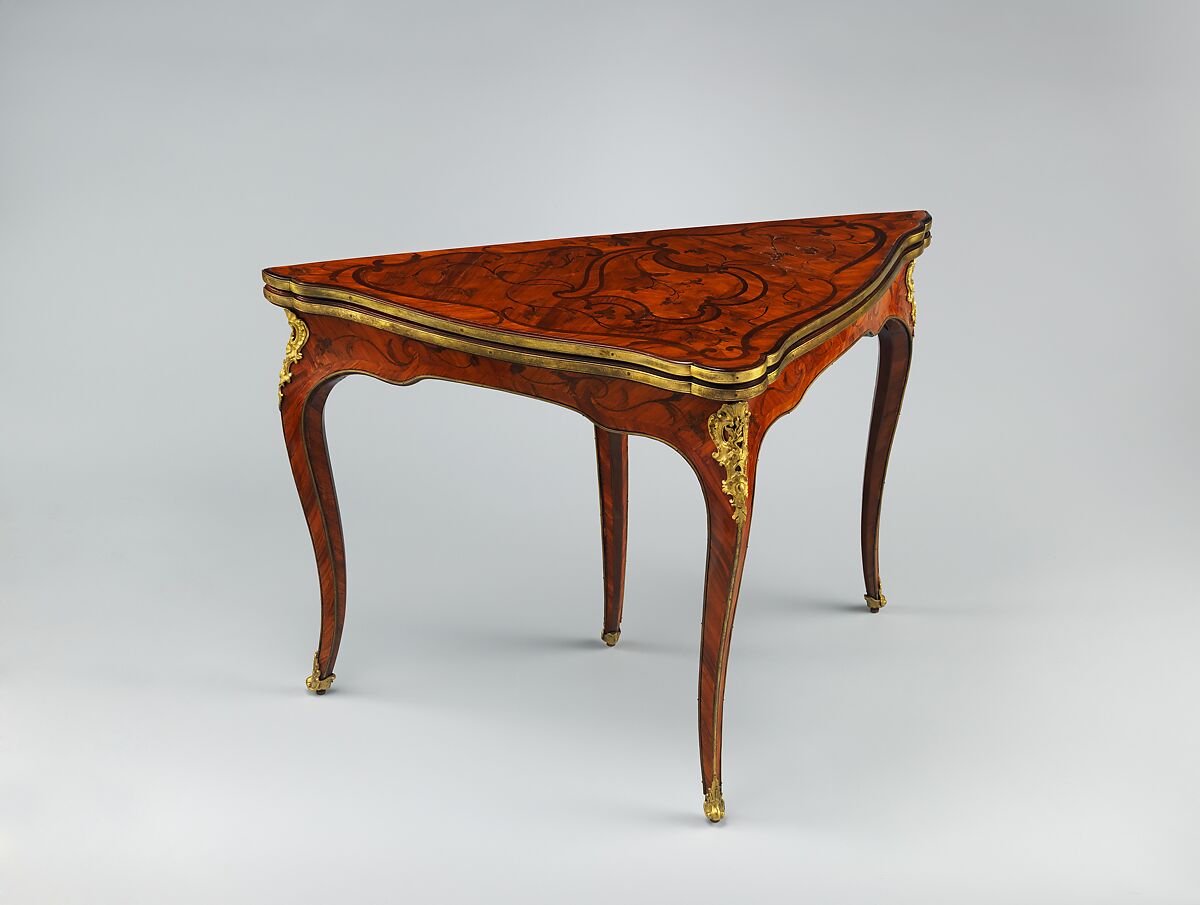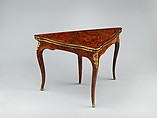 This artwork is meant to be viewed from right to left. Scroll left to view more.