Girl in a Straw Bonnet
Albert-Ernest Carrier-Belleuse French

On view at The Met Fifth Avenue in Gallery 556
The prolific Albert-Ernest Carrier-Belleuse found great success in France and in England, where he lived from 1850 to 1855. He marketed his work astutely, organizing special auctions, producing editions in bronze and terracotta, and designing decorative sculptural pieces that circulated widely in copies. Reacting against the static imagery that clung to portraiture, which was still under the sway of late Neoclassicism, he breathed new life into the genre in the 1850s by following the example of such realistic sculptors as Pierre-Jean David d'Angers. As June Ellen Hargrove has observed, his portraits of women are few, and for them he often worked in a neo-Rococo mode, participating in the eighteenth-century revival that began and flourished in the mid-nineteenth century.[1] One critic described his busts as made "with a skill and spirit seldom seen in sculpture since the end of the eighteenth century." [2] The Goncourt brothers, devotees of the art of the eighteenth century, found this return to the artistic values of an earlier century mawkish; they described him as a "shoddy merchandiser of the nineteenth century, this copier of Clodion." [3] Still others deplored what they saw in his work as excessive realism.

In its appealing freshness, Girl in a Straw Bonnet exemplifies the best in Carrier-Belleuse's art. With her right arm, the subject clutches her robes up to her breast while the lace ties of her bonnet, dripping with field flowers, flutter across her chest. The straw hat itself is a tour de force, suggesting the pliable nature of its material beneath a pile of even more petals. The broad brim frames her face; her expression is a knowing smile beneath a fringe of attractively unkempt hair. The sculptor used the devices of past masters, such as Jean-Antoine Houdon, to create lifelike effects: the swirled lines gouged in the pupils to give a glint to the eyes and the virtuosic jabbing of the clay to form the dentelles of the lace. The girl's soft cheeks and shoulders show that the artist could rival the eighteenth-century master of modeling, Clodion, in his ability to smooth the clay to approximate the texture of flesh. Neither Houdon nor Clodion, however, would have piled on as many effects as the nineteenth-century sculptor does here. He exaggerates the accessories of the dress to make a theatrical effect, layering flowers over lace over cloth to create lively lines and shadows.

Carrier-Belleuse gets away with this excess because of his sure touch as an artist and the sense of immediacy he is able to achieve. He appears to have responded instinctively to his subject, and the reported speed of his working methods matched the rapidity of his eye. Describing a series of modeling sessions when the artist was making a bust of Emperor Napoléon III at the Tuileries Palace in July 1864, the royal librarian Alfred Maury wrote: "This Carrier works with incredible quickness. We watch him manipulate the clay with extraordinary ease." [4] Carrier-Belleuse often cast his terracottas from molds, sometimes freshening details or adding new ones afterward. This bust —  unique rather than part of an edition —  appears to combine some casting with virtuoso modeling of flowers that could never have emerged intact from a mold. More important, it captures a fleeting moment in the spirit of a lively woman.

The identity of the girl is unknown. The women Carrier-Belleuse portrayed were generally, as Hargrove notes, actresses or singers, wives or daughters of friends, and high-society ladies, whose identities were discreetly concealed. This portrait bears some resemblance to Carrier-Belleuse's bust of the actress Marguerite Bellanger, mistress of Napoléon III, who was something of a muse to the artist (ca. 1864, private collection, London).[5] Her heavy eyelids, sensuous mouth, and dreamy expression recall those features of this terracotta bust. Another bust of Bellanger, described in a sale catalogue as "a study of a woman in meadow flowers" (sold in 1868, now lost), may have inspired the present one.[6] Carrier-Belleuse signed his work before 1868 "A. Carrier" and afterward, almost without exception, "A. Carrier-​Belleuse."[7] Since the Museum's bust bears his full name, it was likely made toward the end of the decade 1860 – 70. The sculptor also produced a good number of "fantasy busts" in editions, sometimes of historical personages, often simply of pretty women garbed in period accessories. Girl in a Straw Bonnet has some of the inventiveness of those works, but the subject is clearly a specific individual, animated and witty, breezing through a spring day.

[Ian Wardropper. European Sculpture, 1400–1900. New York, 2011, no. 88, pp. 254–55.]

Footnotes:

[1] June Ellen Hargrove. The Life and work of Albert Carrier-Belleuse. Outstanding Dissertations in the Fine Arts. New York, 1977, p. 120.

[2] "avec une adresse et un esprit auxquels la sculpture n'était plus habituée depuis la fin du dix-huitième siècle"; Théophile Thoré [William Bürger]. Salons de W. Bürger, 1861 à 1868. 2 vols. Paris, 1870, vol. 1, p. 179.

[3] "ce pacotilleur du XIXe siècle, ce copieur de Clodion"; Edmond and Jules de Goncourt. Journal: Mémoires de la vie littéraire. [Written 1851–95.] 9 vols. Paris, 1935, vol. 3, p. 102 (entry of May 31, 1867).

[4] "Ce Carrier travaille avec une incroyable prestesse! nous le regardons monter sa terre avec une aisance extraordinaire"; Antonin Jérôme Mallat. Histoire contemporaine de Vichy de 1789 à 1889. Vichy, 1921, p. 794 (letter to his wife of July 31, 1864).

[5] Hargrove 1977, pp. 125 – 27, pl. 75.

[6] Catalogue of a sale at Hôtel Drouot, Paris, December 26, 1868, no. 17.

[7] See Hargrove 1977, p. 126.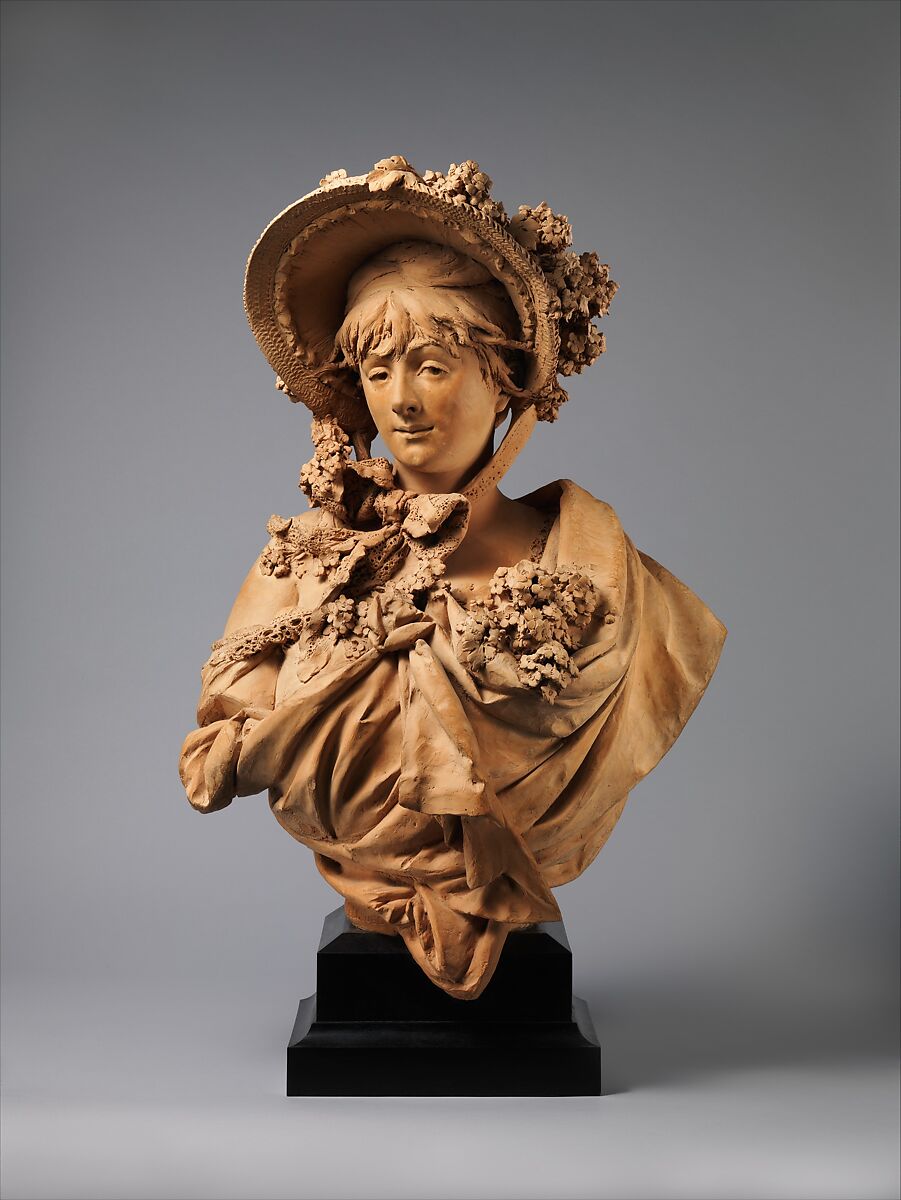 This artwork is meant to be viewed from right to left. Scroll left to view more.