Lioness (one of a pair)
Manufactory Meissen Manufactory German
Modeler Johann Gottlieb Kirchner German

On view at The Met Fifth Avenue in Gallery 533
This lioness and its pair (1988.294.1) belong to one of the most ambitious ceramic commissions of all time. They were among the 150 mammals and 300 birds produced in the 1730s for one of the Dresden royal palaces known as the Japanese Palace. This menagerie of porcelain animals was made for the ruler of Saxony, Augustus the Strong (1670–1733), who had established the Meissen factory in 1710.

No one had ever attempted porcelain sculpture on this scale, and the various imperfections – notably the firing cracks – indicate the degree of difficulty in modeling and firing porcelain objects of this scale. A special ceramic paste was developed and the animals had to dry for up to three months after they were modeled but before firing (at 800 degrees C) in order that they not explode in the kiln. The animals were then glazed and subjected to another firing at a much higher temperature (1400 Centigrade), at which time the objects shrunk in size by approximately one sixth. While these porcelain sculptures were intended to be colored naturalistically, they could not be subjected to a third firing, so they were painted with oil paints that have mostly disappeared over time.

The bluish cast to the male lion is likely due to one of three factors: the addition of a small amount of cobalt to the glaze in order to reduce the yellow hue of the porcelain paste; residue of cobalt in the mills where the glaze was prepared; or the presence of iron dust which would turn blue in a reduction kiln (where oxygen was removed).

These two lions, cornerstones of the Metropolitan's superb holdings of Meissen porcelain, were acquired in 1988 from the collection of the Earl of Longford at Tullynally Castle in Ireland.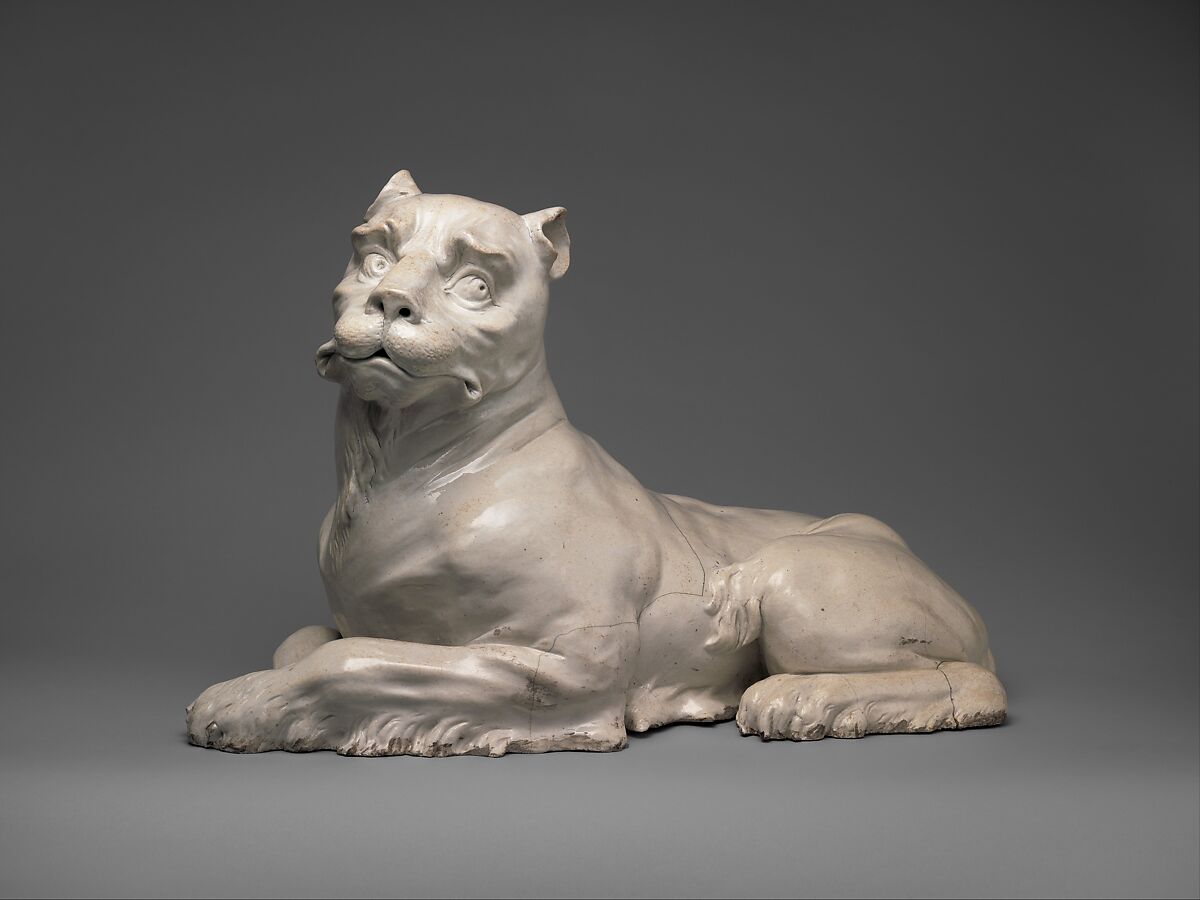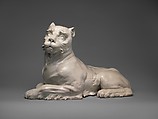 This artwork is meant to be viewed from right to left. Scroll left to view more.