Side table
Designer Edward William Godwin British

Not on view
This table, designed by Edward William Godwin around 1872, demonstrates the ideals characteristic of the Aesthetic movement in Britain from the 1860s to 1880s. The overall composition of the table, with its attenuated lines and asymmetrical organization of stretchers and posts, creates a rhythm of horizontal and vertical elements that echo Asian as well as traditional English influences. Another example of this table was made in about 1871 for Godwin's wife, the actress Ellen Terry, and was used in their home.

Among the first of the Victorian architect-designers to furnish in the Japanese style, Godwin began his career as a Gothic revivalist and disciple of John Ruskin. However, by the early 1860s, Godwin became a passionate admirer of the arts of Japan and one of the leaders of the Aesthetic movement along with James Abbott McNeill Whistler and Oscar Wilde. The elegantly linear design of the table reflects Godwin's knowledge of Japanese art and its principles. Godwin may have had first-hand knowledge of Japanese furniture or he may have been familiar with Aimé Humbert's Le Japon illustré (1870), which illustrates many types of Japanese furnishings. On Godwin's table, the fretlike arrangement of rails and posts is also reminiscent of the latticework found on Chinese and Japanese furnishings and architecture. The use of metal corner and side braces that also embellish the object is indicative of Japanese design.

Not only did Godwin appreciate Asian design but he also had a fondness for mid- to late eighteenth-century English furniture. The table's attenuated lines, drop leaves, and fluting are all common characteristics found on tables of the Georgian period. Interestingly, some of the aesthetic values associated with Georgian furniture are shared by Japanese furniture, such as attention to wood grain, linearity, and the avoidance of ponderous forms. This blending and reinterpretation of Godwin's primary sources used for the table are novel yet characteristic of the Aesthetic movement.

For Godwin, his work was a means of artistic and spiritual expression, as he explained in 1873: "I look upon all my work as Art Work. A building is to me as a picture to a painter or a poem to a poet."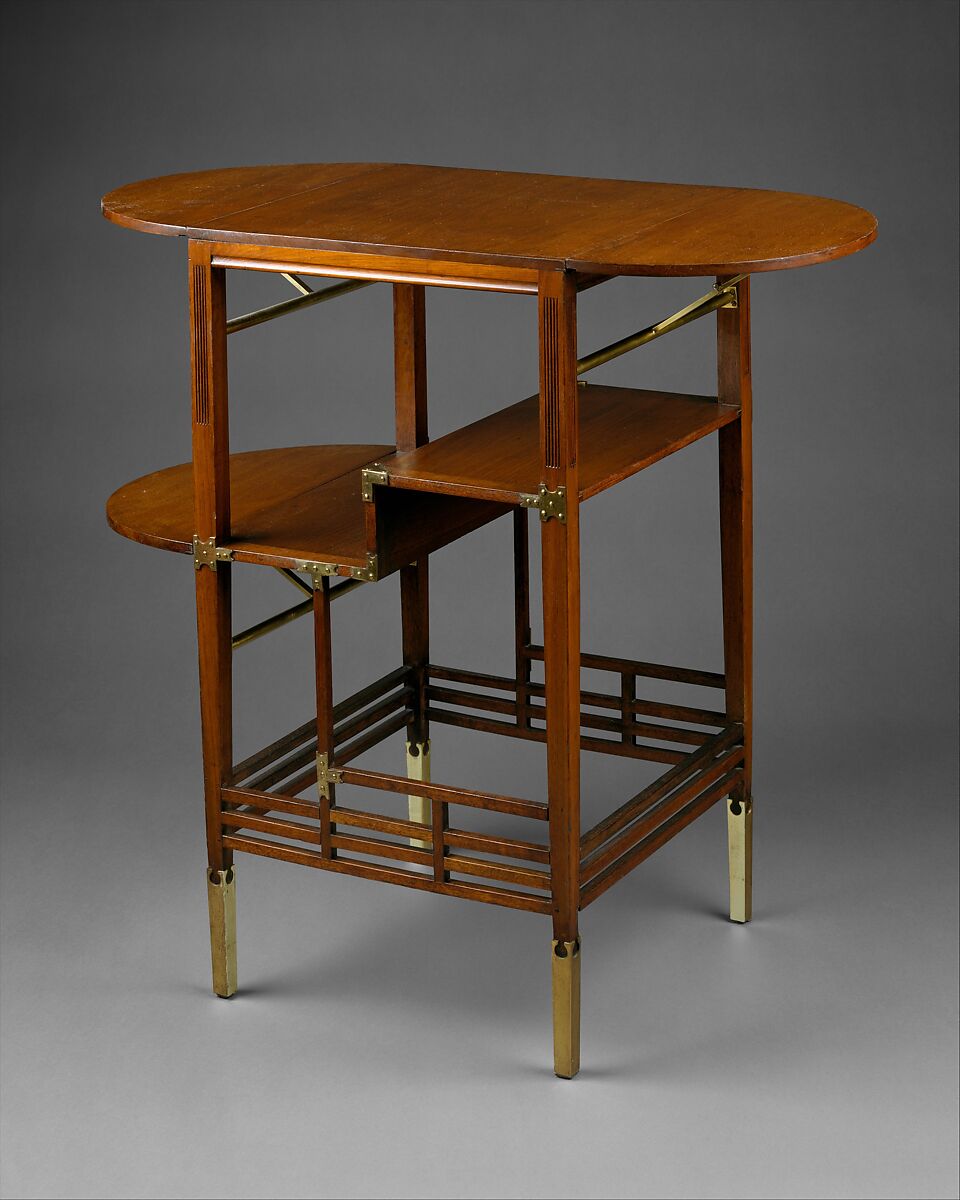 This artwork is meant to be viewed from right to left. Scroll left to view more.