Salver
Frederick Elkington
Manufacturer Elkington & Co. British

Not on view
Frederick Elkington was a member of a very successful company of silversmiths in Birmingham. Established by George Richards Elkington (1801–1865), it expanded by developing processes that reduced labor and conserved raw materials, such as the process of electroplating silver onto base metals. The idea was patented in 1840 and perfected for franchising by 1842. A thin skin of silver could be deposited on all manner of useful articles of base metals, making mass production of plated silver possible at very low cost. However, the firm also produced sterling silver wares in leading new styles, such as this salver raised on three globular feet in the Japanese taste.

The opening of Japan to the West and the subsequent appearance of sensational Japanese exhibits in the international exhibitions in London in 1862 and Paris in 1867 gave rise to an imitative movement. Objects were produced in European materials—here silver—but bearing Japanese ornament and refinement in genuine homage to the delicacy and asymmetry of Japanese designs. Here, frosted silver and parcel gilding in three colors—red, green, and yellow gold—carry an ideal landscape of trees, grasses, bushes, and herbage on a hillock with a pair of swallows on the wing against a cloudless sky. Around the rim in octagons are dragonflies, bees, storks, and butterflies, finely engraved on ever-changing grounds of red, green, and yellow gold.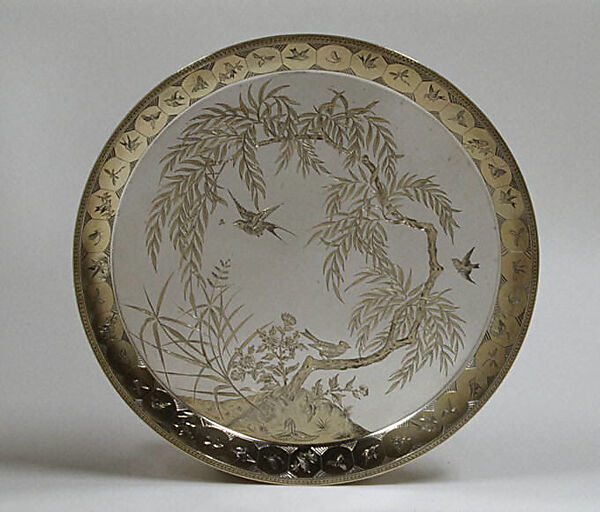 This artwork is meant to be viewed from right to left. Scroll left to view more.