Benjamin Franklin (1706–1790)
Jean Antoine Houdon French

On view at The Met Fifth Avenue in Gallery 753
Houdon's bust of Franklin was the first of his canonical portraits of leading figures in American history, among them Washington, Jefferson, John Paul Jones, the Marquis de Lafayette and Robert Fulton (1989.329). This marble, which follows the format of the original terracotta, captures those aspects of Franklin's somewhat sly persona, which so fascinated French society during his nine years in Paris (1776–85) representing the newly independent United States. His natural unpowdered hair, simple Quaker suits, and benign wit all stood in sharp contrast to the norms of diplomatic circles in which Franklin moved. Franklin's celebrity attracted fashionable hostesses and crowds in the street alike and his image was widely disseminated by the leading artists of the time.

Houdon himself produced numerous examples of his Franklin portrait in various formats and media. This cleanly truncated version, in modern dress, was clearly preferred by contemporary American statesmen and anticipates George Washington's insistence that Houdon's statue of him (1792; State Capitol Building, Richmond) show the American president in modern uniform rather than pseudo antique garb.

It has been much debated whether Franklin actually sat for Houdon or if the sculptor captured his vividly accurate image from mere passing acquaintance. He would have had ample opportunity to observe the American minister at the Masonic lodge of the Nine Sisters to which they, as well as many other artists and patrons in the expatriate community (e.g., Count Stroganov; see Voltaire and Diderot), belonged.
#4582. Benjamin Franklin (1706-90)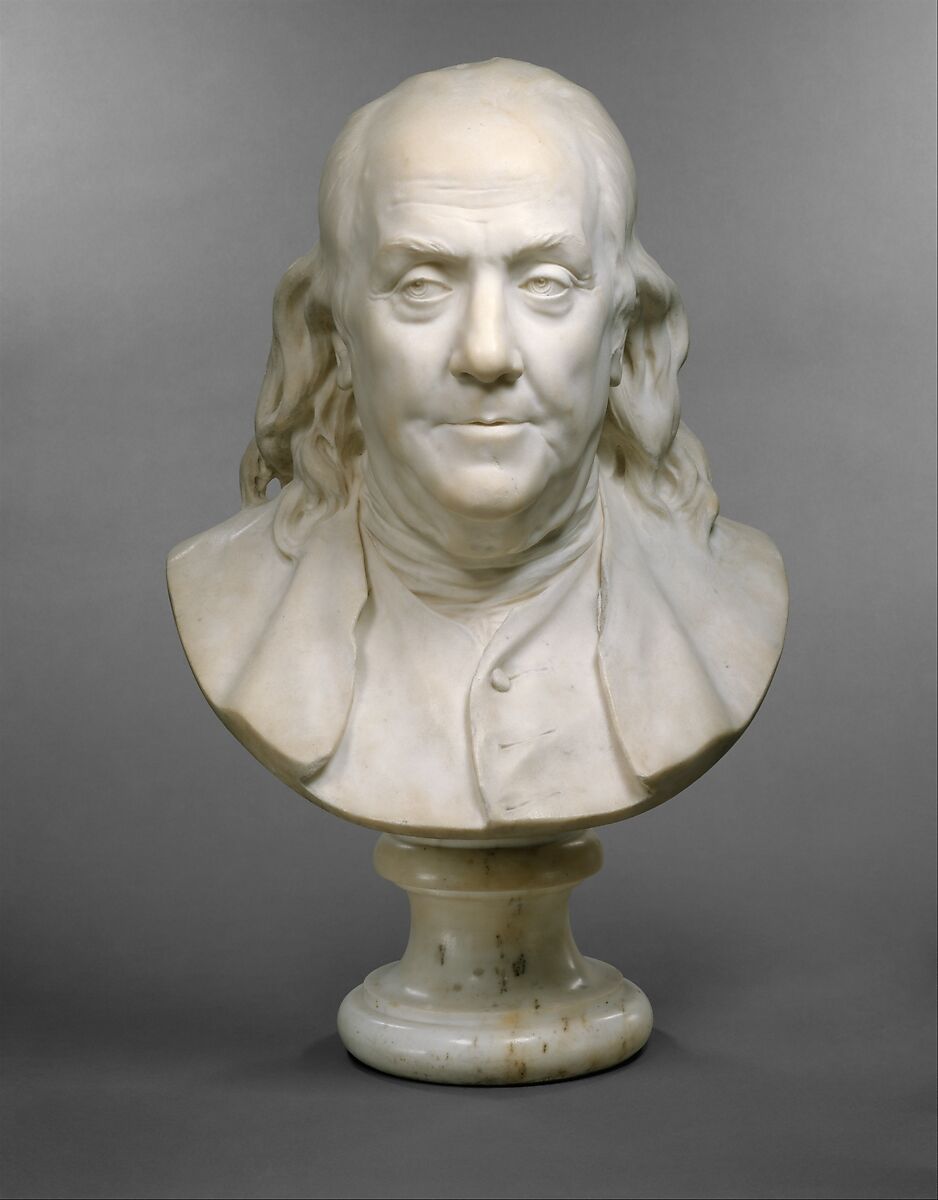 This artwork is meant to be viewed from right to left. Scroll left to view more.