Longcase clock with calendrical, lunar, and tidal indications, also known as the Graves Tompion
Clockmaker: Thomas Tompion British
Case attributed to Jasper Braem

On view at The Met Fifth Avenue in Gallery 509
Tompion combined the technical advances made by English clockmakers with his own superb workmanship and ingenious designs to produce timepieces that contributed vastly to the fame of English clock making in the second half of the seventeenth century. One of Tompion's earliest surviving longcase clocks, this example was made before he began systematically numbering his works sometime
after 1685.

The dial indicates hours and minutes, subdivided into ten-second intervals (on the silvered chapter ring), calendrical information (in variouis apertures), and the phases, aspects, and ages of the moon in its monthly cycle, as well as times of high tide at London Bridge (on the central revolving disk). The eightday, weight-driven movement, with anchor escapement and long pendulum, strikes in an unusually complicated way: full and half hours are struck respectively on large and small vertically mounted bells, and the first and fourth quarters, once and twice respectively, as double blows on small horizontally mounted bells. The beautifully proportioned case, with panels of floral marquetry and oystershell-cut veneer and applied Baroque columns supporting crisply detailed Corinthian capitals framing the dial, is also an unusually fine product of the late 1670s.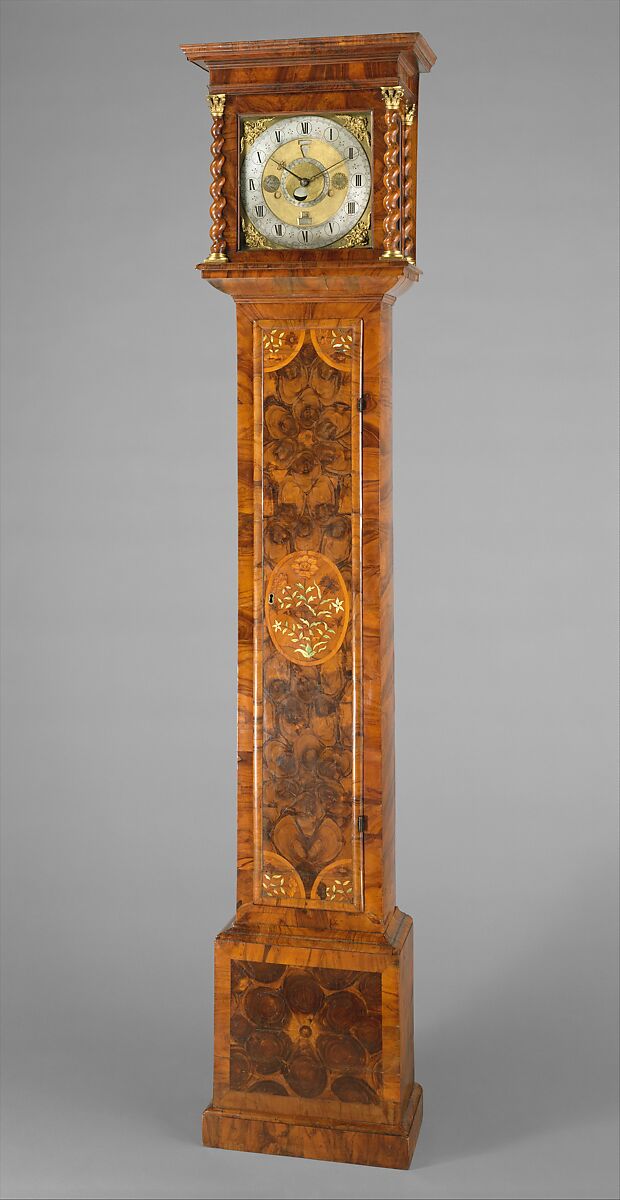 This artwork is meant to be viewed from right to left. Scroll left to view more.