"État" Cabinet
Designer Emile-Jacques Ruhlmann French

Not on view
Perhaps the most renowned French designer of his day, Émile-Jacques Ruhlmann is considered the primary exponent of high-style French taste following World War I. Aesthetic refinement, sumptuous materials, and impeccable construction techniques place his work on a par with the finest eighteenth-century furniture—a formal and ornamental source for many of his designs.

This cabinet was commissioned from Ruhlmann by The Met in 1925. It is a variant of a similar cabinet shown the same year at the Paris exposition that was purchased by the French state, hence the model name État (State). Ruhlmann sometimes produced more than one example of his furniture models, varying the details of form and surface decoration according to the requirements of a commission. The complex pattern of the marquetry decoration (created from interlocking pieces of wood and ivory veneer) is reminiscent of a jigsaw puzzle.

Ruhlmann was known as an ensemblier. Not only did he produce furniture, but he also could fabricate complete interiors, creating rooms which achieved a harmony of colors, textures, materials, and workmanship. Ensembliers differed from today's interior decorators in that, instead of composing their interiors by bringing together existing objects and materials from different sources, they both designed and made (or commissioned to be made) everything they needed in order to achieve their effects. They could design not only houses but everything—down to the doorknobs—that went into them, so that no single element would offend the eye because it was inconsistent with the whole.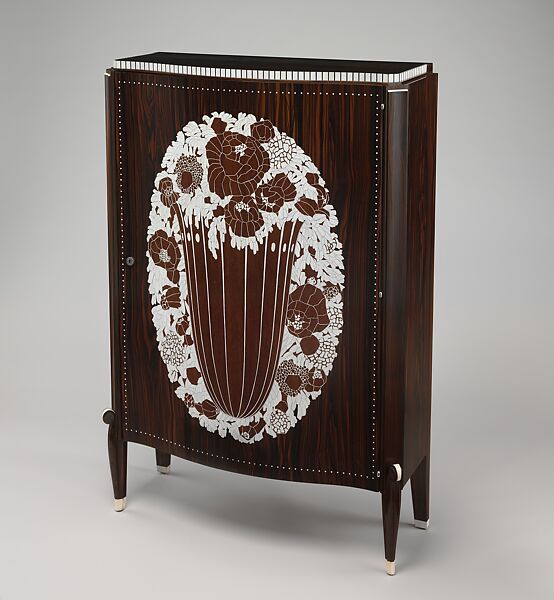 This artwork is meant to be viewed from right to left. Scroll left to view more.