Bookstand
Design attributed to Charles-Auguste Questel
Workshop of Georges-Alphonse Jacob Desmalter
Carved decoration by Chabraux

On view at The Met Fifth Avenue in Gallery 554
The shaped aprons on the front and back of this bookstand bear the crowned initials FPO for Ferdinand Philippe, duc d'Orléans (1810—1842), oldest son of King Louis-Philippe. A noted patron of the arts with eclectic taste, the duke commissioned this striking black and white showpiece from the ébéniste Georges-Alphonse Jacob Desmalter, grandson of the celebrated eighteenth-century menuisier (joiner) Georges Jacob, in 1839. Most likely intended to display Les Offices de la Vierge, a lavish book of hours created for Ferdinand Philippe the previous year, the bookstand consists of a base, a bookcase with two openwork doors supported on baluster-shaped legs, and a sloping upper part with a book rest. A detailed mémoire by Desmalter indicates that the velvet-lined interior originally held a pillow for the missal. The top has a ratcheted mechanism that allows the central panel, embellished with marquetry of ivory, mother-of-pearl, and snakewood, to be raised. The historicizing design by Charles-Auguste Questel reflected contemporary interest in the Renaissance style. The sculptor Chabraux carved the elaborate decoration in ivory and ebonized maple.

Before being sent to the Tuileries Palace, where it furnished the duke's salon d'attente, the bookstand was exhibited at the 1839 Exposition des Produits de l'Industrie in Paris.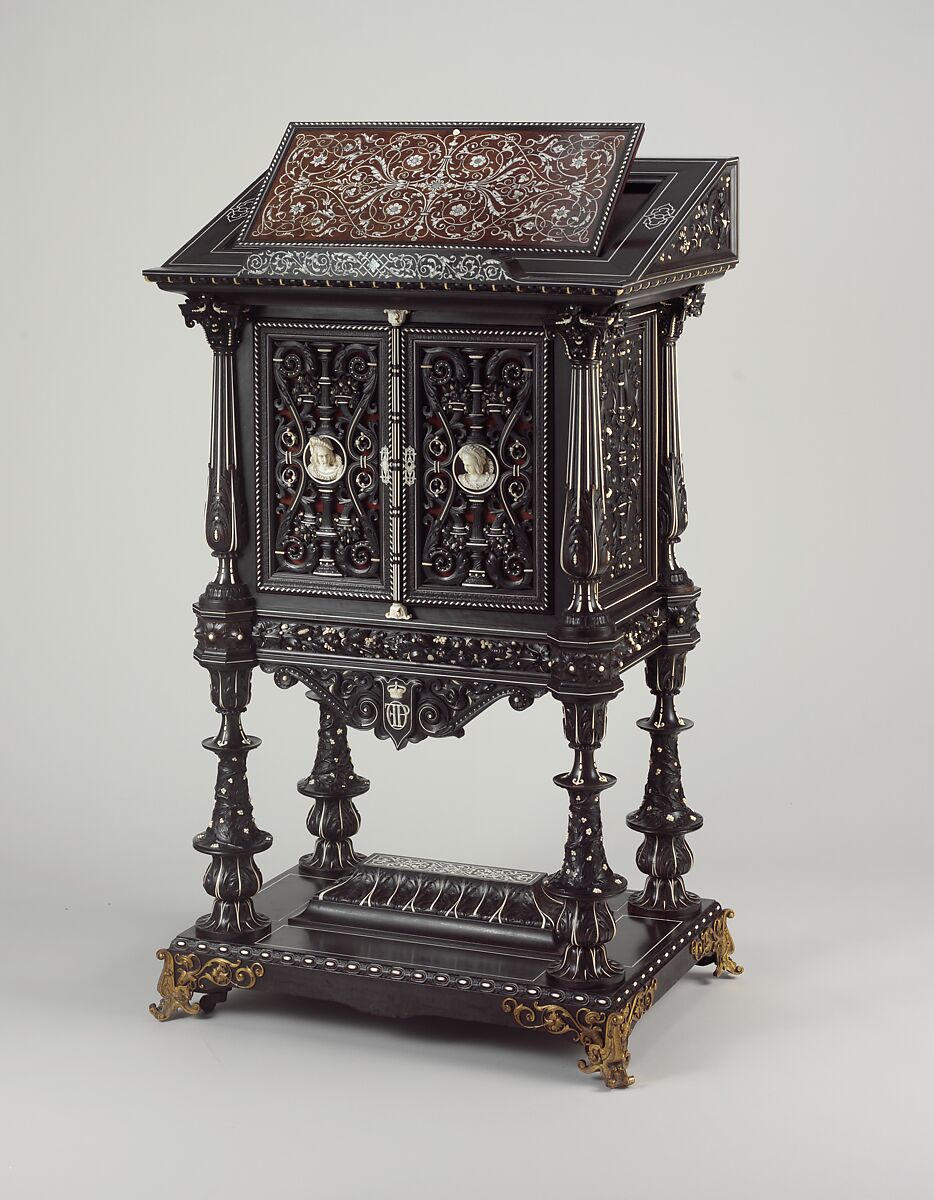 This artwork is meant to be viewed from right to left. Scroll left to view more.