Dagger (Katar)
Indian, Thanjavur; blade, European
Not on view
Far from being cold and aloof, the gods and goddesses of Hindu India exhibit a broad range of conflicting human emotions: joy and anger, compassion and envy, jealousy and love. Moreover, like their human devotees they produce offspring. One of the most significant of these divine children is the son of Shiva, known in southern India as Subrahmaņya but more familiar elsewhere in India as Kārttikeya, Skanda, or Kumāra. He was born to combat demons and to command the heavenly armies, functions he fulfills in the great Hindu religious epics. Thus he is generally regarded as the Hindu god of war. Like the other major deities, Subrahmaņya rides a supernatural animal, or vāhana (literally, "vehicle"), which in his case is the peaock Paravāņi. The most popular deity in southern India, Subrahmaņya was elevated there to the level of supreme god, outranking even his father, Shiva. It is likely, therefore, that the boldly sculptural peacock hilt of this unique south Indian katar was intended to refer to the war god by depicting his steed, Paravāņi.

In sculptures of Subrahmaņya and Paravāņi from southern India, the peacock is frequently shown with one or more cobras in its beak and another clenched in its talons. These images of Paravāņi subduing serpents probably symbolize Subrahmaņya's role as the defender of the gods. Similarly the peacock on the hilt of this katar holds in its beak a pair of cobras by their tails, almost as if they were reins for its divine rider. Paravāņi is said to have been created as a result of a battle between Subrahmaņya and the giant Sura. During the fight Sura changed himself into a tree, which Subrahmaņya split in two with his spear. The two halves were transformed into the peacock Paravāņi and a rooster, both of which became enduring symbols of the god.

This katar comes from a small group of highly distinctive southern Indian weapons that were salvaged from the remains of the former royal armory in Tanjore (Thanjavur) in the mid-nineteenth century (see also acc. no. 36.25.1540). Like the katar, other weapons in the group prominently feature religious symbols, such as the chakra (discus) of Vishnu and the pāsha (noose) of Shiva. The majority of the surviving Tanjore pieces are divided between the Madras Government Museum and The Metropolitan Museum of Art.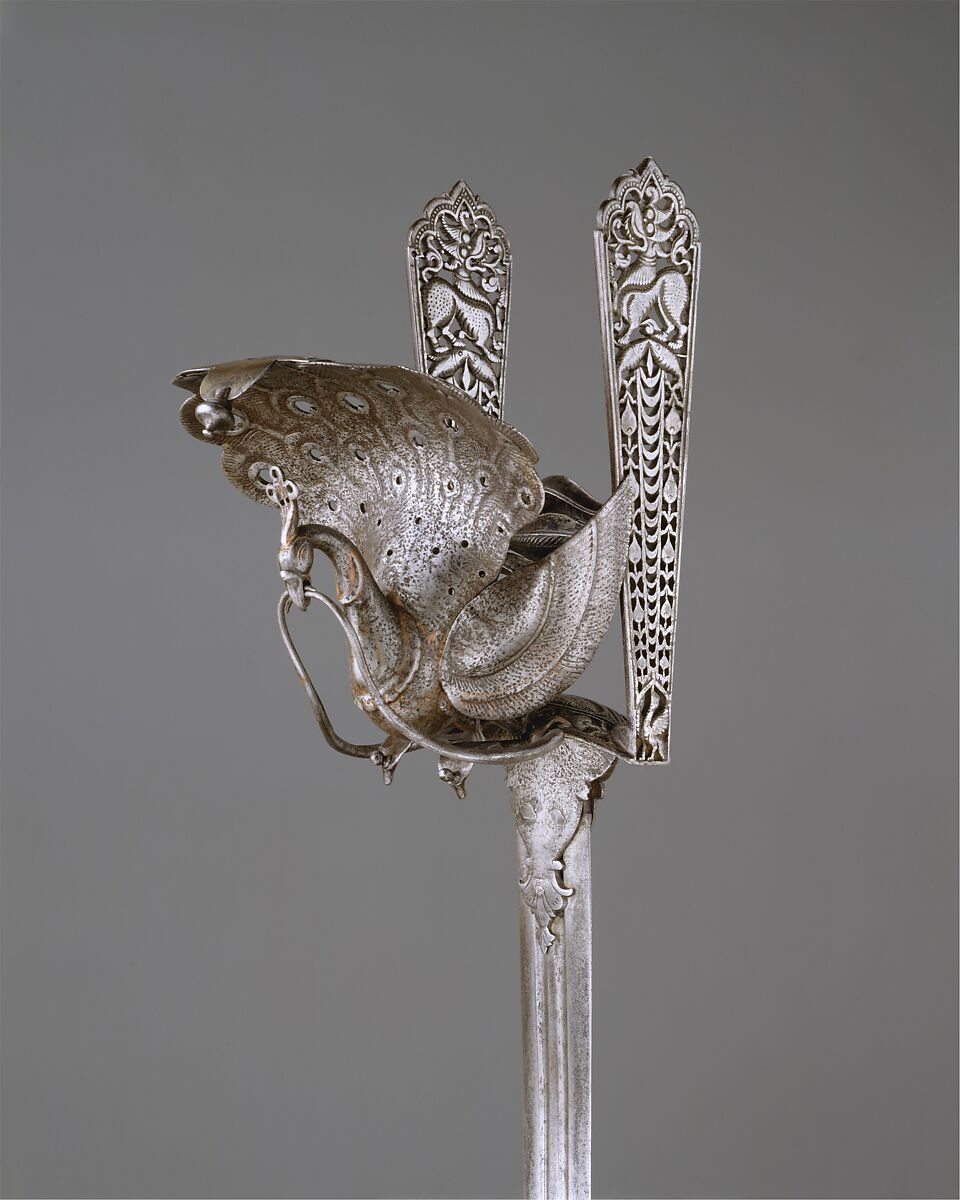 This artwork is meant to be viewed from right to left. Scroll left to view more.