Sword Guard (Tsuba)
Not on view
The individual elements of the hilt of a Japanese sword are unique in the history of edged weapons in that they are intended to be seen both as funtional parts of the sword and as independent works of art. The most prominent of these elements is the tsuba, the disklike guard that separates the base of the blade from the top of the grip. The decoration of tsuba encompasses a wide range of themes: naturalistic scenes, secular stories, and, as this tsuba demonstrates, religious symbolism.

This example, made of iron, is pierced along its hexagonal perimeter to produce the bold silhouettes of the eight trigrams (Chinese, pa-kua; Japanese, hakke) said to have been created by the Chinese emperor Fu Hsi, who reigned in the third millennium B.C. The trigrams provide the foundation of the I-Ching (Book of Changes), a renowned Chinese source of wisdom that combines Taoist and Confucian ideals and is used as a guide to prophecy, divination, and statecraft. The eight symbols are composed of unbroken lines, representing the yang (the male principle, or heaven), and broken lines, representing the yin (the female principle, or earth). The pattern found on this tsuba is an arrangement of the trigrams attributed to Fu Hsi himself, known as the precelestial ordering. Each trigram is subject to various levels of interpretation and can signify an essential element of nature, such as thunder, water, or wind; physical and emotional traits, including power, satisfaction, and flexibility; talismanic animals; seasons of the year, and points of the compass. In addition, when displayed on an object such as this tsuba, the trigrams serve as potent auspicious symbols and convey respect for ancient wisdom.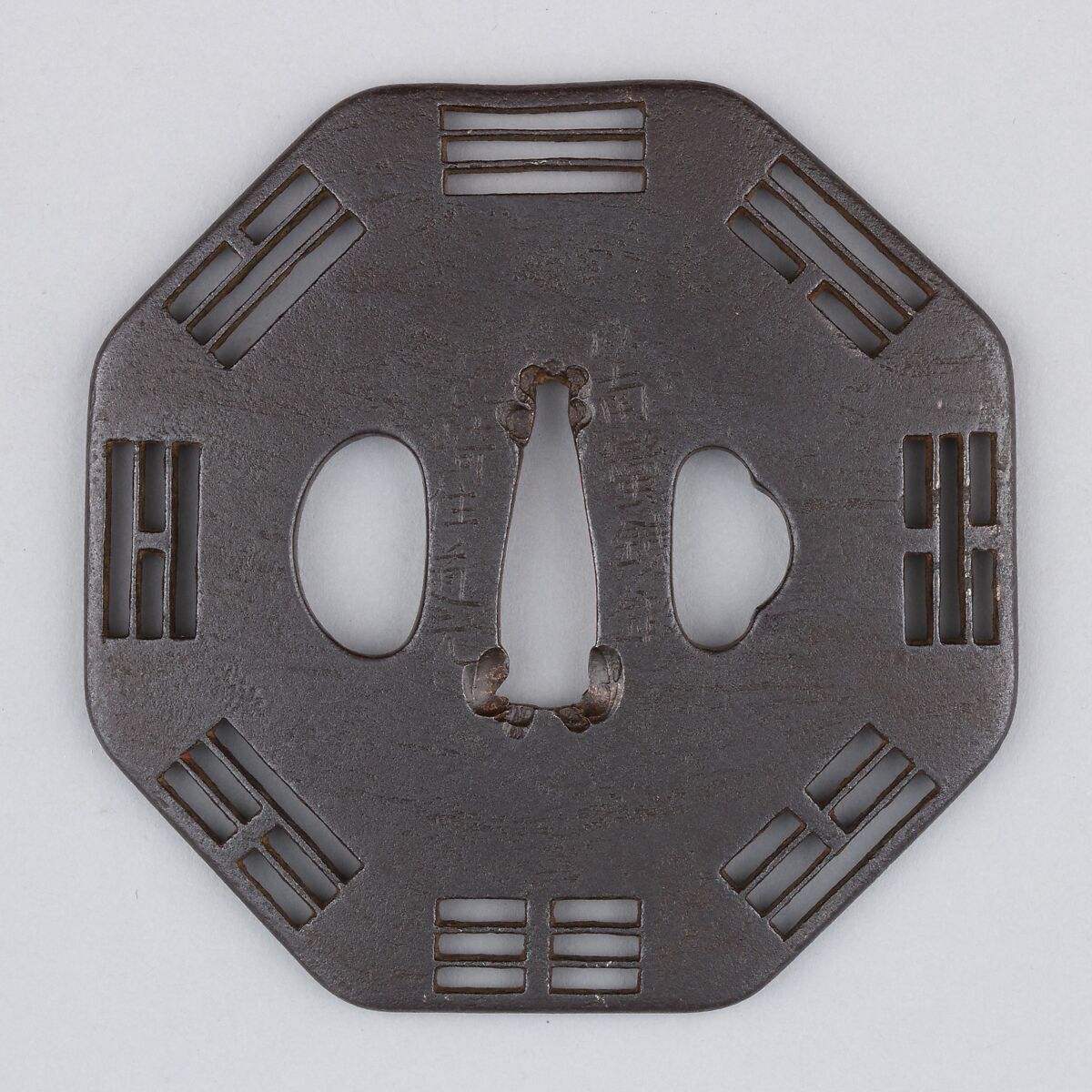 This artwork is meant to be viewed from right to left. Scroll left to view more.