Cased Set of a Flintlock Rifle, a Pair of Pistols, and Accessories
Gunsmith Nicolas Noël Boutet French

On view at The Met Fifth Avenue in Gallery 375
The Revolution of 1789 and the subsequent rise of Napoleon, first as consul (1799–1804) and then as emperor (1804–14), brought about a dramatic change in the design and decoration of French firearms. The principal innovator was Nicholas Noël Boutet (1761–1833), who was named directeur-artiste of the newly formed Versailles Arms Manufactory in 1792. While the Versailles factory was the principal producer of regulation weapons for the French armies, Boutet was also charged with creating richly decorated arms for presentation to military heroes and foreign heads of state.

Firearms of this period, like the rifle illustrated, show an unequaled technical perfection and precision of workmanship. The delicate Rococo style associated with the ancien régime was abandoned and replaced by the more masculine classicism of the Empire style with its references to Greco-Roman and Egyptian motifs. Gunstocks were inlaid with engraved sheet silver and gold, and the mounts were often of heavy silver cast in bold relief. The decoration included trophies of arms and scenes of classical battles and victories that implied France's military glory.

A cased set of this type was among the most luxurious offerings of the Boutet Manufactory. It includes a lavishly decorated rifle, matching pistols, and a full array of tools and accessories necessary to load and unload the weapons or to disassemble them for cleaning or maintenance.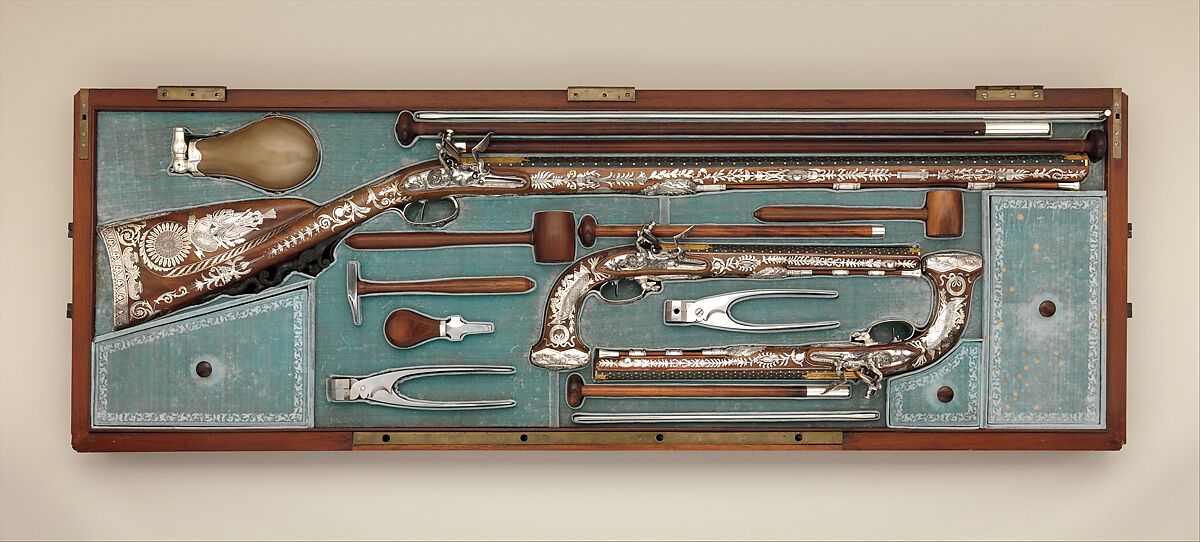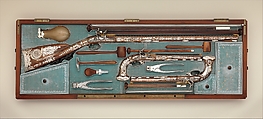 This artwork is meant to be viewed from right to left. Scroll left to view more.