Winchester Model 1894 Takedown Lever Action Rifle
Manufacturer Winchester Repeating Arms Company American
Decorator Tiffany & Co.

On view at The Met Fifth Avenue in Gallery 372
From the time of the Mexican-American War (1846–48), and particularly following the American Civil War (1861–65), Tiffany & Co. played an important role in the design and embellishment of luxury arms, beginning with presentation swords and subsequently expanding into the area of firearms. This Winchester rifle, comprehensively adorned with sterling-silver mounts embossed and chased with profuse and elaborate floral motifs, is an unrivaled example of Tiffany's contribution to the decoration of American firearms. An extremely rare instance of a gun embellished in the Art Nouveau style––it was included in the 1900 Exposition Universelle, Paris, where it won a silver medal––the rifle is one of only two known to have been decorated by Tiffany & Co., and of the two it is the more lavish. The choice of precious wood for the stock, a solid Makassar ebony traditionally used only as a veneer, is a refinement consistent with Tiffany's predilection for "exotic" materials.

The Model 1894, the most successful of all Winchester rifles, was also the first designed to accommodate smokeless cartridges. In 1900, when the rifle was exhibited in Paris, it brought together the accomplishments of the preeminent American silver firm with an iconic American firearm that stood as a symbol of the Western frontier.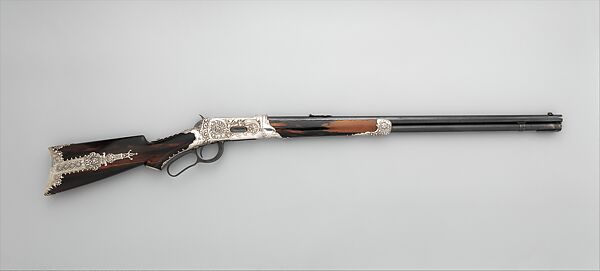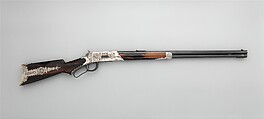 This artwork is meant to be viewed from right to left. Scroll left to view more.